How Fast Are Vinyl Album Sales Growing? A Graph
Vinyl has made an obvious comeback in recent years, and sales of vinyl LPs are up 49% this year, according to a recent report by the Wall Street Journal.
Despite the steady increase in sales, few are investing in the industry and factories responsible for the pressing of old-fashioned vinyl records are struggling to meet demand.
According to the article, record companies are now waiting months for orders that used to be filled in weeks, with the requests for novelty LPs such as multi-colored pressing further delaying supply.
Other current issues in the industry of supplying vinyl records include the limited creation of steel molds that create the records' shape, the polyvinyl chloride solution used in their creation and the pressing machines themselves.
The Journal's article has an interesting business-oriented take on the vinyl industry, which currently represents roughly 2% of music sales, and check out this years top five selling vinyl records below.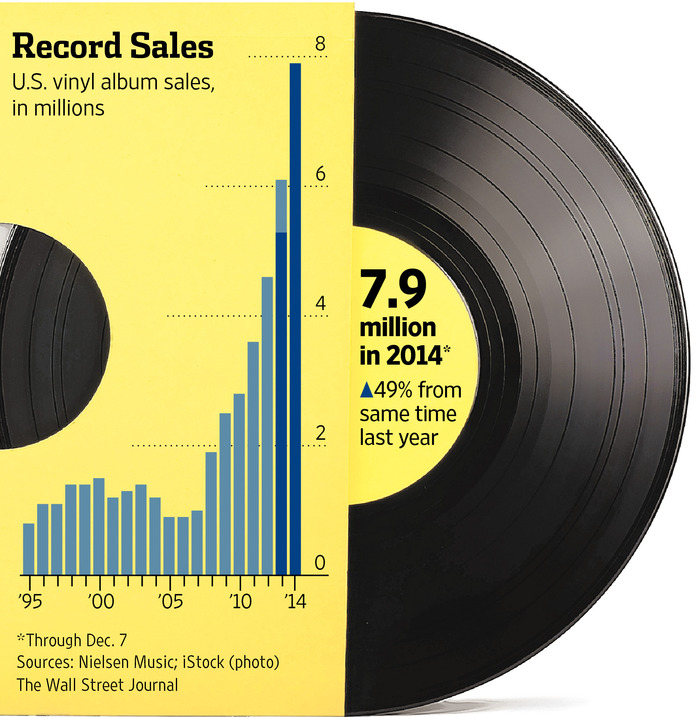 The Top Selling Vinyl Records Of 2014
1. Jack White- Lazaretto – 75,500 sold
2. Arctic Monkeys- AM – 40,600 sold
3. The Black Keys- Turn Blue – 28,300 sold
4. Lana Del Rey- Born To Die – 27,200 sold
5. Beck- Morning Phase – 25,200 sold