Halloween Weekend - Chicago Live Music Guide 2012
Halloween is on a Wednesday this year, and apparently that means six full days of Halloween musical goodness in Chicago. While the bulk of the "costume" shows will take place on the prior weekend and, of course Halloween night itself, there's even a few heavy-hitting shows in the "days between" that serious music fans have to consider.
That said, I'm rounding up the best of what this incredible city has to offer in a day-by-day Halloween Weekend Music Guide. Take a peek, select your favorites and go see some music!
Friday, October 26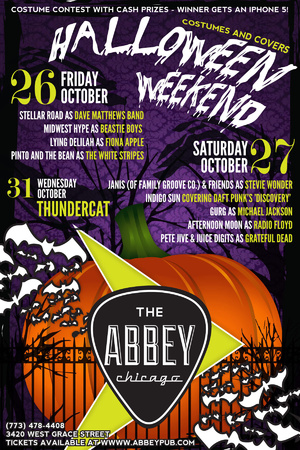 Two of our favorite clubs have a lock on Friday's festivities: Abbey Pub and Martyrs. Not surprisingly, The Abbey features not one, but two, Halloween themed shows even on night one. It's the undercard, in the smaller Green Room, that has our ears -- with free sets by Fresh Hops and Paul Abella Trio. Paul and friends will be covering Houses Of The Holy, the first of two Chicago bands to attempt that feat this season. If listening to an entire Dave Matthews Band album performed live seems like something you can tolerate, Stellar Road will be doing just that in the big room, along with Lying Delilah performing as Fiona Apple, and Pinto and the Bean becoming The White Stripes.
Across town at Martyrs, classic rock will reign supreme with cover sets by Vlad The Impaler (Black Sabbath), Bon Mots (Bad Company), The BuckStops (The Police), Dolly Varden (Fleetwood Mac), Johnny & The Creeps (Donovan) and Dirty Pigeons (Moody Blues).
In the burbs, Durty Nellie's (Palatine) is hosting a jamband double bill with Mr. Blotto and Barefoot Fred, three costume contests could win you some good prizes.
Saturday, October 27
The Saturday shift at Abbey takes an even jammier turn, highlighted by a strong lineup of Chicago's improv community tackling a Stevie Wonder set. Family Groove Company's Janis Wallin leads this ensemble and recently took time out to tell The Barn about preparations for the event. Rounding out the evening at The Abbey is Indigo Sun covering Daft Punk's Discovery in it's entirety, Gurg offering more funk as Michael Jackson, Afternoon Moon as Radio Floyd, and -- why the hell not -- Pete Jive and Juice Digits as The Grateful Dead
That's pretty solid, but if Discovery is not enough untz for you, EOTO the bizarro electronic-leaning alter ego of String Cheese Incident's rhythm section will perform at the DIY Portage Theater in something called Day Of The Lotus.
Martyrs plays it much less safe than its Friday offering, and offers cover sets that span the whole magilla -- from metal to disco to punkish rock -- with American Steel (Judas Priest), Androgynous Mustache (The Replacements), Phil Angotti (The Bee Gees), The Webstirs (Abba), The Delafields (WAR) and Tuffy UK (PJ Harvey).
Similarly, the Double Door is programming a more alt-lineup, though not without some radio-friendly pop as well -- so there's actually two places to see Placemats covers on Saturday night. The 16th Annual Double Door Halloween Bash features The Last Vegas as Billy Idol, AM Taxi as The Replacements, Hessler as Iron Maiden, Ryan Powers as Tom Petty, Blackbox as Social Distortion, The Sweeps as Beck, and Panther Style as The Cult.
Too mainstream for you?  Still want to travel further down the wormhole? It is Halloween weekend after all. The Hideout is featuring tributes to James Brown (by Get Up With The Get Downs), The Cramps (Bad Music For Bad People), and the Melvins (The Velvins).
Sunday, October 28
The real festivities may be over (for a while), but Sunday night features two bold freak rock bands competing with each other at great venues across town. White Denim is my recommendation at Lincoln Hall. But I've recently been digging Fang Island, who offer psychedelic rock in a similar vein. They play at Subterranean.


Chicago reggae sensations Akasha continues their Simmer Down Sunday series at Double Door, under the banner of Night Of The Living Dread.  We've also liked what we've heard about the piano driven grungey blues sound of Chicago's Mutts -- the round out a triple bill this evening at Bottom Lounge.
Monday, October 29
By the time the work week starts up again, things mellow out, but only slightly. The magnificent post-jazz Chicagoans in The Sea and Cake make their debut at City Winery behind their 2012 release The Runner. Meanwhile, the workman-like and enigmatic Robbie Fulks will delight another Monday night crowd at The Hideout with longtime collaborator Nora O'Connor.
Tuesday, October 30
Tuesday nights have been reserved for two of the best residencies on the Chicago circuit. On Halloween Eve, I'm sure we'll get some special shows out of both Sexfist, who will perform at the Abbey with Colorado's Whitewater Ramble as support, and Mr. Blotto who continue their Tipsy Tuesdays series at Reggie's. Last Halloween, Sexfist put on a little Dead tribute so we're excited to see what's on tap in 2012. Blotto pays tribute to its influences as a matter of course, routinely offering cover and theme sets throughout the year and have covered 11 different albums at their summer festival, so you just know something spooky is going down on Halloween.
There's a couple of incredible national acts coming through town on the Tuesday as well. Ex-Fleet Foxes folker Father John Misty and the awesomely psychedelic Jeffertitti's Nile share a bill at Lincoln Hall. This one may already be sold out by the time you read these words.
Wednesday, October 31
For jam heads, the main event this year is Mule-o-ween at the Riviera. Warren Haynes and Gov't Mule will be settling into a Jimi Hendrix costume for the holiday, so rock and roll ghosts are sure to be hovering in force over Chicagoland. But, they are far from the only game in town...
Martyrs lists their bill like the participants in a prize fights: AfroZep vs. House Of The Holy, The Drastics vs. Michael Jackson, and Land of Sunshine vs. Faith No More. We recently got a chance to catch up with the guys in AfroZep to get a little more info on the band and why Houses was such a great choice. Check it out.
Rebirth Brass Band plays the Halloween gig at Cubby Bear, and half a block away, The Lee Boys, with support from local guys The Heard and billed "Special Guests" (*ahem*) will take the stage at the venerable Metro for a post-Mule gig.
If you want to keep things small and funky, we recommend Spare Parts at aliveOne.
It will probably be less of a Halloween atmosphere, but the legendary Leon Russell takes the stage on the 31st for the first on two nights at Mayne Stage.
These are not really my cup of tea, but there are those that will enjoy Beats Antique at Park West, Mucca Pazza at Double Door, or Tim Reynolds' TR3 at SPACE in Evanston.
Still haven't had enough? The remarkable Wood Brothers play at Lincoln Hall on November 1st. A great way to ease into November -- Thanksgiving Weekend looks like it could be even better!
Check out our entire Live Music Event Calendar HERE.