Grateful Dead 50 Chicago Ticket Price Analysis, Volume Two

Supply and demand is a helluva thing.
When we last checked in with secondary market analysis for Grateful Dead Chicago tickets, we promised to re-evaluate again once the market has matured.
It's three weeks later and indeed, the data continues to tell us a story (and perhaps a good one for those holding out and unable to find tickets another way).  But, it seems like the over-arching tale is taking some unexpected twists and turns as well.
Let's start by offering our perspective on the stories that have been grabbing headlines recently.  Blogger Dean Sotille touched a nerve (and may have spawned a law suit), with a pair of posts implicating Peter Shapiro in dishonesty when it came to getting these tickets in the hands of fans.  In the most amazing sleight-of-hand, Shapiro responded swiftly to the allegations that could be most easily proven (bait-and-switch of mail order), made great ovation to his dedication to consumer friendliness, but quietly swept some of the more speculative charges under the rug.
I want to state something emphatically.  The most reliable way to get reasonably priced tickets directly to dedicated fans is via non-transferable ticketless entry.  Attendees must present the credit card used to purchase upon arrival at the venue.  I've seen many arguments discounting the feasibility of this, but it is 2015, and it is doable if bands, promoters, and venues were on-board.
But that is not what they did, and the simple fact is they are highly incentivized not to.  Consider this recent interview with Rolling Stones' promoter John Meglen, who is activating a "flex pricing" system for tickets on their most recent tour -- essentially charging scalper style prices for the best seats.  "Personally, I want the brokers pissed off. I want that money going to the artists."
Of course, the Stones aren't concerned about gouging their fans.  However, it appears that concept is anathema to what the Grateful Dead are all about.  Perception is key.  But that doesn't mean the band and promoters are not interested in money.  It's easy to scream "cash grab" – but who are we to fault for wanting to capitalize on both the art?  GD50 is a marketing effort as much as any sort of goodbye or artistic statement.
The job of the promoter is to manufacture demand, and Shapiro is doing an excellent job at this.  The question remains… is he deliberately manipulating the market at the expense of consumers?  Honestly, I don't know.  But let's looks at some of the more questionable practices.
The GDTS Too Mail Order.  Presented as a way to revisit glory days, despite its inefficiency.  What it actually did was provide something for people to talk about, something involved and elaborate for them to do, to get them vested in the process, and heighten anticipation.  A novelty, which also tightened availability of tickets in more "modern" sales channels.
Ticket Re-releases.  This often occurs with sold-out Phish shows.  When it does, their office generally sends out a tweet about 5 minutes in advance of the release. A few fans that are super connected will snatch them up, and the whole thing drives loyalty and willingness to engage with the band socially.  The GD50 Re-Release was different.  It was announced five days in advance and reported on via nearly every major news outlet.  Based on anectdotal evidence (though the data does not necessarily contradict this), it seems more people were actually able to secure tickets in the re-re than the initial onsale.  It certainly begs the question… why hold back so much inventory?
Think of the alternative.  Actually, you don't have to even imagine it.  It is happening with the Santa Clara Fare Thee Well shows.  Large amounts of tickets are released to the public, the market settles at a price point, and consumers (generally) know where they stand.  But when inventory is withheld, it creates a perceived scarity, and that can lead to any number of things.
Some promoters do make money directly on the secondary market.  I don't know if this is a practice Shapiro regularly engages in, but for an education in how this is done, please read Dean Budnick and Josh Baron's Ticket Masters: The Rise Of The Concert Industry and How The Public Got Scalped.
This most obviously happened with the sale of VIP (aka CID) packages, where ticket prices are jacked up and packaged with a few amenities or travel arrangements.
If promoters don't do this, they are leaving money on the table or putting it into the pockets of scummy, non-value added scalpers.  Some fans are willing to pay exorbitant amounts of money.  From a purely business perspective it is foolish to let these dollars escape outside the four walls.
This is a boon for the City of Chicago.  We have already documented record hotel occupancy.  A genuine cottage industry has cropped up surrounding the main event.  Music Festival culture has certainly infused every aspect of the industry and Fare Thee Well is doing its part in making Chicago a hub for that sort of thing.  Shapiro will soon be establishing a permanent physical presence here in the form of  a Chicago Brooklyn Bowl -- the hype surrounding this is a great opportunity to create a foothold with the city and its residents.
More buzz around the event itself means more excitement nationwide for at home pay per view, live streams, and public events related to the event.  Shapiro does have a direct stake in all of this.  With the right ability to scale, every single incremental subscribers means more dollars into the enterprise.
Merchandise.  Ticket sale aren't the only source of revenue.  You can be assured that commemorative items will be plentiful, but nearly every item fills the war chest -- from high end souvenirs to the Steal Your Face shirts you can purchase at Target.
More demand means more attention to sponsors and corporate partners.  Have you noticed how many different places are giving away tickets to this event?  Certainly, Fare Thee Well doesn't need any radio promotion to get butts in seats, and yet WXRT has already given away 50 pairs.  Relix Magazine wants to give you floor seats for all three nights. AirBNB (?!) wants to give you tickets for letting someone stay at your house.  Chacos?  Yes.  Chacos.  This has become a way to advance conversations about brands in addition to everything else.  Who does that benefit?
So with this in mind, let's get back to the charts and graphs which we originally started with to see where we stand.
As you can see, over $1.8M has already been spent in just one secondary marketplace (StubHub) and there's much more to come.  Nearly half a million has been spent in the last 3 weeks alone.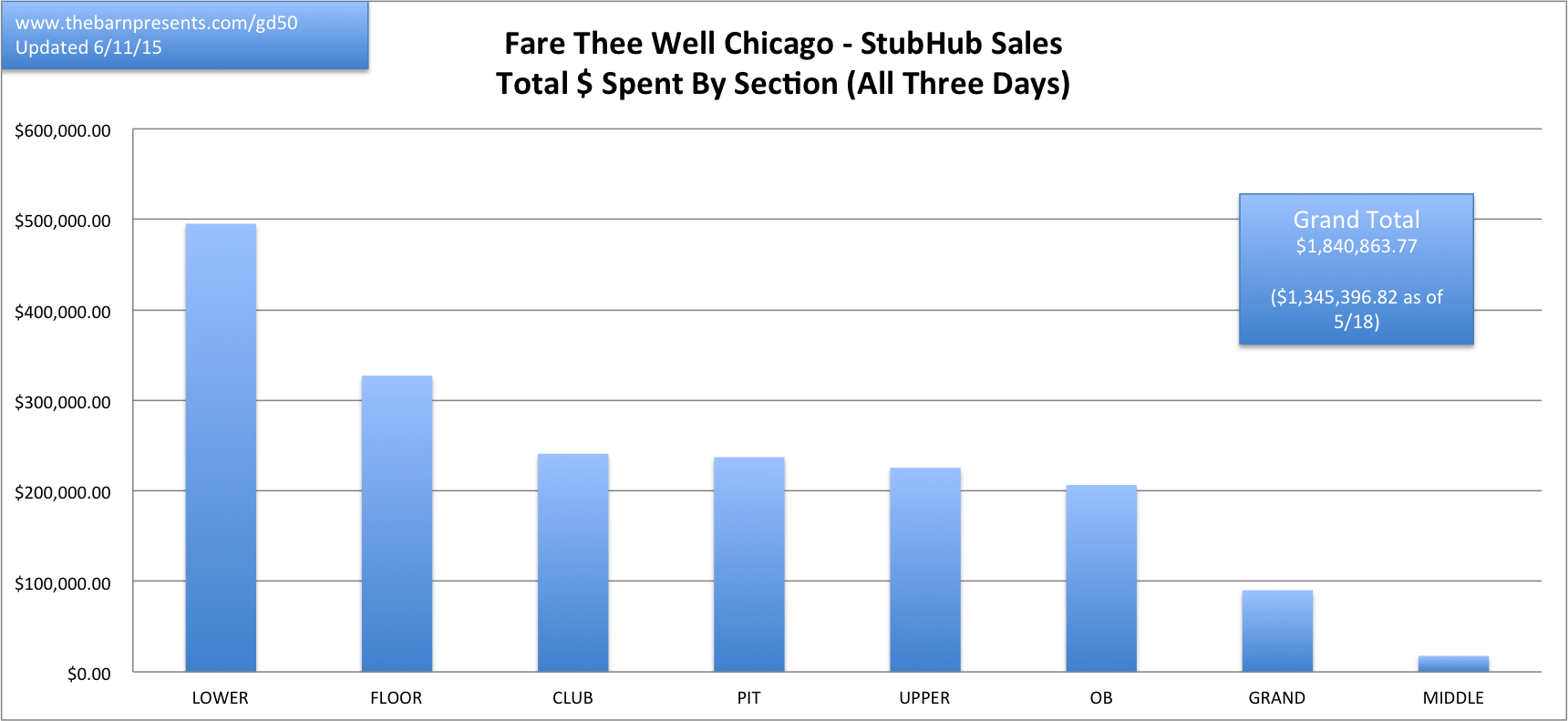 The market is starting to loosen.  The last two weeks have seen the most action since the first two weeks of the onsale.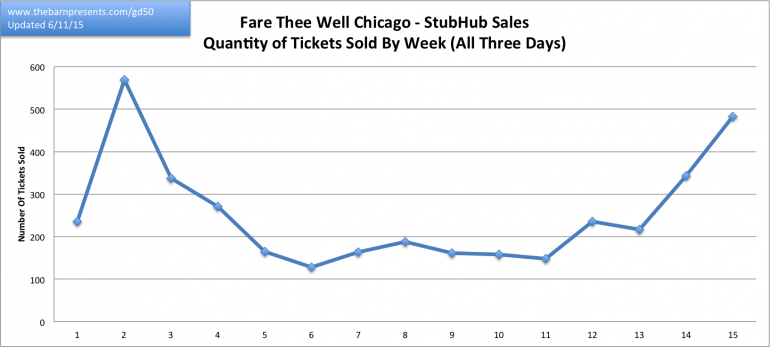 But with increased supply due to shipment of GDTS Tickets and the Re-release, comes lower prices.  And the data bears that out, too.
I need to reiterate.  A close reading of this chart shows that although there are certainly outliers who will spend big for a premium seat, the fact that the average line is so snug with the minimum line (and both are trending down), indicates although many of these seats are being offered at super-inflated prices, those are not the ones that are selling.
And sales will dictate where this market is heading.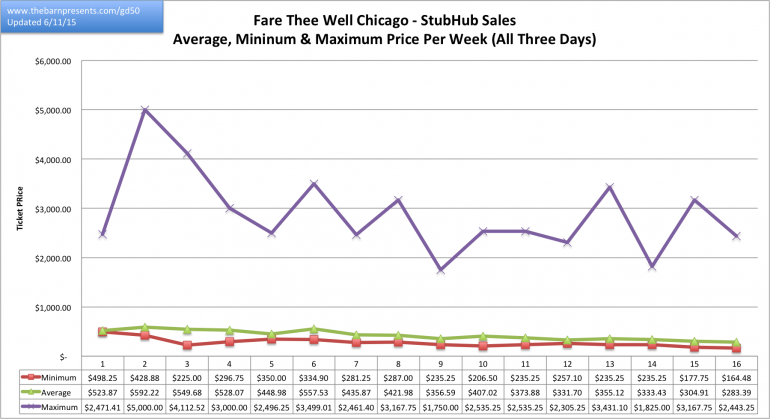 And despite $500,000 worth of sales (~1600 tickets), there's way more supply now than just three weeks ago.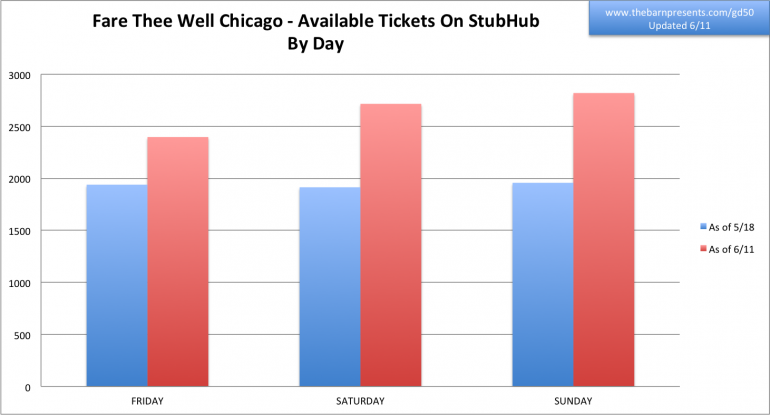 If you've held off thus, far.  You've done the right thing.  Knowingly or not, it appears the scales were tipped heavily in favor of sellers for the first 16 weeks of this market.  But the tide may be turning and turning fast.  Check back here in a few more weeks for more insight.