Furthur and Grateful Dead InfoGraphics, Volume One
Updated 3/8 based on some discrepancies identified by the philzone.org community
There's just something about Furthur.  They've got so much Grateful Dead X-Factor yet still feel like their own band.
I thought it'd be cool to start a series of InfoGraphics that compared the approaches of each of these bands that, using only setlist data and statistics presented visually, shed some light on why Furthur can be so satisfying, and give some hints as to where this band might take take us (hint:  it's further).

Warning:  the Grateful Dead setlist data used to generate these statistics is in very early beta form.  All Furthur setlist data is sourced from furthur.net.  Please let me know if you find any discrepancies (however, we're real excited to see where this repository will lead us in the future).
The first graphic explores songs that are either new Furthur songs or songs that may feel fresh, since they hadn't been played by the Grateful Dead in a long time.  The four columns here represent songs in the Furthur Rotation and the decade there were last performed by the Grateful Dead.  The final column represents the 37(!) new songs that Furthur played.  The songs are organized top to bottom based on frequency of play by Furthur; larger fonts represent more frequently played songs.
Click any graphics to view larger.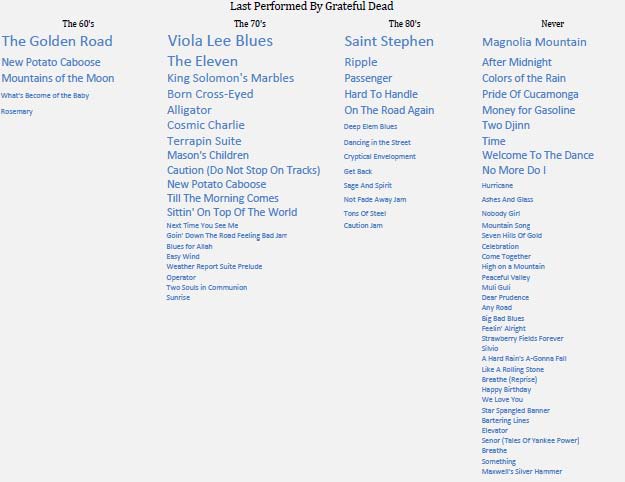 This next graphic shows the twenty-five songs that have been most played by the Grateful Dead that have still yet to be tackled by Further.  Again, organized by frequency of GD performances.  Blue are originals.  Red are covers.  Anybody up for a Way To Go Home or Day Job?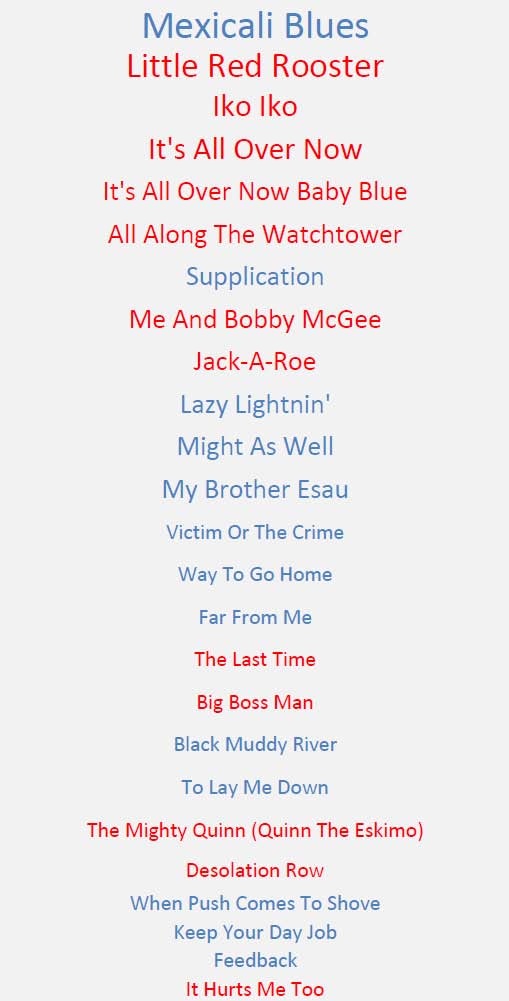 Finally, let's take a look at the encores played by each band.  Here in a Venn diagram;  GD is blue, Furthur is Red.  Fonts sizes represent the amount of times performed as an encore only.  Songs performed by the Dead as an encore only once (and never by Furthur) have been excluded in the interest of space (contact me if you are interested in a list).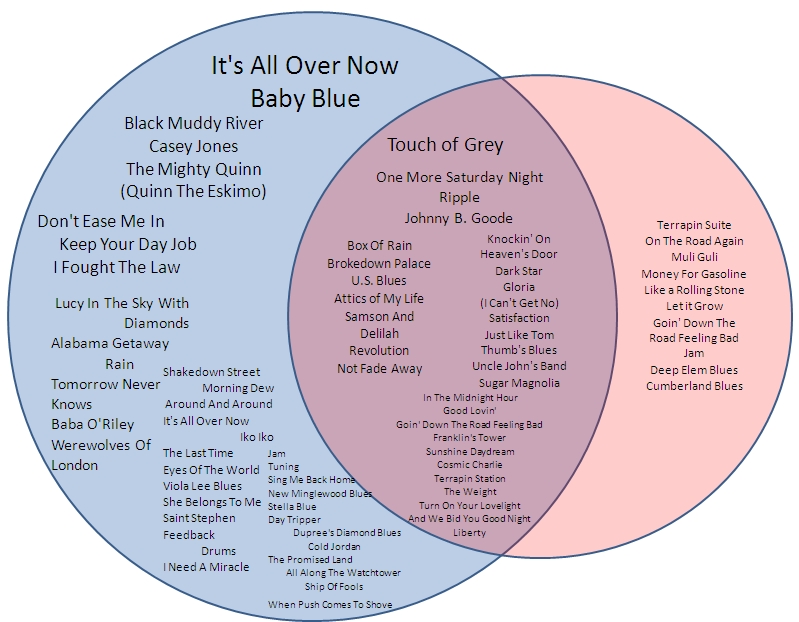 All Furthur data is current as off the Orpheum run.  For up-to-the-show current tour rotation InfoGraphics, click on over.