Full Jimi Hendrix Woodstock Performance Film @ Music Box 1/14/12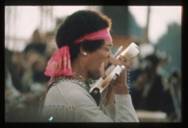 The
amount of material that has been sitting in archival vaults is truly astonishing. In 1999, the Jimi Hendrix estate released 14 songs from his seminal Woodstock performance on DVD. Today, the audio has been remastered and additional material has surfaced -- the updated release heads to theaters next week and Chicago's Music Box will be hosting a one-night screening.
More information:
Hendrix 70: Live at Woodstock includes 14 performances such as his rendition of "The Star-Spangled Banner" and "Purple Haze" featured in the originalWoodstock theatrical film, plus "Spanish Castle Magic," "Red House," "Lover Man," "Izabella," "Fire" and "Villanova Junction." The nearly complete performance — some portions weren't filmed — was released on DVD in 1999, but this edition includes a new 5.1 surround-sound audio mix prepared by Hendrix's engineer, Eddie Kramer. The original 16-mm film footage was shot by director Michael Wadleigh and the team he brought to document the celebrated three-day rock festival in upstate New York. This presentation also includes previously unreleased footage and interviews with Hendrix band members Billy Cox and Mitch Mitchell, Kramer and Woodstock promoter Michael Lang.
Tickets are $11 and are available online can be purchased in advance at or at the theater box office.