Five Things To Look Forward To For The 2015 North Coast Music Festival
Chicago's North Coast Music Festival has in past years been a bit of a jam purist's puzzle.  There has always been a smattering of jam-friendly acts in its lineups, but EDM and flavor-of-the-minute bands tended to cast a long shadow for those looking for improv in Chicago over Labor Day Weekend.
The scales seemed to have tipped for the 2015 lineup.  The organizers still manage to provide a hearty balance between the exceedingly hip and trendy and bands that are ready to dig in and throw down. There's a lot to look forward to and jam fans may want to read all the way to the end of this list for some insight as to why.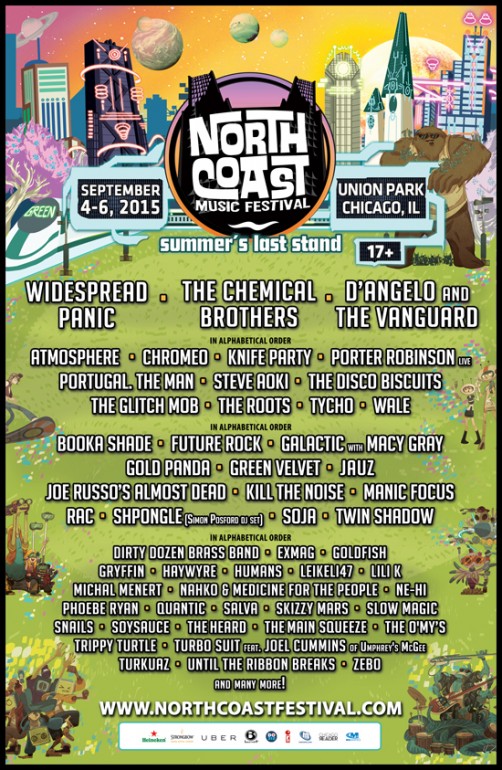 Here's five things to keep an eye out for:
1.  Especially after last Friday's show at Concord, I am going to testify that Joe Russo's Almost Dead are presently wearing the crown for rising stars committed to balls-to-the-wall improvisational fireworks.  Festival or no, this is a band not to be missed when they come to town.
For me, they are at the vanguard but they are certainly flanked by outstanding genre "crossover" acts that jam fans will surely be able to get behind: freak-rockers Portugal.The Man, R&B enigma D'Angelo, full band hip-hop legends The Roots, and livetronica pioneers Disco Biscuits.  UM's Joel Cummins even gets in on the action with Turbo Suit.
2. After Parties.  Typical of city festivals, sets tend to wrap up around 10pm at North Coast.  But promoters have been stepping up the post-show game for several years running now.
While these haven't been officially announced yet, we know they're coming and they don't necessarily have to draw only from the lineup card.  Expect super-jams and crazy pairings at neighborhood venues like Concord Music Hall and Bottom Lounge.
3. And yes, there is More To Come.  Look at the fine print on the lineup card... "and many more".  Expect a few more acts at all tiers of this lineup.  If what's here already entices you, be on the lookout.
4. Funk From Far and Near. There's a combination of homegrown and imported talent to fill the funk ranks.  Locals in The Heard, The Main Squeeze and The O'My's each get a slot in front of their hometown during the festival.  But NCMF organizers also look to the UK for Quantic, for a totally different spin on the genre.
And you can't do funk without repping NOLA.  Galactic will perform a a set with Macy Gray -- a combination that should be well worth our time.  To round out the New Orleans, Dirty Dozen Brass Band makes a repeat appearance, notable specifically because...
5.  The announcement email promises a big rock headliner to be revealed on May 12th.  I'm going to make a educated, semi-informed prediction that it will be none other than Barn favorites Widespread Panic.  WSMFP skipped Chicago on both their Spring and Summer tours.   They'll be in Nashville on  Saturday and Sunday of Labor Day weekend with a wide open Friday.  It's always a treat to see these guys pop up on bills with Galactic and DDBB.  We'll find out in a couple weeks for sure, but Panic fans should start planning now.
[Update 5/13] It's official.  Panic has been announced!
[Update 5/11] NCMF is hosting an instagram contest if you can guess the headliner.  Our best guess is below, so go get em.