Festival Preview In Chart Form: Stranger Danger @ Abbey Pub, June 23 & 24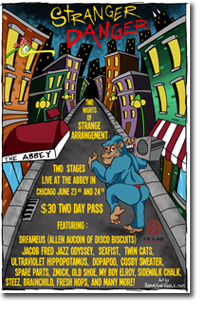 Welcome to summer in Chicago. Nobody denies it's the best time of year and, of course, there are tons of musical options.
We are home to mega-festivals in Grant and Union Parks -- offering intriguing lineups but lacking intimacy and coming with a commiserate ticket cost. Swing a dead cat and you'll hit a street festival -- but lineups are often inconsistent and bad weather can ruin the entire experience. Of course, you can drive a little ways most weekends and you'll find yourself within range of some absolutely fantastic jam-centric summer festies. But, if you're looking for something small, focused and inside the city limits... up until now there haven't been many options.
The Stranger Danger Festival intends to remedy that, with a little bit of a twist. This 2 day, 2 stage, 25+ band music festival will be held indoors at the Abbey Pub. The hosts, and headliner for both nights, are Chicagoans Strange Arrangement, who we have been very enthusiastic about for some time. Consider this the Chicago follow up to their landmark Park West gig, and watch them turn the festival concept on its ear and attempt to step into a gaping void in the Chicago festival scene.  Here's how they put it:
 Strange has had the honor of being a part of so many amazing festival experiences over the last five years, meeting up with old friends and making new ones at each and every stop along the way. It is with that being said, we here at Strange Arrangement are absolutely thrilled to host our first of many Stranger Danger festivals
The Abbey has been absolutely killing it with high quality bookings lately and the lineup on these nights fully reflects the star power, diversity and musical prowess of the acts they've been able to bring to the club.
Like Strange Arrangement, many of these acts ably straddle genre lines.  I've been a big fan of some for quite a while now (Old Shoe, Sexfist, Bonzo Terks, Ultraviolet Hippopatamus, anything with Fareed Haque) -- others I've just begun to check out but like what I'm hearing (Steez, Brainchild, Freek Johnson).    As is our custom at The Barn Presents, we'll present our top bands to catch over this weekend in a handy chart form.  We thought it'd be interesting to plot the bands we'd most look forward to seeing along a the rock, funk, jazz and electronic continuum that Strange sits so comfortably at the crossroads of.   For more charts, check the festival grids and the full lineup below.
Want a great deal on this festival?  Advance two day tickets are available at a discounted rate by following this link and using the promo code "theoffer".  This will be a limited time only, so don't delay!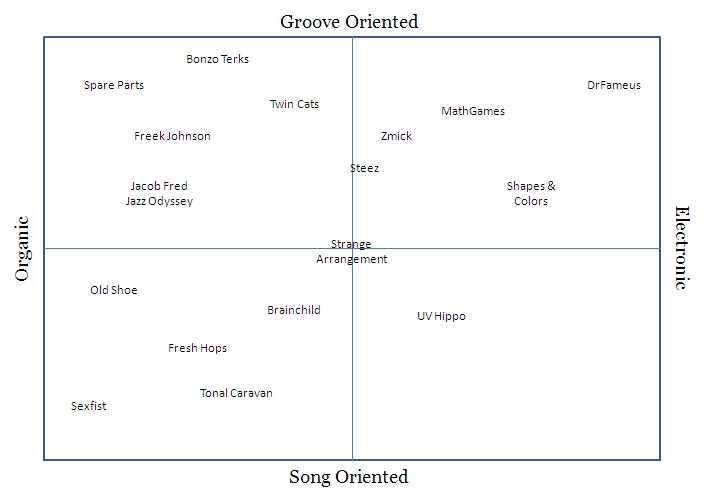 The grids: