Devadip Carlos Santana, Jazzman: A Jazz Underground Playlist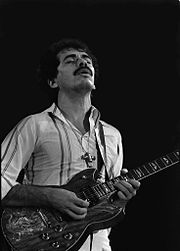 This installment of
Notes From The Jazz Underground
features the playlist based on the January 10th show.
Everybody knows about Carlos Santana's career as a trailblazing Latin Rock psychedelic fusioneer from the 60's.  Others know his pop leaning hits from the 80s and beyond.  But Carlos was captivated with jazz, particularly fusion, in the seventies and has an impressive recorded output to speak for it.
So this week's playlist is a tribute to that side of him and includes latin-jazz-rock-fusion -- like Irakere, Harlem River Drive and Brownout -- inspired by Carlos' vision.  A few things of note, straight from host Paul Abella:
1) Carlos is on the Weather Report cut.  He essentially replaced Wayne Shorter on part of the last Weather Report album.  As you can hear, he pretty much kills it.  In typical Joe Zawinul fashion, he wasn't happy with Carlos' playing.
2) Carlos was/is a helluva jazz guitarist - on the cut with Alice Coltrane, he's backed up by Alice's band, on the cut with Wayne Shorter, he's backed up by a hybrid of Wayne's touring band with Carlos' percussionists, and Swapan Tari features Carlos backed by Wayne Shorter, Herbie Hancock, Ron Carter & Tony Williams - a/k/a 4/5 of the second great Miles Davis Quintet.
3) Mongo Santamaria's version of Cold Sweat is funkier than James Brown's.  That's right, I said it.
4) Nomad (and the entire Shape Shifter album, really) proves that Carlos has not lost his fastball yet.  Let's hope he never strives for another hit and just decides to shred with a killing band every other year for the next decade or two.
Notes From The Jazz Underground runs Friday nights on WDCB 90.9 FM.
Complete Playlist
Cold Sweat - Mongo Santamaria - Mongo Santamaria's Greatest Hits
Roots - Willie Bobo, Clarence "Frogman" Henry - Best of Afro Cuban Jazz
Fried Neckbones & Some Home Fries - Santana - Santana
Angel of Sunlight - Devadip Carlos Santana and Turiya Alice Coltrane - Illuminations
Idle Hands - Harlem River Drive - Harlem River Drive
Elegant People - Carlos Santana - Live At The 1988 Montreux Jazz Festival
Slippin Into Darkness - War - The Hits & More
Samba De Sausalito - Santana - Welcome
Marbles > Lava - Carlos Santana, Buddy Miles - Carlos Santana & Buddy Miles! Live!
All The Love Of The Universe - Santana - Caravanserai
Europa (Earth's Cry Heaven's Smile) - Santana - Ultimate Santana
Samba Pa Ti - Santana - Ultimate Santana
Swapan Tari - Devadip Carlos Santana - The Swing Of Delight
This Is This - Weather Report - This Is This
Con el Cuete - Brownout - Augilas and Cobras
Bacalao con Pan - Irakere - Irakere
Nomad - Santana - Shape Shifter
Trane - Carlos Santana - Blues For Salvador