Beyondify Brings May Flowers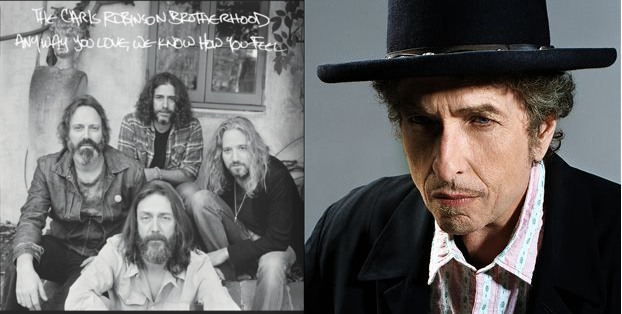 Beyondify is our periodic feature which features new music before it hits Spotify.  As usual, we mine Bandcamp, Soundcloud, YouTube for the goods. Here's what we came up with recently.
The enigmatic Bob Dylan is set to release his second record of standards.  Especially given the declining quality of his live performance lately, the first one Shadows In The Night was surprisingly charming, though far from essential. "All The Way" seems to follow in the same footsteps.
If it wasn't -- ya know -- fronted by the guy from the Black Crowes, I'm guessing Chris Robinson Brotherhood might get a look or two from hipsters grasping for the retro-cool of some throwback psychedelia, if only for Neal Casal's impeccable guitar work.  I can look beyond Robinson's sordid neo-classic rock history, and this track grooves hard despite some of the hippy dippiness of the lyrics. "Narcissus Soaking Wet".
Ty Segall is back with another inscrutable project: GØGGS.  Here's "Glendale Junkyard" -- three and a half minutes of exposed nerve fuzzed out punk.  They'll be at Empty Bottle on July 19.
Need a cool down from the last track?  Julianna Barwick can provide just the thing. The way her layered vocals combine with the synth tracks on "Nebula" produce something that's not quite jazz, psych, ambient or electronic, but very moving.  Interesting to see how she'd perform this live.  She'll be at Constellation in Chicago on June 18th.
A different type of experimental.  Guitarist Chris Schlarb dabbles in long form, expressive musical conversation on the Psychic Temple album Plays Music For Airports, the first side of which is a tribute to the Brian Eno masterwork.  According to his Bandcamp page, it was "corded in one afternoon, live in the studio without headphones, overdubs, edits or effects, and Schlarb used the second take of each performance. To orchestrate the flow and enhance the mood, Schlarb employed a system of changing lights as the music developed. It's a tribute to the players' sensitivity and the music's balance that despite the simple recording methods, each instrument sounds warm and present."  Neat.
Kikagaku Moyo (translation: "geometric patterns") was formed in Tokyo in 2012.  The type of throwback I was referring to in the CRB blurb above.  Like CRB, they have a tendency to jam out a little, too.  That's what they do on "Green Sugar", mixing shimmering vocals, and majestic guitar passages in a way that evokes some of Pink Floyd's more ambitious journeys.
Illinois' own Way Down Wanderers will be out soon with a new album and the first track just dropped via SoundCloud.  "Sweet Morning Vision" is recorded cleanly, playing up the group' s fine vocals and perfectly capturing the drums-backed folk and bluegrass sound.
Leland Sundries harnesses a freewheeling Americana-via-Brooklyn vibe that should be welcome by fans of Shakey Graves and Shovels & Rope.  Their album, Music For Outcasts, drops June 3rd.