Beyond Legend: A "Intermediate Level" Bob Marley Playlist
Contributed by GeeForjay (@312mrg)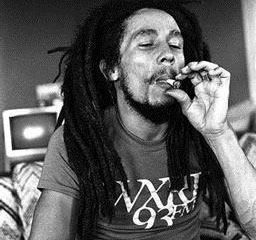 I was jolted into a harsh reality during my work commute this week, suddenly realizing that the calendar has unofficially flipped from summer to autumn. Fall brews are on tap, the sun's rising later in the morning and going down earlier in the evening. While fall is unequivocally my favorite season of the year, there is something a little depressing about the realization that we are in the midst of a closet and garage flip in order to suit our needs for the foreseeable future.  Enter the power of Marley. Jah is GOOD!
Legend is the unofficial reggae reference point when discussing Robert Nesta Marley. But, while the lesser known gems of catalog artists like Marley, Dylan or even the Beatles can be overwhelming to get to, they contain so much raw and lesser known material that demands that next bit of effort and exploration in order to appreciate. This playlist is not so much of a historical path from the R&B, ska and dancehall periods of the poet and the prophet's life, it's just a deeper dive into the catalog of music that hits you in a certain spot and you can't help but get lifted.
Reggae is the remedy for so many of my moods, and this playlist was the soundtrack for my hour commute.  It's job: to turn the aforementioned funk into something positive. The first installment of The Barn Presents: Your Weekend Playlist features hand-plucked Wailer Redux with equal parts Bunny, Peter and plenty of Bob, intending to take you from your work week blues into the weekend ablaze -- an alternate greatest hits mix, if you will.
Roll this fat playlist up, kick your feet up and let the hammock sway.  Every song has a special and specific reason why it's made it on to this list. Your Intermediate-level Marley course covers mostly early dread-free Bob years. The list kicks off with the mid 70's "Roots Rock Reggae", which immediately grabs your attention with the intro drumbeat leading into a synth swirl that wraps you throughout the track. I was out to dinner by myself in New York City a few weeks back and heard this song, wedged in-between some significantly different contrasting genres, but somehow it fit the city mood and crowd pretty well.
My gravitational Marley pull usually ends with me in the ska era with tracks like "Bus Dem Shut (Pyaka)", "Bend Down Low", "Judge Not", "Simmer Down", "Mellow Mood" or "Mr. Brown". Every easy-to-pick dancehall jam is seasoned with the draw and message of what Marley could do in a song. "High Tide or Low Tide" is one of my favorite songs ever considering the lyrical power and the thoughts it evokes.
"Small Axe" is another song that lyrically gets masked in the euphoric and hypnotic rhythm. Understanding the story of The Wailers and Bob's struggles with the recording industry ("The Big Tree"), it helps you understand their struggle during much different times -- trying to make a living and having little to nothing to stand behind. This is one of those inspirational songs that means so much more once you understand its reference points.
The playlist ends with two front and center Peter Tosh tunes: "Stop That Train" and "Brand New Second Hand". As the only real and educated guitar player in the Wailers, Peter's contributions were always overlooked, and ultimately played a role in his decision to part ways. They both have that serene simple attraction that every good reggae tune owns. Their mood and character appropriately fit the transition of the playlist: a slow fade into your weekend breeze. Enjoy it mon.

Spotify
Grooveshark