Being Himself | Steve Kimock On Self Recording and His Own Voice
By: Ryan Mannix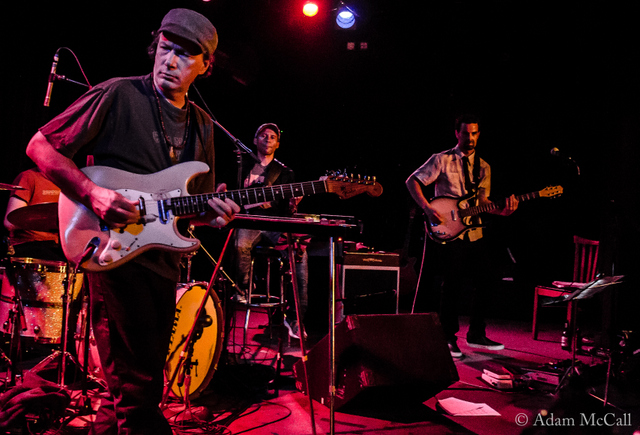 Steve Kimock's Last Danger of Frost may sound like completely different music than what he's delivered to Chicago-area audiences in the past, but this may be as close to the true artist as it gets. Self-recorded, the album blends acoustic instrumentation with electronic soundscapes for a lush pastoral sequence crafted more for a seated audience than triumphant nights at storied venues, both big and small.
While it may sound different, this record is experimentally in line with his improvisational past, and at least for Steve, it was a long time coming.  Along with his son John Morgan, longtime collaborator Bobby Vega, and vocalist Leslie Mendelson, they form the core of K I M O C K, a project intended to punctate this new sound.
He'll return this time around to Evanston's SPACE -- perfect for this sort of affair -- on April 2nd.  We got a chance to catch up with Kimock to discuss the process of writing and touring the album and a few other projects he's got his hands in.
Last Danger Of Frost has an experimental and ethereal,world music feel to it. Was there a concept going into the record?
Uh no, that's a good question. The concept was basically I just pointed a microphone at what I was doing at home.
It's kind of fun for me, but basically how I'm known to the concert going public, is in this narrow role, I'm a featured soloist in a dance band. I get out there and take care of the bright shiny stuff. The lead guitar thing.
That's not what I do at home. I play my Hawaiian guitar, my fretless.  This is just me, being myself. It's a little more personal. I'm not really sure what the motivation was besides there was a microphone there. I don't even know if I intended to release it. We put it together and it was really far out so we thought, "let's just do it."
How much of the record is improvised?
That's a good question, too. The basic idea for me was that there was an acoustic, finger picking component, and an electronic component in my head.
I'm not making a distinction between the arpeggiating sounds you get on an acoustic guitar or the arpeggiating sounds you get with a sequencer. These are roughly equivalent enough and we'll morph in between these sounds.
Most things started as like... let's be in 12/8, and have some rhythmic interpolation and have this go here and that go there. The cool thing about this is that if I had something I thought was more or less together, I'd listen, and go, "what next? How can I compliment or contrast?"
It all kind of evolved chronologically. That's kind of how the record unfolds.
How will the show differ from the record?
It's gonna go everywhere. We're using a bunch of ideas as starting points and they've already evolved quite a bit as you'd expect them too.  And were continuing to write. We're doing some serious banging our heads on the wall trying to incorporate the electronic component, like trying to use the technology available in service of the idea.
How has the response been live?
It went great, and I very much enjoyed it. It was kind of unknown territory, like we're going to this acoustic thing, and incorporate these electronic elements, and samples and grab stuff live and process it, but were going to do it with these people with a real established chemistry, and try to make something new.
It was actually wonderful. It was a whole lot scarier, just contemplating the things we needed to do to get it on stage, than to actually get it on stage and do it.
What's the connection like playing with your son?
Oh man, it's just the best. I love Johnny's playing and writing, and his whole approach to music. He's just relentless and focused and intense. Really driven to do things creatively and get results. He's a creative enough musician that if I didn't know him I'd be like "Hey, man we gotta get our heads together!"
What first drove you to improvisational music?
Just the music that was available to me, that I grew up listening to. As much as i enjoyed the song and storytelling aspect, which is still central to my listening, at the same time there was a pretty big influence from modern jazz, and Indian music in terms of improvisation.
There was a whole bunch of spirited rock and blues improv in the 60s and 70s with the Allman Brothers and Cream where you could just play what you were feeling and kind of stretch the song form, but pretty much everyone was doing that. It seemed to be an ingredient in all the music.
How does you feel you are able to maneuver the Grateful Dead idiom with your own voice?
Oh, you've got some good questions. This is cool.
Well, I kind of came up musically in the Bay Area.  I grew up in Pennsylvania and bailed out without a nickel with a bunch of guys, and drove to California.  I didn't know what to expect except that there's a scene, and we were all single and free and kind of crazy.
I landed in Fairfax, in Marin County, so I was just in that local scene and grew up listening and playing to those players and doing things in that way. Bobby Vega's take on that was "you walk into a room and everyone has a cold, you catch it", and if you walk into a room of a bunch of people playing East Bay funk, you catch that too.
It was the social, intellectual and musical currency. I'm a San Francisco musician. Those were the influences that shaped me. The Dead were huge in that scene, and everybody played together, so I played with all those guys.
We shared a lot, like how you'd approach musical situations in general. Being able to maintain some kind of voice in that wasn't exactly easy, relatively to Garcia's playing specifically.  I mean we shared so many influences at least on a blues guitar level.
So, I stayed away from the tunes for the most part, and kind of went a different way with the basic physicality of the way to play the guitar. Right when I moved there I abandoned the light string blues thing and put the heaviest possible strings on. I just tried to do everything backwards. I did as much differently as I could.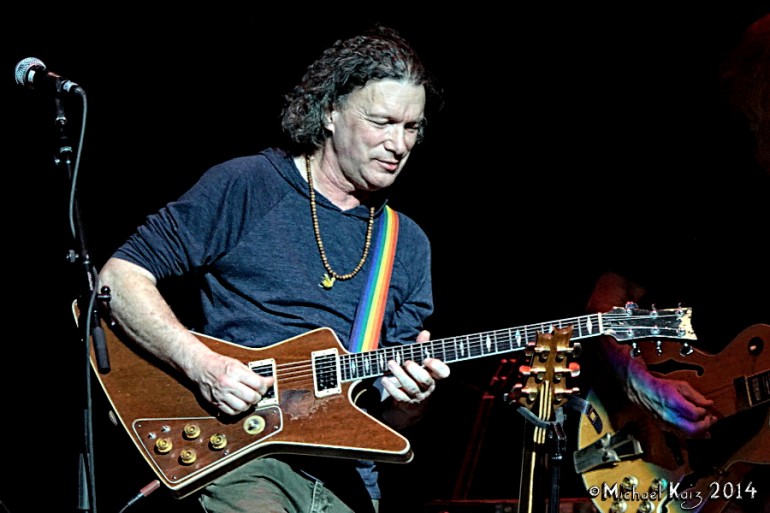 You're playing with Hot Tuna this summer, are there any rehearsals coming up for that?
Rehearsals are for cowards! I've played with them many times, and Jorma was one of the first guys I met when I moved out to California. We play together whenever we can. He's got a music school that I teach at, too. Playing with Jack and Jorma, you don't need a rehearsal as much as you need to get your attitude right. Get up there and accept the fact that you're sparring with masters, and there is a bar that is set that you gotta respect. Just try and match their intensity.
What about the Voodoo Dead project?
That one for me has always been most informed by my musical chemistry with Jeff Chimenti. We really enjoy playing together, we have a real different take on our own individual instrumental rolls, but we kind of rock it in the same way and stretch it in the same way, so any band that we manage to get me and him on the same stage, things get big.
Any new bands/ guitar players out there you're into?
For me a new guy would be Blake Mills. Probably one the absolute best guys working. You know Julian Lage, very different style, but a tremendous player, and the sweetest dude on the face of the earth. That guy is a cool cat.
What's your advice for young guitarists/ musicians?
Just believe in yourself. That'd probably be the big one. I think more people kind of stop themselves just out of fear. I know that I do. It's okay to believe in yourself and do your thing.
K I M O C K plays SPACE in Evanston on April 2nd.  Last Danger Of Frost can be pre-ordered HERE.