Bass'd In Chicago: The Barn Interview With Mr. Blotto's Mike Bolger
Mr. Blotto bassist Mike Bolger considers himself a very lucky man.  "If you're lucky, you get to really enjoy and connect with music," he tells me.  "Luckier than that, you are able to play it.  Even luckier you get to be in a band... and write your own stuff.  Still luckier you get to play out a lot.   Then, you get to support yourself doing it.  We are way blessed."
In the most complementary sense of the word, Mr. Blotto is a fixture, an institution, a rite-of-passage for Chicago area kids discovering music that is local and live. It's hard to remember a time when Blotto hasn't been cranking through jams at theaters and clubs all over the Chicago area and throughout the Midwest.  A Chicago area native, who makes his home in La Grange Park, Bolger shares with The Barn how Mr. Blotto has been shaped by the city (and its suburbs), provides some insight into the traditions that supply the band and its fans an extra spark, gives us a peek inside the rehearsal room, and offers perspective on the entire experience from the men on stage.  It is obvious that keeping a band like this going all of these years, isn't about putting it on auto-pilot, it is hard work and a lot of give and take.
Near the end of our conversation, acknowledging the amount of effort and sacrifice involved with tone that hints of remorse, he quickly and emphatically adds, "Let me be clear.  I wouldn't trade it for anything."
The Barn:  Thanks, not just for talking to me, but for being a part of the very beginnings of The Barn – if you recall, Blotto was the featured act for the Barn's inaugural show in December of 2009.
Bolger:  At The Mambo Room!
Yes, at the Mambo Room, which has of course become a Thai restaurant now.
It's always the way.  The Fillmore East becomes a laundromat and then becomes something else.  Things always change.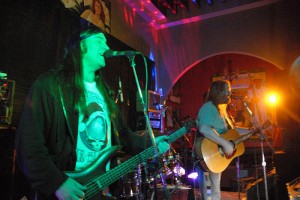 And you guys have obviously seen a lot of it.  You have been around for, what, 18 years now?
It's kind hard to pinpoint when it began, like trying to determine what your anniversary is when you're dating.  When did the lineup solidify?  When did people start thinking of it as something serious?  The parallels are definitely there.
We played Brixies when we first started out.  We've played Fitzgerald's and other places on the west side recently after not playing around there for a while.  So it feels cool to be back.  Like a sense of history or something.
I can only think of a handful of bands that have had the longevity and success that you have in this market.  You really seem to own it.  What is it about Chicago that allows a band like Mr. Blotto to thrive?
We are definitely a Chicago creation.  We were playing in Colorado and somebody said, "what's it like coming from a place from Chicago?" Well, if you want to see a blues band, you have to decide which one you want to see:  north side or south side, big club or little club.  Horn-driven blues band or just a guitar and a drum?  And if you're into the reggae thing, the bands are fighting it out to get to the Wild Hare.
There's a lot of different scenes, which is great for the music listener.  You can say "do I want to catch Mr. Blotto or this other band?"  It's a big enough city that national acts are always coming through and playing at the bigger joints.  We've got people who want to stop by to see our second set after a big show;  we always start late and play late.  We don't do seven or eight o'clock shows like the national acts do, generally.
For the listener, its really cool since there are so many different genres to see which leads them to be fairly critical.  If there's just one pool hall in town and all they are gonna play is country, you better start liking country unless you get out of town.  Here, you can demand that the bands are not just available, but good.  There's a lot of competition which of course makes the bands better.
The other benefit, for us, is that its easier to get inspired.  If we think we've been playing too much rock, we can go catch some folky stuff or, who knows, some open mic poetry slam stuff or something.  That can inspire you… we can listen to something and decide to make our bass and drums work that way.  The influences are there.
I've always though that the more good bands are in a scene, the better it is for the whole scene.  Some musicians are paranoid about other good bands.  I love the fact that there are bands like us and Umphrey's and others that do good work in similar styles... that's what makes a scene.
There are so many different geographic centers and local communities.
And they're very different!  You get a completely different vibe playing on the south side than you do around the Double Door.  There's a totally different feel to it and, in a very real way, Chicago is made up of about a dozen different towns that just happen to be next to each other.
You have a live show that encourages fans to see multiple shows… you mix up the setlists and play improvisationally. Do you find that you'll have fans that will travel to see Blotto, even across the expanse of the city, like "hey, there's a west suburban fan at a street fest in Lincoln Park!"
Yeah.   For one example, our Blottopia fest in the summer (this year it's July 22 and 23 in South Elgin), right on the Fox River.  There are some people that I only see there.  They come for the whole weekend and this is as far east as they come.  Maybe they're coming in from Nebraska or Colorado or something.  They'll see the people next to them and that'll be the only time they see each other all year.  It'll be like the swallows coming back to Capistrano or something.
Then, there's the street fests.  Sometimes at the fests, the parents will come out, because those are the shows that start earlier and you don't have to be out all night, since the city needs the street back by ten.  You'll see folks come out with two or three kids and each year, you see them getting older and taller.  We've been doing those fests for close to 20 years know.  Sometimes kids that were 3 or 4 when we started… now they're 19!
Have you seen a multi-generational Blotto fan family?
Absolutely, and that makes me real happy.  My parents were really cool about taking me and us kids around to do the things that they did.  Even if you have a 1 or 2 year old that you take to an outdoor concert.  Obviously, they're not going to remember what goes on.  But, they have this vision of being at the cool thing that mom and dad brought them to.
I have memories of that sort of thing and I think its really cool to be a passenger on the train as a kid, who turns out to maybe be the conductor as an adult.
The other thing I like is that our scene is a very experienced concert going scene.  You don't have to worry about a rookie coming in, having three beers and starting a bunch of fights.  I think we've had six fights in the history of the band and one guy was responsible for four.  It was a college town… they kept throwing the guy out and he kept finding his way back in, I think one of his frat buddies was working the door.  We look at each other and say, "didn't the bar kick this guy this out five minutes ago?"  He's back again spilling his beer and trying to finish his argument with the guy he was picking on.  It went from bad, to a little irritating to actually being hilarious by the end.  We ended up breaking into "Gimme Shelter" from the Altamont movie just because we thought it was appropriate.
But, generally, we've got a really peaceful thing at our shows.  The crowd is much more abuzz about the song list or making a request.  To know that people are that invested in what you do makes you take it more seriously.
You've done All Dead shows for a long time now, but this Christmas, you covered an entire Grateful Dead show at the Cubby Bear, did you end up learning any new tunes for that show?
Once or twice a year we do an all-Dead show.  Generally, we just make up the setlist that we want to do.  A couple of times ago, we tried to do the thing where we play the whole setlist just as the Dead played it.  We've done it 3 or 4 times.
Once you learn a bunch of songs by the Dead, you can look at a song list and say "this must have been a really great show".  Not just because they played the hits, but the way that the songs fit next to each other.  It's like when you go to a place like Charlie Trotter's and they've got the whole meal fixed.  There's a whole flow.  The thing doesn't just reset after each song like you're listening to a pop band.
We did it sort of as an exercise.  We said "we know most of the songs in this set lists, let's play it just how they did and see if there's something to be learned from it."  We learned the remaining songs.  It was a really great experience.
"Throwing Stones", 12/25/2010 - Cubby Bear

A lot of times we don't use a setlist for our shows.  Sometimes we use one and then divert from it.  To have one where it was carved in stone was really kind of liberating in a way.  We couldn't think about what song would be next, we just did it! Almost every time, somebody has guessed what show it was by set break.  Someone will say, "was that the Red Rocks show or Alpine Valley show I was at?"  When people are paying that close attention to it, that makes the musician invest more in it.
Well, learning new songs for shows like that is emblematic of a band that cares… always keeping the repertoire new and fresh for people that come to see you multiple times.  How many songs would you stand to guess are in your current and active repertoire?
In the current and active, I would stand to guess between a hundred and a half and two hundred.  If you look at all the songs we could play with a little rehearsal…  I mean, every time we do Blottopia we cover a whole album by a different band.  We've never lost the desire to learn other people's things, because we don't think that we have to replicate anything exactly.  We're not a jukebox band.
Blottopia Cover Albums Over The Years
2001
Dark Side Of The Moon
2002
The Doors (debut)
2003
Led Zeppelin II
2004
Who's Next
2005
Some Girls
2006
Terrapin Station
2007
Gamehenge Saga
2008
Babylon By Bus
2009
Stop Making Sense
2010
Sgt. Pepper's Lonely Hearts Club Band
We'll find what's interesting in the song in rehearsal and then figure out the way that we do it.  It's kind of like a jazz thing.  All the versions of of "My Favorite Things" aren't the same as Julie Andrews singing up in the Alps.  It's the same chord changes and same key but, man, it's a radically different thing.  A lot of things are like that for us.  Maybe we'll play it straight and then have a different take on the bridge or the chorus.  Maybe it's something really slight, move into another key or tempo – see if it works like that. My dad used to say that a pretty girl could wear anything.  A good song is like that, too.  They are very malleable.  Look at all the Dylan things that people have bent all these different ways.
Does all that come out in the rehearsal room with you guys or does it happen on stage, too?
There's no real rule for it.  The inspiration comes when she wants to and you just have to let her in.   Sometimes its at rehearsal and we'll practice something and someone will come forth with something they don't like about it.   We say, "well what would you do different?"  They'll come back with how they want the drums or guitar to sound and then we'll play it and then I, as the bass player, will react to that.  Sooner or later we're all doing something different and playing the song, but doing it how we want.
Sometimes you don't plan it and it's a happy accident.  You're on stage and you're playing it too fast or too slow and afterwards, somebody will say "that was really cookin', let's make it even faster next time we play it."  So the next weekend, we'll incorporate the changes.  Sometimes at a soundcheck, since we're not thinking about it too much, it comes out different and sometimes we'll like it!   Sometimes its just the way the set was called.  We tape our shows so we can always go back to listen to it and find out if it works.
It happens so much, I'm not even surprised by it anymore.  It'll be something that I've written as bluegrass or ska and suddenly it comes out like a country ballad and it just works better that way.  It happens all the time and makes being in this band so much fun.
There have been a number of new Blotto originals creeping their way into set lists lately.  Anything you'd like to share about this latest batch of tunes?
We're getting ready to go in and start recording our sixth CD. [Guitarist] Mark Hague joined the band in '99.  Ever since he joined, the pace of writing has really increased because Paul [Bolger, guitarist / vocalist] and I have been writing songs ever since our first band and Mark is the same way – he just comes with part after part, or new suggestions for our songs.  He has great taste and is really fun to work with.  Every record since he's been in the band has had enough material to be a double CD, but we don't want to keep doing the double.  Double CDs always are perceived to have some sort of filler.  We don't want anything that we didn't think was filler to be thought of that way, so we just try to put out the next CD faster.
"Movement Of The Wheel", 1/8/11 - Ballydoyle's, Aurora
We're working on our sixth record.  We've got about 25 songs competing for about 12 spots.  Some of the songs we've played a lot.  About six or seven we've never played live or only played once.  Sometimes playing it live gets to something that rehearsal just never can.  You can rehearse 100 times and think you've got the arrangement, but playing it once live is so much different and makes the song better.  Mistakes actually reveal things good about the song.  If you forget the third verse… maybe there shouldn't be a third verse!
We play things live to get a sense of how it works in the room.  You can tell if people are getting bored or really hanging on what happens next.  When we've got an unreleased new original that people don't know how it's supposed to go… our audience is always in for a fresh thing.  Hearing a new original is like.  The tapers post it online with their own titles, before we get a chance to name it.  There was a song called "Work On Sunday" off the last record that people called "Tipsy Tuesday" for three years.  We just didn't know yet.
So we get these songs out, play them live.  I'm sort of the band archivist so I'll load 'em all up on my hard drive.  I'll compare the live version, the rehearsal version and the demo version.  I'll listen through all the contenders and see which dozen or so seem to stick to each other well.
Does the band have an approach in the studio or do you try something new every time?
We have always wanted to get every song to sound as good as it can.  We never had a thing where we had to get a signature sound or whatever.  As it turns out, we've used the same studio and gear, the thing has actually moved buildings and physical locations from time to time, but all five of our records have gone through the same mixing board.  It may not make a difference really, but it is the kind of consistency that most bands would like to have.  It's never meant much to us… and we've got it!
We'll do the next one on the same board again, which is hilarious.  We're not trying to keep a constant thing, it justs seems to be happening.  Like something out of science fiction or Dr. Who, you just see the same thing popping up all the time.
There's a couple of songs we're tyring out, finishing, seeing what arrangements work.   It gives us a lot of room to work in.
More than your typical band, I find that Blotto relies a lot on traditions ( your Christmas show, The Blottopia festivals,  Hotel Blotto, some form a weekly residency.  Can you talk about what these mean to the band?

The weekly residency is great.  Now, it's at Reggie's in Chinatown… every Tuesday night.  We play semi-acoustic, I use a small guitar amp.  We'll get up there and sometimes feel like playing the tunes from the earlier records, some nights we get four or five songs in and we'll play "Stump The Band."
People will shout out songs and we'll take a stab at whatever they come up with.  And we'll keep score!  It's great ear training for us and I think its fun for the audience to see a band sweat.  Sometimes you can't remember the words.  I'll take a line or Mark will take a line if Paul draws a blank.  We'll be playing in the wrong key and then switch in the middle.  It's not tight, but its honest.  One night when we kept track and we were losing 13 to 2, I went back to the bartender and asked for about $100 in fives.  I stood by the door and was waiting for people to tell me how awful we were.  I was going to acknowledge them and hand them their money back.  But, everybody walking out said "that was the best one ever!"
I thought people were putting me on to be nice to me.  Everyone was buzzing about.  I took two things from that.  One, there's so much canned entertainment out there… people just lip-synching or just staring at their shoes and phoning in a set without having to try that I think people liked seeing something that they knew was real.  I mean, we were bombing and getting frustrated doing it.  I guess it was pretty entertaining to watch.
The other thing is that you could be actually in the band and not get it.  I thought people wanted their money back.  Not only can a fan miss the point, but so can a musician.  There's stuff that's out there that's appealing to people that I just don't understand what it is.  That was pretty cool.  A couple good lessons for me that day… it can be good in ways you just don't know.
So, the tradition of the residency let's us stretch in very strange ways.  The fact that people are already make their plans for Blottopia  means that we can expect a certain type of audience there that sort of forces us to prepare some really interesting stuff for them to hear.   You don't want people to come in, travel across 6 or 8 states and come to Chicago and then play the same set you did last year.  You have to honor that commitment or you will lose it very quickly.  That tradition makes us be a much better band.
The Dead nights on Christmas night.  We've always been a fan of doing theme nights.  We've done all Cajun nights, we've done Reggae nights.
I remember Country nights back at Whiskey River back in the nineties.
Sure!  We went to Alcala's and bought some big boots and a straw cowboy hat with a buffalo nickel on it.  We played some old country things and some modern stuff.
"Amy", 5/29/93 - Otis'

Some truly funny things would happen.  You'd mix the spinning hippy tripper people standing in the middle of hard-core country fans doing the two-step or line dancing. One time "Strokin'" by Clarence Carter was playing on the PA to end the set break;  we just started playing on top of it.  Paul does improve rap stuff and started making up verses really easily.  The country people start thinking… the records stopped, the bands playing, hmmm I don't recognize these verses but that doesn't stop them from doing their boot slapping twist thing.  Meanwhile, the hippy kids are dancing around them and they continue to do this two-step around that they do in country bars.  Then, we segued into "Franklin's Tower" at the same tempo.  The hippy kids are great.. they love this, they expect it.  The country fans just shrugged thinking, this is the longest version of "Strokin'" I've ever heard!
That tradition of knowing that our audience is there to hear something out of the ordinary and also something familiar.  It gives us a really cool safety net that whatever we do was going to be okay.  That's a huge lesson.   As long as you really do it, and really go and take something as far as you can take it, it'll probably be great.
Mr. Blotto plays two big sets February 5th at Brixie's.  Advanced, discount tickets are available now.