Barrier Breakers and Hendrix / Jaco Tribute In The Jazz Underground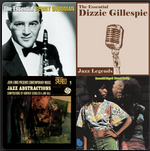 This installment of
Notes From The Jazz Underground
features the playlist based on the November 29th show.
From the previous weeks unthemed set, host Paul Abella provides two themed shows in one.
The first hour was the barrier breakers…
Benny Goodman was the very first (major) jazz artist to integrate his band, heard here with Charlie Christian and I think Teddy Wilson.
Dizzy Gillespie was the first jazz guy to really make Latin Jazz.  Before that, Jelly Roll Morton talked about jazz having a "Spanish tinge" but Dizzy's work with conguero Chano Pozo was the first stuff to be more overt about it.
The John Lewis cut is a bit of a misnomer - Lewis isn't on it.  It's an all star cast, with an arrangement written by Gunther Schuller featuring, most notably, Ornette Coleman, Eric Dolphy and Bill Evans on the piano, playing Variations on a Thelonious Monk tune, "Criss Cross".  Schuller was trying to do something that got called "Third Stream" in the jazz world - a fusion of jazz and classical music that would be able to stand as either jazz or classical music.  It doesn't really work, but stuff like this is fascinating for the walls it tried to kick down.
Donald Byrd and Miles Davis both merged jazz and funk together in ways that weren't at all stereotypical - funk guys (see Parliament) would bring in jazz guys to play, or utilize harmonies that were just as much about jazz as they were about funk/R&B (see Stevie Wonder) and jazz guys would use funk jams as modal improvisational vehicles, but Donald and Miles hit a weird sweet spot in the middle, and at their best, made music that was too cool for both schools.
The Herbie and Branford Marsalis (credited to Gangstarr on the Spotify playlist) tunes were jazz guys reaching over to hip hop in substantial ways.
And Carlos Santana and John McLaughlin playing Coltrane...what else is there to say?
The second hour was devoted to Jimi Hendrix (a little bit, his birthday was earlier in the week)  and Jaco Pastorius (a lot, his birthday was December 1).  As Abella explained during the show, last year Jimi got the lion's share of the tribute, so the script was flipped for this tribute.   Your gonna like the the final few Jaco tracks that end this compilation.  I guarantee it.
Notes From The Jazz Underground runs Friday nights on WDCB 90.9 FM.
Complete Playlist
| | | |
| --- | --- | --- |
| TITLE | ARTIST | ALBUM |
| Wholly Cats | Benny Goodman | The Essential Benny Goodman |
| Manteca | Dizzy Gillespie | The Complete RCA Victor Recordings |
| Variants on a Theme of Thelonious Monk (Criss Cross) | John Lewis | Jazz Abstractions |
| Lansana's Priestess | Donald Byrd | Street Lady |
| Black Satin | Miles Davis | On the Corner |
| Rockit | Herbie Hancock | Future Shock |
| Jazz Thing | Branford Marsalis, feat Gangstarr | Mo Better Blues Soundtrack |
| A Love Supreme | Carlos Santana & Mahavishnu John McLaughlin | Love, Devotion, Surrender |
| Thank You Boys | Janes Addiction | Nothing's Shocking |
| Third Stone From the Sun | Jimi Hendrix | Are You Experienced? |
| Bright Size Life | Pat Metheny | Bright Size Life |
| Hejira | Joni Mitchell | Hejira |
| Black Market | Jaco Pastorius | Live In Italy |
| Dark Prince | Trio of Doom | The Trio of Doom Live |
| The Wind Cries Mary | Jimi Hendrix | Are You Experienced? |
| Soul Intro/The Chicken | Jaco Pastorius | The Birthday Concert |
| Palladium | Weather Report | Heavy Weather |
| Donna Lee | Jaco Pastorius | Jaco Pastorius |