Antibalas: Unification Through Diversification | The Martin Perna Interview
Antibalas: Unification Through Diversification
By: @312mrg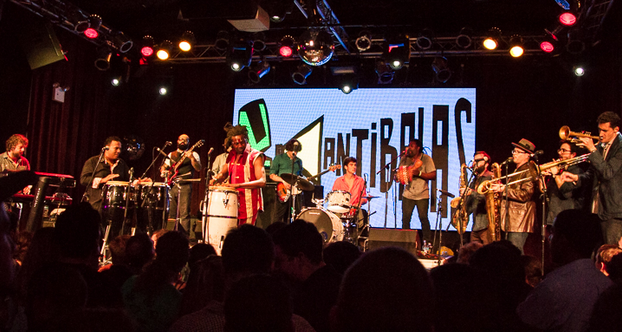 I didn't realize what March 10, 2001 would hold when I bought tickets for Mike Clark's Prescription Renewal Tour.
I signed up to see Skerik, Charlie Hunter, Robert Walters, and DJ Logic accompanying Headhunter drummer Mike Clark playing...well...Headhunter tunes.  However, two opening acts by the name of the Sugarman 3 and Antibalas not only stole the stage for me , but also exposed me to a world of music I was just waiting to find.
Jazz and boogaloo evolved that evening for me, but Afrobeat became a discovery. It wasn't what they sang, it was how it made you feel. It was in their movement and in their zest for how they played it -- a pulsating percussive spell that churned and captured the crowd.
Antibalas planted a seed that is still growing for me, growing from that original source. They've led me to discovering Fela Kuti his son Femi, Tony Allen, Eddie Palmieri, the Daptone derivatives of Afrobeat (the Daktaris, Budos Band, and even the Dap Kings behind Sharon Jones), and locals the Chicago Afrobeat Project. Antibalas became as infectious as their grooves that night.
But since then catching Antibalas in Chicago has been like catching a fish with your hands in murky water. No sooner than they pop up, they are gone.  Since 2006, they've been involved in scoring and performing the Broadway musical, Fela. Unless you are in or around Brooklyn and NYC, the chance of seeing them (or one of their many side projects) live can be challenging. With a worldwide demand for their music -- and a schedule that includes lending support to a slew of interesting artists (MMW, My Morning Jacket, Mark Ronson), participating in an upcoming David Byrne tribute and honoring legendary artists (Paul Simon) and albums (The Band's Last Waltz). -- they are busy as hell.
I caught up with Antibalas founder and baritone saxophonist Martin Perna in advance of their return to Chicago's Park West on Valentine's Day.
I've heard you cite rap groups like XClan and Pete Rock as being some late 80s/early 90s artists that led you to this genre. Being a fan of 3rd Bass and XClan in those eras, I can't understate how much of a connection I was able to make between your influences and your music as its played in its current derivative. Thank you for affirming that era of my childhood. Do you still find yourself going to those sources for inspiration?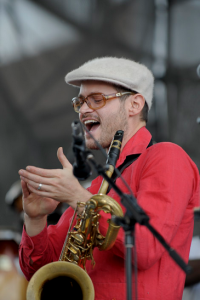 These days I would say more for nostalgia than inspiration most of the time. I just put on "Rumpshaker" by Wreckx-N-Effect last night and was transported back into 10th grade. I hope, with no sarcasm whatsoever, that 200 years from people can get down to that song in a club.
I was 16 in 1991. Most of the artists I listened to were just a few years older than me, and while they were making great music and there was a lot of truth and poetry in there, many MCs were knuckleheads just like I was, and it's hard as a grown man to go back and accept all the casual misogyny that I used to listen to uncritically as a teenager.
As for musical inspiration, there are a few exceptions, but the manner in which those albums were assembled and produced is so different than how we make music as a live 12-plus piece band in the studio.
One exception might be Public Enemy. A few years ago together with the Roots, we learned the entire "It Takes A Nation of Millions to Hold Us Back" album and performed it live with Public Enemy with no samples. We learned all the parts.
With Antibalas, are you paying homage to Fela or do you feel you are evolving Afrobeat and Afrocuban (i.e. channeling Fela and Eddie Palmieri, to charter your own course in music and push boundaries to create something new)? However you respond, is it a change from your original goal for Antibalas?
Does everyone who uses an iPhone active paying homage to Steve Jobs? Does John Legend pay homage to Marvin Gaye? Does Elvis pay homage to Big Mama Thornton?
It's a complicated question -- whether we say yes or no, the truth is inherently yes because we are working with a musical architecture that Fela created. The group wasn't formed explicitly for that purpose as a tribute band. It was over a year into the group that we ever even played a Fela song live. Once ex-members of his group started coming to NYC to play with us, we decided to master more of his repertoire so that we'd have a common musical ground for the songs that they wanted to do, in the same way that you'd learn a set of jazz standards. That process helped us write our own original songs in the style, in the same way that if you dissect and master a whole bunch of Beatles songs, you'll inevitably be able to craft better pop songs.
I have critiques of Fela as a person and as a bandleader, critiques formed after a decade and a half of musical interaction and conversation with his own sidemen like Tony Allen, Oghene Kologbo, Tunde Williams and Dele Sosimi. But none of that takes away from how powerful and significant his own music was, and doesn't diminish the robustness of the musical architecture he created.
I think questions like these reflect a general ignorance of the musical conversations that have been going on for centuries back and forth across the Atlantic between Africa, the Americas, and Europe. Arsenio Rodriguez was part of that conversation in Cuba and New York in the middle part of the 20th century and created another equally robust musical architecture, called son montuno which is the basis for what most people these days call salsa. We are just part of that conversation in 2015. Maybe we'll coin new words or structures that people will credit us for, maybe not, but the emphasis is not on novelty.
Who brings the creative ideas to the band? I'm speaking of concepts like the Fela, Paul Simon or John Lurie tributes?
We don't go out looking for these types of opportunities. They come to us. People seek us out because they respect us as musicians. Someone once said of us that we are your favorite band's favorite band. People get in touch with our manager with a plan and a price. If there are cool people involved, an interesting and challenging repertoire, and we can work it into our schedule, we do it. Things keep coming. We'll be the house band (with a few members of the Dap Kings) for a tribute to David Byrne and the Talking Heads at Carnegie Hall this March.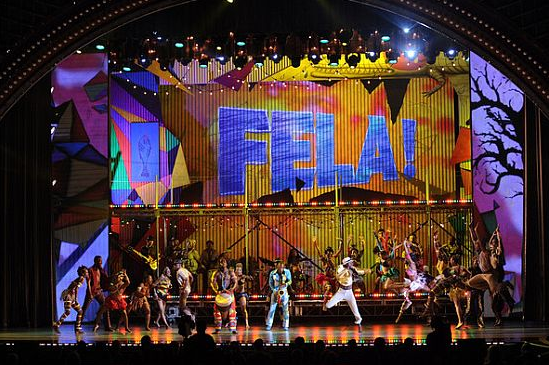 How much democratic thought gets put into a collective band sound? I have to think that any project long term might lead to a new sound or direction that injects new life, but it has to require a common vision and someone to validate that, no?
This has changed over time with the membership. People step up and do what needs to be done. Sometimes there are lapses and communication issues, but it has worked well enough for us to be around, still strong and doing new things after 17 years, after many other bands have come and gone.
Who says its time to get back together to record or tour? How democratic is that decision?
Those are two very different things...Recording is complicated because we have no financial backing, no company that's ready to drop the money to make it possible for all of us to take time off from what we're doing to pay the bills and go into the studio for a few days. It also depends on the repertoire...if we have enough new material to justify going into the studio to record.
Touring is different. We try to do shorter runs because your life -- no matter how solid and organized -- will start to unravel after three weeks on the road. We try to be as flexible and understanding as possible with each other if someone needs to dip out or find a sub for a tour because it is not just a sacrifice for us, but for our families who rely on us for emotional support and miss us.
I've viewed you as comprovisationalists (composition + improvisation) since the first time I saw you perform, what formula do you use or does it just kind of happen with how big, diverse and creative the family is?
I wouldn't say there's a formula but there are common elements to a song...the intro, the melody, perhaps a second melody, an instrumental solo, a vocal section, a call and response chorus section, another solo with a horn response figure underneath, an outro melody, and the end of the song. Within there, the flexible sections are the instrumental solos (usually horns, congas, or keys, once in a blue moon guitar) where the songs are more elastic, but regardless of what happens in those elastic sections, we always know what is coming next in the song.

How did Antibalas and Zap Mama end up touring together? Was it inevitable that you'd collaborate on stage?
This tour was proposed to us by CAMI, a concert production agency who pairs artists with common musical threads together for collaborative tours where each group has their own feature as well as some new collaboration.
They've produced over 25 tours with really cool pairings such as Allen Toussaint with the Preservation Hall Jazz Band last year, and Dr. John with the Blind Boys of Alabama the year before. When they came to us with the idea of working with Zap Mama, it sounded great. She's based in Brussels, and while she got to know us via our involvement in the Fela Broadway musical, it was CAMI that reached out to both of us with a proposal that worked for both groups.
How exciting has this tour been for the band?
It's been really exciting but a challenge in that as we get older, touring becomes harder. There are more risks, more expenses, more red tape.
The performing arts centers are great in that they have good equipment, a dressing room where we can all sit down, clean toilets (and showers!) and lots of staff to handle stuff. However, it's a challenge initially each show when people are sitting down and might be used to behavior that is appropriate for other shows at these venues (ballet, theater, orchestral music) where they're expected to sit, watch, and clap at prescribed times.
Our shows are engaging and interactive from start to finish. It is dance music and music where we talk to the audience and expect them to talk back. When we establish this feedback loop between the performer and the audience, we're able to begin to unlock all the possibilities. It always happens, but in this performing arts hall context, it depends a lot more on the venue and the audience as to how hot the show gets.
Based in Brooklyn, but becoming such an international act, have you found difficulty or criticism as a representative of the United States? Do international audiences or media ever attempt to engage in political discourse vis a vis your music?
I think audiences outside the United States tend understand us more than people inside the United States in the same way that they did Nina Simone or James Baldwin. We are representatives of the United States inasmuch as those social conditions produced us, but not as ambassadors of the US state apparatus. Our messages are in the music and if they want explanations they'll do an interview. The majority of the more nuanced, engaging questions come from journalists outside the United States.
How quickly after time off is the band able to regain its live chemistry?
We are pretty resilient. Even when we're not onstage as Antibalas, we are very active musically.
As a band, we went into the studio and co-wrote and recorded two songs for Jovanotti's next album, and the next day, the horn section went in and recorded with Mark Ronson for his new record Uptown Special. Many of us play regularly with each other in NYC based projects. For example, the rhythm section, led by bassist Nikhil P. Yerawadekar on this tour forms the rhythm section for the group Low Mentality. They do original music as well as serving as the backing band for Ethiopian funk/jazz pioneer Hailu Mergia.
The horn section was part of The Complete Last Waltz, performing all the songs off that record for the third year in a row with artists like Nels Cline of Wilco.
How difficult logistically is it to tour with so many musicians and gear? Does that factor into tour routing & scheduling?
We are an easy band to work with in that people are punctual and diligent as far as showing up, being team players, etc. We do most tours on a shoestring. We are our own roadies, tour managers, stage managers on 90% of our tours because even on a tight budget, it's the only way we can make any money.
There are some cities that we've played and always lost money in, even if there is an appreciative and cool crowd. We can't afford to go to places and lose money or break even. It's just not sustainable.
What does Antibalas aspire to be in the next 15 years? Will there be more focus on the core? balance of the side projects? continued mutations? More non-traditional/theater type of projects? Is there going to be a stint where you push Antibalas more for a bit?
That is undetermined. We can't predict what things will look like 15 years out. Will there even be an America? All we can do is stay true to our collective and individual values. What unites us is that we want to make good music, whether together or separately, we want to do it socially, and we want to do it in some kind of way that speaks truth to power.
Everybody in the band makes music outside the band, so we'll keep on making records and figuring out how to survive in this industry where the work of creative producers continues to be devalued. Some people's projects will inevitably lead them away from, or out of the band. That's happened in the past and it will happen in the future.