Andrew Bird Announces New Album, Shares "Capsized"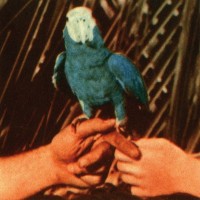 Andrew Bird has announced Are You Serious, a new full-length record out April 1. The album will be the first proper studio release of original material since 2012, following the Handsome Family covers record Things Are Really Great Here, Sort Of, and the experimental Echolocations: Canyon.
In an unusual move for Bird, the record will feature guest spots from Fiona Apple and Blake Mills. The first single, "Capsized," was debuted last night on Conan, and the studio version is now available to stream.
There will be a deluxe version of the album featuring two additional tracks, as well as a vinyl box set featuring an exclusive 10" titled Are We Not Burning? The Devolution Of Capsized.
Many of the songs from Are You Serious were performed recently at Bird's Gezelligheid dates at 4th Presbyterian Church, which you can read reviews of here and here.
Listen to "Capsized" and Bird's performance on "Conan" below, and check out the track list for Are You Serious.
"Capsized:"
"Conan" Performance:
Are You Serious track list:
1. Capsized
2. Roma Fade
3. Truth Lies Low
4. Puma
5. Chemical Switches
6. Left Handed Kisses
7. Are You Serious
8. Saints Preservus
9. The New Saint Jude
10. Valleys Of The Young
11. Bellevue
12. Shoulder Mountain*
13. Pulaski*
* deluxe edition only
Are We Not Burning? The Devolution Of Capsized track list:
1. Trimmed And Burning
2. Venetian Bedmaker
3. Dying Beds
4. Jackson Bedmaker
5. Capsized- Sound City Version