All-You-Can-Eat John McLaughlin In The Jazz Underground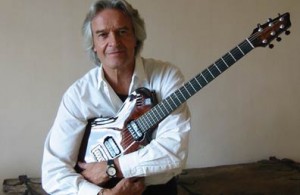 This installment of
Notes From The Jazz Underground
features the playlist based on the January 3rd show.
The prior two weeks celebrated Frank Zappa and John Scofield.  This week: wall to wall John McLaughlin in celebration of his 72nd birthday.  Seven decades leads to a ton of variety and many collaborations, so dig in to tracks with Miles, Tony Williams, Mahavishnu Orchestra, Shakti, Carlos Santana, Five Peace Band (McLaughlin w/Chick Corea, Vinnie Colaiuta, Kenny Garrett and Christian McBride) and (why-the-hell-not) with an all cello ensemble.
NFTJU host Paul Abella remarks, "musically speaking, one of the most musically inspiring shows I've done yet."
Notes From The Jazz Underground runs Friday nights on WDCB 90.9 FM.
Complete Playlist
| | | | |
| --- | --- | --- | --- |
| TRACK | ARTIST | ALBUM | LABEL |
| John McLaughlin | Miles Davis | Bitches Brew | Columbia |
| Sivad | Miles Davis | Live Evil | Columbia |
| Vashkar | Tony Williams Lifetime | Emergency! | Verve |
| Are You The One? Are You The One? | Trio of Doom | The Trio of Doom Live | Legacy |
| Senor C.S. | Chick Corea & John McLaughlin | Five Peace Band | Concord |
| Cosmic Strut | Colin Towns HR Big Band | Meeting of the Spirits | In & Out Records |
| Open Country Joy | Matt Haimovitz & UCello | Meeting of the Spirits | Oxingale |
| Let Us Go Into the House of the Lord | Carlos Santana & John McLaughlin | Love Devotion Surrender | Columbia |
| The Life Divine | Carlos Santana | Divine Light: Reconstruction & Mix Translation: Bill Laswell | Columbia |
| Birds of Fire | Mahavishnu Orchestra | Birds of Fire | Columbia |
| Vision is a Naked Sword | Mahavishnu Orchestra | Apocalypse | Columbia |
| Mind Ecology | Shakti & John McLaughlin | Natural Elements | Columbia |
| New York On My Mind | John McLaughlin | Electric Guitarist | Columbia |