Album Reviews | October 2014 Releases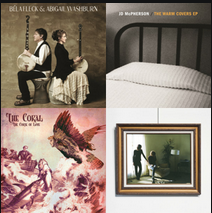 For October, we've got 14 capsule reviews from Alex and four "Editor's Choice" summaries from me below.  A key track from each release is included in the embedded Spotify playlist at the bottom of the page.
Flying Lotus- You're Dead! [10/7]
Flying Lotus's music has never been simple, and You're Dead! is no exception. Busting through 19 songs in 38 minutes, the record blends every genre with a trippy hip-hop and electronic backbone, focusing more on jazz than in the past. Glitchy drums and thick bass lines keep the record moving as pianos, keyboards, horns, guitars and samples are layered on top, with rap verses from guests including Kendrick Lamar and Snoop Dogg, as well as Flying Lotus's alter-ego Captain Murphy. The jazz influence makes this among Flying Lotus's best to date, and a record all music fans should be able to get on board with.
Ex Hex- Rips [10/7]
Ex Hex seemingly popped up out of nowhere. The trio of females plays a straightforward brand of guitar-driven rock. Leaning toward power-pop and garage-rock, Rips keeps a high energy level throughout, combining catchy vocals with rocking guitar riffs. Blending 70s tones with modern influence, Rips feels like an entire record collection mashed into one surprisingly cohesive set of songs, and makes for one of the better debuts of 2014.
Iceage- Plowing Into The Field Of Love [10/7]
Danish punk band Iceage continues to get better with each release. Plowing Into The Field Of Love is a vast improvement on 2013's You're Nothing, marking the band's first big step away from the simplicity of the punk genre. The albums is unbelievably heavy and dark, surely drawing influence from 80s bands like The Cure. Reverb soaks the distorted guitars and pianos and strings add drama to the compositions. Plowing Into The Field Of Love sounds like a classic 80s post-punk record you never heard, blending genres and styles for a beautifully dark record that is certainly the band's most mature to date.
Caribou- One Love [10/7]
Dan Snaith has been releasing critically acclaimed albums as Caribou for a decade now, exploring the depths of the modern electronic scene with a generally accessible sheen. One Love is perhaps more accessible than ever, with smooth dance beats meeting samples and sexy, falsetto lyrics hiding in the songs' thick textures. Songs build slowly and calmly, adding layers one at a time in an effortless manner, making for an easy listen that remains interesting but never overwhelms.
Johnny Marr- Playland [10/7]
The Smiths' guitarist began a surprisingly successful solo career with 2013's The Messenger, and only shows improvement in 2014. Playland features driving alternative rock built on the clean but quick guitar riffs one would expect from Marr. Catchy, upbeat and inoffensive, the record sounds like it was made for radio play, and there's nothing wrong with that.
Bela Fleck & Abigail Washburn- Bela Fleck & Abigail Washburn­ [10/7]
Bela Fleck's debut record with his wife, Abigail Washburn, is a laid-back collection of roots music. The record features no backing band, solely the two banjoists. This isn't the fast-paced, fusion sound of the Flecktones, nor is it the more traditional instrumentals of Fleck's solo works. The record sounds natural, as though the husband and wife would have played the same thing had a record never been planned. The banjo playing is, of course, fantastic, and interplay between the two creates a surprising variety of tones and textures, given the limitations of using only banjo.
NehruvianDOOM- NehruvianDOOM [10/7]
A collaboration between underground hip-hop veteran MF DOOM and 18-year-old rapper Bishop Nehru, NehruvianDOOM is a laid-back rap record that combines DOOM's infamous production abilities with Nehru's old-school delivery. The record combines soul, jazz and oddball samples for a slick, easy listen. Though perhaps lyrically underwhelming, listeners can only ask so much from the up-and-coming Nehru, while DOOM fans can't complain about more classic beats.
Vince Staples- Hell Can Wait [10/7]
California rapper Vince Staples exemplifies the West Coast hip-hop style. Simple beats rely mostly on 808-style drums, rarely even featuring a moving bass line. The focus is on the lyrics, which are exceptional in this case. Occasional samples sneak in for variety, but the focus is rightfully on Staples' delivery. This is popular hip-hop done right.
Foxygen- ...And Star Power [10/14]
With 24 songs in 81 minutes, …Star Power certainly isn't the cohesive late-60s throwback that made 2013's We Are The 21st Century Ambassadors among the year's best albums. …Star Power finds Foxygen stretching out, moving in every possible direction with their psychedelic sound. Laid back ballads, instrumental freakouts, multi-part compositions and noise jams coexist, the record changing form every couple minutes. The album's high points are nothing short of brilliant, though its lows find the band meandering aimlessly, a conscious lack of editing making the record a somewhat draining venture from start to finish. Perhaps Foxygen's goal was to create a polar opposite album to their last, or perhaps the band needed to churn out a stranger record this time around. Regardless, …And Star Power is worth a listen and may wind up one of the best examples of unrestrained creativity this year.
JD McPherson- The Warm Covers EP [10/14]
JD McPherson has mastered an early rock 'n roll sound so accessible it's impossible to dislike. His newest EP finds him covering four songs in his own simple style and clean production. "I Wish You Would" has a bouncy, radio-ready feel, while Nick Lowe's "Rome Wasn't Built In A Day" is made into a sexy, romantic R&B track. Short but quality, the new songs are an easy but rewarding listen.
Thurston Moore- The Best Day [10/21]
Chances are, you know whether you'll like the new Thurston Moore record before listening. The Best Day finds the Sonic Youth guitarist doing what he does best. Long songs with dissonant guitar jams stretch endlessly forward, tones, tunings, strum patterns and effects all keeping the songs alive and breathing, building and releasing dramatically with Moore's solos. There are no real surprises here, just a set of quality compositions that Sonic Youth fans will embrace for the sole fact that the guitarist still rocks.
The Coral- The Curse Of Love [10/21]
The Curse Of Love isn't technically a new album, but a collection of songs recorded between 2005's The Invisible Invasion and 2007's Roots & Echoes, a strong period of the psychedelic band's career. The songs find the band in excellent form, creating psychedelic-pop tunes featuring simple guitar solos and plenty of trippy guitar effects. Upbeat, nostalgic and catchy, fans of 60s psychedelic will find a lot to like in these unearthed recordings.
Run The Jewels- Run The Jewels 2 [10/24]
Run The Jewels, the collaboration of rappers Killer Mike and El-P, boasts the in-your-face production one would expect from the two. Self-released as soon as the record leaked to the Internet, Run The Jewels 2 is impossible for hip-hop fans to ignore. The record never falters, every song featuring a hard-pounding beat influenced heavily by the electronic scene without sounding cheesy or predictable. The lyricists use as many words as Outkast, with strong lyrics and an impressive flow given the complex beats beneath. Modern rap musicians could learn a thing or two from this one.
The Flaming Lips & Fwends- With A Little Help From My Fwends [10/28]
The Flaming Lips enlisted a whole lot of "fwends" for their remake of the Beatles' Sgt. Peppers Lonely Hearts Club Band. Even with guest spots including My Morning Jacket, Wilco's John Stirratt, Moby, Dr. Dog, Foxygen, Miley Cyrus and many more, the album still sounds distinctly like The Flaming Lips, adding an over-the-top level of psychedelic studio trickery to the classic songs. The Lips pay close attention to what made Sgt. Pepper's such a classic, but tweak each individual piece to fit their own psychedelic vision, creating a cluttered but adventurous album that works surprisingly well, bringing new life to songs nearly all music fans know by heart.
- Alex Wood
Editor's Choices:
Sons Of Bill- Love & Logic Technically released on 9/30, but this band came out of nowhere and went to the top of my playlist, so I'm including it here.  A pleasant collection of thoughtful songs from a band with an interesting back story.  Three brothers, sons of an academic, grew up without a radio in their house.  Can you hear it in their music?
Bill Frisell- Guitar in the Space Age - I might have overlooked this one if it weren't for Frisell's monster "Dark Star" performance that surfaced the same week of its release.  You can always expect quality, challenging rock-infused jazz from Mr. Frissell and this collection is no different.
The Barr Brothers- Sleeping Operator Wonderful sounds that are edging more towards The Slip-style jazziness that the overtly mellow tones of their first album.  Hope this paves the way for some future Slip, but there's more than enough here to tide me over.  "Wolves" is a standout track.
Steve Gunn- Way Out Weather There are next-gen guitar slingers (Derek Trucks, Gary Clark Jr.) that are becoming household names and there is another set bobbing just beneath the surface, who rely on innovation and understated though no less dynamic approach to the instrument.  Steve Gunn leads the pack of latter.  No complaints from me from this collection of expansive songs that showcase his virtuosity, but also play up the psych-folk side of his playing as well.  Guitar lovers, pay attention.