Album Reviews | November 2015 Releases
Lettuce- Crush [11/4]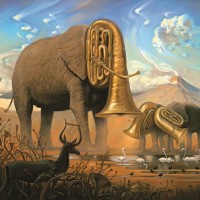 Funk group Lettuce has become a staple in the festival and jam-band circuits, developing a brand of funk that's both modern and classic. Above all else, the band's music is good fun, as all good funk should be. Crush, the band's fourth studio release, is intended to capture the band's live energy, featuring driving songs packed with rhythmic bass riffs, pounding drums and horns galore. The grooves are endless on the primarily instrumental album, with short interludes and occasional vocal tracks keeping the record interesting. An easy record for funk and jam-band fans to enjoy, Crush won't disappoint Lettuce's always-growing fan base in any way.
Upcoming Tour Dates: 12/31 @ Riviera
Kurt Cobain- Montage Of Heck: The Home Recordings [11/13]
With a standard release featuring 13 tracks and a deluxe edition featuring 31, the soundtrack to recent Cobain documentary Montage Of Heck is a goldmine for those collecting the entirety of the Nirvana singer's work. As the title would suggest, the recordings are pulled from personal cassettes recoded prior to Nirvana. There are demos that show how songs came to life, covers that show the variety of musical influences on the singer, and a whole lot of songs that just show the songwriter being goofy. Less of an enjoyable listen than it is an archival study of an enigmatic figure in rock music, this is a must-have for Nirvana fans but less than essential for the casual listener.
King Gizzard & The Lizard Wizard- Paper Mache Dream Balloon [11/13]
Australian psychedelic-rockers King Gizzard & The Lizard Wizard became known for their loud, distorted blasts of garage rock, but have slowly been changing their formula. After experimenting with a progressive, almost jazzy sound on Quarters, the band have released Paper Mache Dream Balloon, a record that focuses on folky, acoustic tracks. The songs still feature the nostalgic psychedelic sounds the band does best, but simply toned down to fit the acoustic format. Instead of blistering, loud guitars, there are flutes, soft pianos and harmonicas. Though it will never rock as hard as past albums, Paper Mache Dream Balloon is a wonderful record and successful experiment for an ever-changing band.
Upcoming Tour Dates: 5/8 @ Lincoln Hall
Neil Young- Bluenote Café [11/13]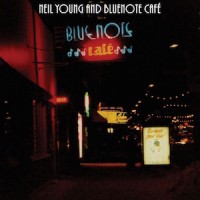 The newest release in Neil Young's live archival series is not only a first for the songwriter, but possibly amongst his best releases yet. Bluenote Café features tracks from Young's tour with The Bluenotes as his backing band between 1987 and 1988. Touring in support of This Note's For You, the Bluenotes offered a massive, electric-blues backing with an equally gigantic sounding horn section. The spacious, long jams gave Young plenty of opportunities to solo, and the songs, occasionally stretching past the ten-minute mark, found the singer in great spirits and form. Better yet, the tour featured Young intentionally avoiding his classic songs, instead performing unreleased tracks from his back-catalog, giving the release a wholly original feel. This is an absolute essential for Neil Young fans, guitar-rock fans, and music fans as a whole. In the end, Bluenote Café may be the best live album released in 2015.
Brian Jonestown Massacre- Mini Album Thingy Wingy [11/13]
For more than 20 years, Brian Jonestown Massacre has prolifically explored the entire realm of psychedelia with significant influence from the late 60s and early 70s. Their newest record, the unfortunately titled Mini Album Thingy Wingy, may be one of their best in the last decade, perfectly blending classic sounds with a modern flare. Layers of guitars smothered in trippy effects match layers of reverb-soaked vocals, yet the songs have a live, natural feel, as though both the writing and recording were as carefree and organic as possible. A successful combination of psychedelic freakouts and carefully constructed compositions, Mini Album Thingy Wingy finds BJM in top form.
Shovels & Rope- Busted Jukebox Vol. 1 [11/20]
Busted Jukebox Vol. 1 is a collection of covers from the folk duo Shovels & Rope. Featuring Shakey Graves, Lucius, Milk Carton Kids, JD McPherson, Preservation Hall Jazz Band and more, the album remains simple, often allowing the guests to shape the songs they're featured on. Featuring covers ranging from Neil Young to Nick Lowe to Guns 'N Roses and Nine Inch Nails, the record does a great job of molding different genres into the band's formulaic folk sound. Unfortunately, many of the covers don't have the same energy or endearing quality of the band's originals. Regardless, Busted Jukebox is a fun listen.
Upcoming Tour Dates: 2/20 @ Chicago Theatre
Freddie Gibbs- Shadow Of A Doubt [11/20]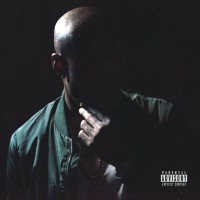 Gary, Indiana born rapper Freddie Gibbs was quick to follow up last year's excellent Piñata with Shadow Of A Doubt, yet no integrity was lost in the timely recording. Shadow Of A Doubt shows a slightly darker but more mature side of Gibbs, yet maintains all of the characteristics that make him such a huge force in the hip-hop scene. Full of passionate lyrics and vocal deliveries, catchy hooks and nostalgic yet ingenious instrumentals, Shadow Of A Doubt blends honest, emotional topics of a violence-filled past with modern cultural themes. Add in a variety of guests ranging from Black Thought to Guccie Mane and E-40, and the result is a stunning work of art from a rapper that deserves to only get bigger.
Ringo Deathstarr- Pure Mood [11/20]
Though known as a shoegaze band, Austin rockers Ringo Deathstarr blend a variety of genres to create their eclectic sound. Dreamy, reverb-heavy vocal-based songs mimic My Bloody Valentine while other guitar-rockers seem to mirror 90s grunge. Heavy, sludgy guitar-riffs pop up throughout, bringing to mind a modern take on Black Sabbath or a nod to today's stoner-metal genres. With co-ed vocals and a huge variety of sounds making up Pure Mood, the album has a kaleidoscopic feel without ever venturing too far from band's typical sound, dreamy yet dynamic, aggressive yet delicate, emotional yet straightforward. It's a huge step for the band, and a definite sign of maturity.
Foo Fighters- Saint Cecilia EP [11/23]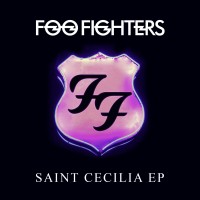 Foo Fighters surprised fans with a surprise-release just before Thanksgiving. Recorded in Austin while the band was performing at Austin City Limits, Saint Cecilia finds the band in great form, channeling the energy and descriptively simplistic nature of their earlier work for the EP's five songs. Released for free with an emotional note from Grohl regarding the recent terrorist attacks in Paris, the record is great listen and proves that the Foo Fighters still have the spark that brought them to the point they're at today.
Ty Segall- Ty Rex [11/27]
Ty Segall has covered a wide variety of T. Rex songs throughout his career, releasing them on various 7" singles and occasionally performing covers sets under the guise "Ty Rex." Now, the garage-rocker has compiled the recordings onto a single album for Record Store Day, allowing fans to hear the full collection uninterrupted while including a previously unreleased recording of "20th Century Boy" as well. The covers are gritty and energetic, leaning toward Segall's lo-fi, garage-rock past while inserting a slight psychedelic flare. It's a fun listen that captures the force of the original songs as well as the ceaseless, powerful approach that Segall incorporates into all of his work.
Upcoming Tour Dates: 3/7 & 3/8 @ Thalia Hall
Erykah Badu- But You Caint Use My Phone [11/27]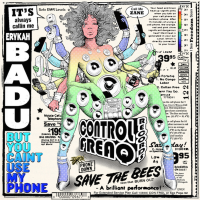 Erykah Badu's newest mixtape is entirely about phones, yet somehow, in a way only Badu could manage, remains more interesting than half of hip-hop's modern releases. Channeling and referencing past phone-related songs from Drake's "Hotline Bling" to the Isley Brothers' "Hello It's Me," the mixtape is constantly shifting, musically, from electronic jams to spacey soul to straight hip-hop. The album's packed with hooks and Badu's delivery is gracious and gorgeous as ever, yet the concept seems to be the primary link between the songs, and arguably the record's strength. It's a creative exercise, an experimental art piece, a concept album. In addition to Badu herself, Andre 3000 appears alongside a variety of other rappers, giving the album further variety. It's an unbelievably fun and creative listen, and an excellent addition to Badu's unparalleled discography.