Album Review | White Denim - Stiff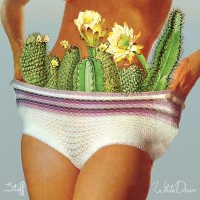 By: Alex Wood
White Denim have always been a band of change and growth, slowly evolving over time from a simplistic garage-rock trio to the progressive-meets-psychedelic four-piece sound featured on their last two records.
Knowing such, fans should expect this evolution to continue, which is precisely what Stiff, the band's latest release, delivers. Stiff is, by all means, the next chapter of White Denim.
Firstly, Stiff features a new lineup, replacing past guitarist Austin Jenkins with Jonathan Horne and previous drummer Joshua Block with Jeffrey Olson.
While altering band members may require more work and inevitably affect a band's dynamic, it also provides an opportunity to explore new ideas and directions, a fact not lost on singer-songwriter James Petralli.
With Stiff, White Denim forge forward into territories previously uncharted by the band, introducing new sounds and styles without abandoning their past.
Though the record begins with a blistering guitar riff that screams of 2013's Corsicana Lemonade, the opening song, "Had 2 Know (Personal)," clearly belongs to the band's new era, thanks to a number of layered eccentricities.
From the short sample of 60s psychedelic band Red Krayola to the atonal noise beneath the opening riff to the tambourine in the chorus, the track has a studio-based density that never existed in White Denim's music before.
This is surely the work of producer Ethan Johns, who previously worked with Paul McCartney, Ryan Adams and more. Working with a producer for a full studio session for the first time, White Denim clearly embraced the extra help.
Yet the plethora of studio tricks throughout the record is hardly noticeable on a casual listen. It's the band's new direction that truly creates a distinction between new and old.
The transformation truly begins with "Brain," amongst the only White Denim songs to date to heavily feature an organ. Though its classic, Doors-esque sound meshes perfectly with the band's unique brand of psychedelica, it's a potentially jarring addition to listeners expecting the usual ceaseless onslaught of guitar riffs that Corsicana offered.
Yet, much like flute solos finding their way onto 2011's D, the sound rewards listeners once embraced, and again exemplifies the band's willingness to take risks and embrace new ideas.
But the addition of an organ seems a minuscule change once listeners reach the following song, "Take It Easy (Everlasting Love)."
Petralli's laid-back, soulful vocals fit the track's relaxed groove, which plays like a 60s R&B song, a sound never fully explored by the singer in the past. Surprisingly, Petralli's falsetto delivery fits the smooth, sexy vibe perfectly.
Even the lyrics mirror the old-school R&B vibe:
"You don't have to say a single word/ I know just what you're thinking girl/ You don't have to tell me you love me/ Take it easy"
Musically, the track is driven by Steve Terebecki's bass, which aggressively cuts through the otherwise spacious composition, while the song, as a whole, seems to actively disregard expectations for a constantly guitar-based White Denim.
Things only get stranger with on the next track, "(Im The One) Big Big Fun."
Beginning with spacious, wah-pedaled guitar chords atop bongo, cowbells and other auxiliary percussion, the song's funky vibe is almost reminiscent of Phish's Story Of A Ghost, capturing White Denim's jam-band similarities without actually containing a jam.
This is where Stiff truly represents a new era for White Denim. Never before had two songs coexisted consecutively on a record without containing a single blazing guitar riff.
Perhaps this is where fans may need to be lenient in embracing the new sound. On one hand D and Corsicana inarguably featured more face-melting rock, but on the other Stiff explores new territory, preventing any chance of the previous formula from going stale, and does so without losing energy.
The album finished out in a more traditional fashion for the band, with the hard-rocking "Good Deal Mamma" amongst the album's best tracks, paired perfectly with the equally dynamic "Mirrored In Reverse." (On a side note, "Mirrored In Reverse" is an entirely different song than "Mirrored And Reverse" from 2009's Fits.)
In typical White Denim fashion, the record closes with a slower, folk-influenced track, "Thank You," Petralli crooning over acoustic chords wedged between guitar riffs and a subtle combination of synthesizers and background vocals.
Also of note is the physical record's artwork, created by modern collagist Eugenia Lolli. Designed to follow the theme of the band's past artwork and videos, the record features stunningly odd visuals inside and out, with an embossed cover on the deluxe edition.
Stiff isn't a continuation of the road White Denim followed for Corsicana Lemonade, it's a record that finds them exploring a new path entirely. Despite the use of organs, synthesizers, auxiliary percussion and background vocals, the critical elements all still exist, with Petralli's songwriting arguably at its most interesting and plenty of guitar riffs to keep the snobbiest fans satisfied.
White Denim appear to have embraced change as an opportunity, committing to new ideas whole-heartedly, giving Stiff the energy and sincerity that will keep the band's stellar reputation in tact.
The band will play Thalia Hall on 4/30, and Stiff is available now via Downtown Records. Watch the music video for "Ha Ha Ha Ha (Yeah)" below and stream "Had 2 Know (Personal)."