Album Review: Edward David Anderson - Lies & Wishes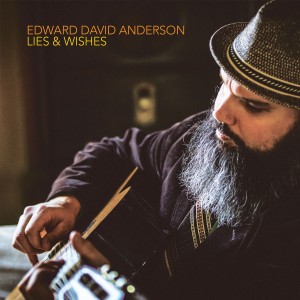 Backyard Tire Fire's music felt like everything a rock band should be, the songs sounding like they were written through collaboration, its three members working through the songs together with guitars cranked up to 11.
At the center of the Tire Fire universe stood Edward David Anderson, the always-productive singer-songwriter lending melodies and lyrics that came off as natural, often taking the band's songs to the next level.
It comes as no surprise that Anderson's first solo album shares these same qualities, every verse's melody practically sounding as though you've heard it before.
Listen to the gentle, rolling verses of "I Missed You," the sing-along quality of "Chain Reaction" or the more traditional "Son Of A Plumber." Each sinks in deep, and does so quickly.
Though every song remains stylistically folk-driven, diversity keeps the record sounding fresh throughout as Anderson balances slow and gentle songs with upbeat, catchy numbers and utilizes background vocals, organs, drums, handclaps and even musical saw to flesh out his tunes.
Yet the lyrics themselves are the real highlight here, marking Lies & Wishes as the beginning of a new era for Anderson.
On Good To Be, Backyard Tire Fire's last album, Anderson's storytelling tended to regard others, allowing a certain amount of emotional distance from the singer's personal life. Lies & Wishes does the opposite, looking inward for inspiration, using the recent death of his mother as well as his wife's mother as a muse.
"You can open up the floodgates, let somebody know," Anderson sings in the title track, an appropriate representation of this new chapter in his career.
Despite fuzz bass and a heavy drumbeat, the track holds a deep, emotional intensity at its core, its Nick-Drake-influenced finger picking rolling gently throughout.
On "Son Of A Plumber" Anderson reflects candidly on family history.
"I'm the son of a plumber from a God-fearing mother and my sisters and my brothers are too/ I'm a hard-living man working with my hands, doing what I know how to do," he sings.
The simplicity of the statement takes on greater meaning with his mother's recent passing, especially when he sings, "my mother was a saint and was my biggest fan."
While the songs on Lies & Wishes remain centered around acoustic guitar, Tire Fire fans will be glad to hear "I Missed You," a 13-year-old track initially intended for the full band. Written while driving across the country alone, the song's slow lull replicates such isolation perfectly.
Lies & Wishes feels like a natural next step for Anderson, a gentle reflection on the state of his life after the dissolution of Backyard Tire Fire. Though the music and contributors changed, the songwriting only grew stronger, and fans of Anderson's past work will find comfort in the innate melodic sense and always-inspired writing the singer continues to offer.
Lies & Wishes is out now via The Royal Potato Family.
- Alex Wood
Check out Alex's interview with Edward HERE.