A Very Frank Zappa Jazz Underground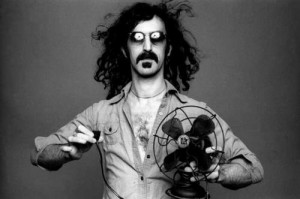 This installment of
Notes From The Jazz Underground
features the playlist based on the December 20th show.
Frank Zappa's birthday is December 21st.  As is tradition, host Paul Abella goes for wall-to-wall Zappa...kinda.
The set kicks off with some recordings from Frank himself (plus, I've substituted his version of "Hungry Freaks, Daddy" for the Harmonia Ensemble version that was on Paul's original playlist).  The man makes a few more appearances throughout, weaving in and out of a Steve Vai track, "Shampoohorn" by Z (a collaboration of his sons, Dweezil & Ahmet), and a cover of Zoot Allures by Javon Jackson, which features the playing of both John Medeski and Fareed Haque.  Zappa contributes guitar to the Jean Luc Ponty track and some of his most behind sidemen, The Fowler Brothers, go solo in there as well.
Speaking of Dweezil, the true gem of this playlist is by none other than "Weird" Al Yankovic, and features DZ on guitar.  The tune "Genius In France" isn't a straight up parody of a particular Zappa song, but really nails the style and features oh-so-appropriate lyrics about sophisticated artistes who go unappreciated in their home countries.  It's damn funny, but also pretty damn impressive playing.
In his notes for this playlist, Paul promises to celebrate Zappadan (think Jerry week - same idea) so that he can spread the Zappa love throughout December.
Notes From The Jazz Underground runs Friday nights on WDCB 90.9 FM.
http://www.nicozon.net/watch/sm14418795
Complete Playlist
Don't Eat The Yellow Snow - Frank Zappa
Hungry Freaks, Daddy - Harmonia Ensemble
Duodenum (Theme From Lumpy Gravy) - The Persuasions
Old Slippers - George Duke
Little Green Men -Steve Vai
G-Spot Tornado - Struber Ztett
Montana - Frank Zappa
Be-Bop Tango - Frank Zappa
Shampoohorn - Z (Dweezil & Ahmet Zappa)
Zoot Allures - Javon Jackson (w/Fareed Haque and John Medeski)
King Kong - Mike Mainieri
Sinister Footwear, 2nd Movement - Banned From Utopia
RDNZL - Ed Palermo Big Band
How Would You Like to Have a Head Like That? - Jean-Luc Ponty
Cosmic Relief/Feel The Way - The Fowler Brothers
Watermelon in Easter Hay - Colin Towns & NDR Big Band
The Black Page (New Age Version) - Frank Zappa
Dupree's Paradise - Glauco Venier
Genius In France - Weird Al Yankovic (one of Yankovic's attempts to cop a style as opposed to a parody - Dweezil's on guitar)