A Swift Change In Direction | Edward David Anderson's Loxley Sessions
By: Alex Wood | Photos: Kim Anderson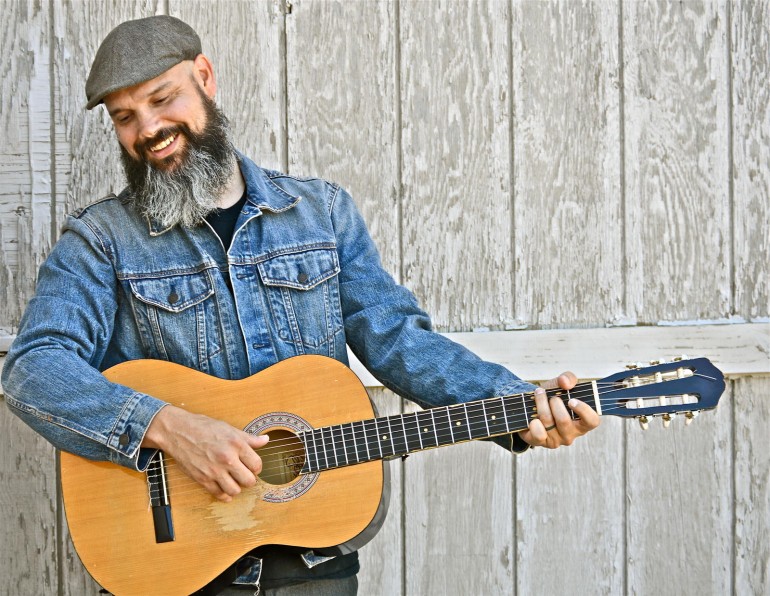 Though Edward David Anderson has a lengthy musical career behind him, the songwriter has spent the last three years redefining himself as a solo musician following the demise of Backyard Tire Fire.
Anderson's new album, Lower Alabama: The Loxley Sessions, marks a swift change in direction after his solo debut Lies & Wishes, released last year.
The Loxley Sessions' natural and relaxed Southern sound aligns with the songwriter's life, its very creation an incidental yet inevitable step in Anderson's quest for satisfaction and contentment in both his music and personal life.
As the title suggests, the story begins in lower Alabama, about as far south as possible, according to Anderson.
A few years ago, Anderson and his wife began moving to Orange Beach, Alabama for about five months of the year to escape the cold, Illinois winter. Though the weather was inevitably warmer, it was the culture that truly affected Anderson.
"We found this good little spot and a bunch of nice folks, a lot of musicians, and it slows down because it's winter down there," he said. "It's kind of almost like being in Bloomington, Illinois when the kids go home for summer vacation. Down there things move pretty slow as it is, but then in the winter it really comes to a crawl, which is cool. We like that a lot."
The couple quickly made friends with locals whom Anderson described as particularly "receptive to the music" he made, the prolific songwriter continuing to play and record on his own throughout the months, the beach culture inevitably sinking into both the songs and his attitude.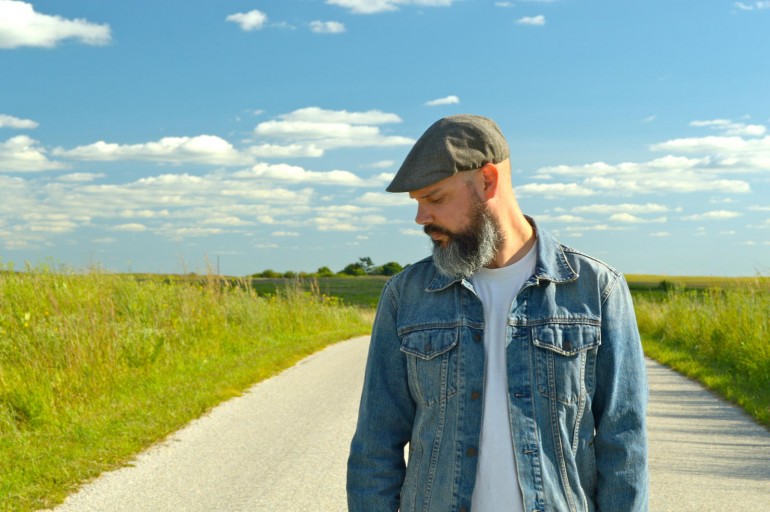 "The beach is different. It's a different deal. It's a different life. It smells different. It feels different. It tastes different. I don't think I've ever seen anybody in a suit down there once," Anderson said.
Though Anderson continued playing and writing, he had no intent to record another album, having released Lies & Wishes less than a year prior to their last Alabama winter.
Thus, much as moving Alabama was decided on a whim for the simple sake of escaping the cold, The Loxley Sessions came about through another coincidence, as Anderson learned that esteemed producer and multi-instrumentalist Anthony Crawford lived roughly 30 minutes away from the couple's RV park.
"The idea of us just picking a place randomly for the most part and having it be right in the same vicinity as Crawford, I felt like it was almost, you know, like some stuff falls in your lap and you'd be foolish not to investigate," Anderson said. "I figured if nothing else then what I should do is try to get to know this guy and try to learn from him, really."
Anthony Crawford is perhaps best known for his work as Neil Young's guitarist, having toured with Young in the 80s and 2000s and appearing on five of his studio albums. Outside of Young's band, Crawford has toured with Steve Winwood, recorded solo albums and made significant contributions to studio albums by Dwight Yoakam, amongst other projects.
When Anderson drove to Crawford's home in Loxley, Alabama, on a January afternoon, he was introduced to the producer's unusual studio setup.
"The studio was basically like two sheds. One of them was a little bit bigger. It's like the kind of thing that you would see, like a prefabricated outbuilding kind of thing that somebody would have on their property. One of them was almost like a cabin kind of feel, that he just put on his property that has the control room and mixer and all that stuff. The headquarters if you will. And then there's a small little room, it was kind of like a shed," Anderson said.
The setup matched the loose and organic recording techniques that Crawford encouraged.
"So he'd be in one room, working up a tempo with a shaker and tambourine, and I could hear it in my headset. I'd play along, and we'd figure out a good comfortable feel," Anderson said.
In this fashion, Anderson recorded nine songs, almost all of which were completed in a single take, consisting solely of the singer and his guitar.
"I thought if I get a handful of songs to just kind of post and say, 'look what I did with Anthony Crawford,' I was going to be happy with that," Anderson said.
Yet, through more unexpected circumstances the recordings took on a new life in the hands of Crawford while Anderson went out on tour. Crawford added fiddle, pedal steel and other instruments to Anderson's acoustic recordings, and even had his wife contribute background vocals.
"Anthony's wife sings these great harmonies and I think that he, after this one afternoon that he had where I just recorded a bunch of songs on guitar and vocals, he realized that we had something going here and then I think that's when he started to get a little more excited about the project," Anderson said. "It turned from just kind of a fun little session where, you know, I'm just getting to know him, having some beers during the day in the middle of the woods, turned into an album really."
The next coincidence adding to the Loxley Sessions' development came from Will Kimbrough, guitarist for Emmylou Harris and successful songwriter for artists ranging from Todd Snider to Jimmy Buffett.
Kimbrough "just happened to be out at the farm in Loxley and Anthony got him to just plug in and play having never heard the material or anything like that, so we got these really cool atmospheric telecaster parts from Will Kimbrough himself," Anderson said with blatant admiration.
When Anderson returned from touring, the songs had a density and sense of completion that Anderson hadn't expected.
"He had a good bit of it done before I went on that tour, but when I came back I really felt like things had come together and it basically kind of went from this fun little 'let's just get together one afternoon' to 'we have an album on our hands.' And it's a damn good one," Anderson said. "Basically that was exactly what I was visualizing and he just handed it to me."
Within seconds of "Firefly," the first song on Lower Alabama: The Loxley Sessions, the significance of every one of these contributions becomes apparent.
Crawford's country fiddling gives way to Anderson's simple acoustic guitar and vocals, Kimbrough's telecaster a subtle, ghostly nuance in the back of the mix. Crawford's wife's harmonies creep in for the chorus as additional layers of piano, percussion and guitars continue to seep in throughout.
The track feels unbelievably natural, having an almost intuitive quality, as though it were in fact what Anderson had always been working toward recording. The song's sound and vibe matches the songwriting perfectly, and it's easy to see why Anderson is so proud of the record.
As it turns out, Anderson has a deep connection with "Firefly," the song dating back to 20 years prior.
"I wrote that song shortly after my mom was like, 'why don't you write your own songs?' You're the first person to ever ask me. I lost my mom a couple years ago. I was feeling kind of melancholy and the song just kind of came back to me," Anderson said.
Though the emotional connection within Anderson's songwriting remains, the record does boast a lighter, Americana-leaning vibe that rarely came through in Lies & Wishes. This shift can surely be attributed to both the southern environment and the outside contributors in Loxley.
"It's a laid back record. It's not as intense, I don't think, has a freer organic feel on this which I think is very indicative of how life is in lower Alabama. That's why I felt like I needed to somehow connect this to that region, because it does have that flavor," Anderson said. "A good reason it has that flavor is because Anthony Crawford is from Birmingham, Alabama. You know, this is a guy that is as lower Alabama as it gets, and whose resume is just off the charts ridiculous. And I feel lucky to have crossed paths with him at the right time to have this happen, really."
With an unexpected record on his hands, Anderson then made plans for another tour, this time with Crawford by his side, the two performing as a duo.
"These shows are going to be adventurous… We're not rehearsing. We're not going to split hairs. We're going to have some fun playing some songs together. He's going to play everything from fiddle to mandolin to pedal steel to lap steel to guitar to bass to whatever. He sings, he plays, he does everything," he said.
Though Anderson looks forward to performing with another musician again, it's his admiration for Crawford that has him especially excited.
"The last time I saw Neil Young in Chicago was at Chicago Theatre, and Anthony Crawford was playing guitar and singing harmonies and everything. And now he's coming back to play at Martyrs' with me. It's incredible. It seems almost strange that things would work out like that," Anderson said.
"Almost strange" seems to be an understatement for Edward David Anderson's feelings about The Loxley Sessions' development. From moving to southern Alabama and finding Crawford in the area, to Kimbrough's contributions and Crawford's vision aligning perfectly with his own, everything seemed to fall into place in an unexpectedly quick fashion for the songwriter.
"It was just this almost accidental kind of thing, and I think maybe that's why I love this record so much, because it wasn't really completely expected. It's a quick follow-up to Lies, which I think is good," Anderson said. "I think Lies did what it needed to do as far as establishing who I am, as a solo guy, and that I'm not just this dude that was in this band that did alright at one point in time. I have my own thing going on. I feel like this record, it's the right time for it."
The new record solidified Anderson's position as a solo songwriter and performer, adding an obvious confidence through his genuine love of the music.
"I've been plotting and planning and spent many a sleepless night trying to figure out how to make things go in this business, especially in the last few years when I went on my own and was not a band, without an agent, without a manager, without songs, or really a clue," he said. "I didn't have an act a few years ago, by myself, that I was confident about, and I sure as shit do now."
In addition to the creation of a new record, the organic and unexpected process of recording The Loxley Sessions seemed to teach Anderson a few lessons beyond the music itself.
"Maybe the whole idea is to take my foot off the gas a little bit and let some things happen and stop worrying about what's going to happen, start enjoying the moment... That's really what happened with this record. It wasn't some stressful planned thing. It was something that just happened organically and in a very relaxed manner and I think that's something," he said. "It's a lesson to be learned really, for me at life at 43. Maybe taking the foot off the accelerator and letting things kind of come instead of trying to race towards them is the better approach."
"I think it's a good step in the right direction for me, and I'm excited for everyone else to hear it."
Lower Alabama: The Loxley Sessions is available now via Royal Potato Family. Anderson will also be playing a Chicago album release show at Martyrs' on October 24 with Anthony Crawford.  You can read about (and listen to) Ed's last visit to Martyr's HERE.