A Phish Fan's Guide To Chicago - Summer 2013

Summer. City of Chicago. Outdoor show. Phish.  Believe it or not, this combination has never come together before.  And we get it this weekend for three whole nights.
It's enough for an area resident to rejoice, but given the dearth of other Midwest shows, and a Saturday sell-out, I'm expecting many will be making the trek from out of town, as well.  If you're curious about what the city is all about, and want to keep a Phishy vibe going before and after the shows, this guide is for you.
I debated organizing this post chronologically to give you an idea of musical and events that are happening each day, but ultimately I decided to organize geographically, to account for where folks are lodging or hoping to visit.  Presented this way, it really gives a feel for just how expansive your opportunities really are..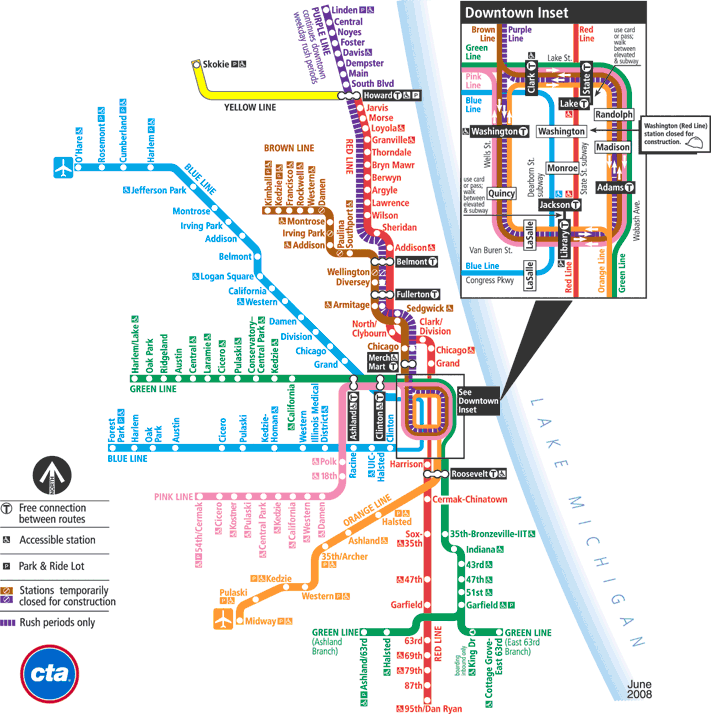 Of course, the spots included here are hardly the only areas worth visiting, but they should be a good start to get feel for the city and probably run into a fellow fan or two in most of these places.  You should be able to navigate this whole area using the CTA L train, and given the influx of motor traffic this weekend, it's probably recommended.  With that said, we'll start on the north side and work our way down south.  The venue itself is on the lakefront (duh) toward the southern end of this guide.  For more info on what to expect at the show, see our Northerly Island FAQ.
The furthest point north discussed here, North Center (Irving Park Stop / Brown Line) is probably the least touristy place on our list, and I'm guessing not many folks are staying here (unless bunking with friends).  But it kicks off our north-to-south jaunt because it happens to be the location of Martyrs, one of The Barn's favorite rock clubs and one of the many venues whose programming offers a little something for early arrivers on Thursday night. On 7/18, the fusion-y rock band Jet Edison and Chicago jazz-leaning jammers Catfish & The Dogstars share the bill.
The one-time weekly home of Dark Star Orchestra when they first started their career, this Saturday and Sunday Martyrs will host another Chicago tribute band who is making noise on the national scene: This Must Be The Band, a Talking Head cover band who approach the repertoire in a way that Phish fans will really appreciate.  Just be wary, these aren't official aftershows, so the set times may not be too friendly for those making the trek after Phish.   They will, however, be covering the entire Speaking In Tongues album!
Another North Center establishment going all out for the weekend is Windy City Inn.  They are selling spots on a bus to the venue all three days that has a bathroom, is BYOB (no glass) and will serve beer, too.  Space is limited and you can only reserve by paying in advance, but unlike other, this represents one of the only places where there will be easy and plenty street parking for the bus.  More information is here.
Heading a bit south from there, you'll find the beating heart Chicago's bar and party scene: Wrigleyville / Lakeview (Belmont Stop - Brown / Red Lines, Addison Stop - Red Line).  The scene here tends to run a bit more trendy and "bro"-ish than a typical Phish fan cares for.  Still, forget what you may have heard about the Cubby Bear, a music club that has been coming around lately with excellent bookings .  Their buyer tips their hat to the impending Phish weekend with a jam centric Thursday lineup featuring Chicago products Old Shoe, Herbert Wiser Band, and Robert's Plant an occasionally performing Zeppelin tribute band featuring members of both.  Interested in going? Let us know and we'll enter you into a contest for a pair of tickets.  Send an email to info @ tomorrowsverse.com with the subject line "Cubby" and your name in the body.  We'll draw one lucky winner at random.
The Cubs are not in town this weekend, but guess who is at Wrigley? Pearl Jam on Friday night (also Jason Aldean on Saturday, whoever the fuck that is)!  Still, it may be worth a swing during the day to see a piece of baseball history and do some gawking at fans of other bands.  The neighborhood is also a great place to find late night eats, get into trouble and drink well into the wee hours.
Lincoln Park (Fullerton Stop - Brown / Red Line, Diversey Stop - Red Line) is Wrigleyville's slightly tonier, slightly yuppier neighbor to the south.  The weekend's headquarters in the LP should be Tonic Room a fine bar, running a bus to the venue and featuring pre and post show music: Whiskey Jezebel & Magoo will perform before the bus leaves and Kung Fu will play a sold out show on Saturday night (tickets still available for Sunday's Kung Fu gig).  aliveOne (sound familiar?) is also a fine place to grab a drink and see people.  Oddly, Lincoln Park is also home to Chicago's best blues bars, Kingston Mines and Blues Etc., which offer authentic Chicago blues until  very late.
Saturday & Sunday in Lincoln Park, you can wander your way to the Sheffield Garden Walk (Sheffield & Webster), now in is 45th year -- there will be plenty of outdoor food, music (check out Vintage Blue on Saturday) and people.  And if you're looking for something a bit more cleansing, there will be a special session of Phish Yoga at the Village Yoga Center.
I personally can't recommend Wiener's Circle, but some will be drawn there nonetheless and it does offer a one of a kind experience.  I say you're better off watching the visit from Triumph The Insult Comic Dog.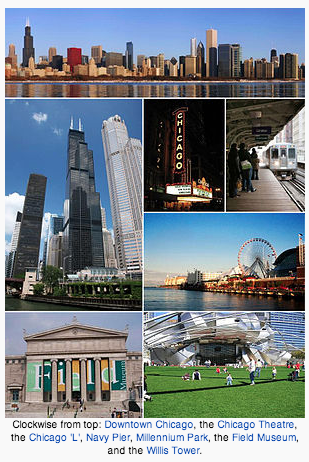 The Magnificent Mile / River North (Grand & Chicago Stops - Red Line, Chicago & Merchandise Mart Stops - Brown Line) area has your highest concentration of hotels, some more upscale dining and world-famous shopping (...yeah right). But, business owners here know where their bread is buttered this weekend and a few are really catering towards the Phish crowd.
Rock Bottom Brewery welcomes us to town with a Phish-inspired brew, "Sample", and 50 cents of every pint goes to the fan-run charity Mockingbird Foundation.  According to phish.net, it is described as a "a big, hoppy amber," that was "brewed with caramel malts and generous late kettle and dry hops for a touch of malt sweetness." It also has "a heady pungent hop aroma, bold resinous hop flavor and a touch of alcohol warmth."  The beverage will be served in a mason jar that has the Foundation's logo on it!  On Thursday, they kick things off with a tapping party for "Summer Honey".  Our friends in Whisky Jezebel will perform at 6, with passed appetizers and a charity raffle.
Friday night post show, the NOLA one-two punch of Ivan Neville's Dumpstaphunk & The Revivalists will be bringing the late night funk to a SilverWrapper Phish Aftershow at the House Of Blues.  We are happy to be able to offer one lucky reader a pair of GA passes to this show, but you better jump on it soon, we'll be picking a winner mid-day on Thursday.  Just email us at info @ tomorrowsverse.com with the subject line: "Dumpstaphunk" with your name in the body.  We'll let the winner know soon.
Yes, the Hard Rock Cafe is pretty much the epitome of tourist trap,  but you can't deny great talent when its abundant and available. Chicago band Zmick will open for a similar hard hitting band from the East, Dopapod until 4 am on Friday night.  Saturday, there's a triple bill of area jambands with Lakeside Collective, Spread, and Thinner Teed also trading sets until 4.
The Taste Of River North features a festival with music in this neighborhood as well.  Saturday features a set by Chatsworth & Dupree (aka Wavy and Chris from Cornmeal).
Crossing the river, you'll find yourself in the Loop (named after the hub of L trains which converge in the city center).  Office buildings dominate the landscape here but keep your eye out for many of our most recognizable icons, too.  However, flanking the loop, you'll find another bustling Restaurant District on Randolph Street, that could be a good location for a nice lunch, and Grant Park (and it's sub-park Millenium Park), which is packed with new-school must see Chicago landmarks (The Bean, Pritzker Pavilion).  It's actually a nice walk through Grant Park to the venue via the museum campus / lakefront, so don't deny yourself this if you decide on public transportation to the venue.
The final stop on our north to south route is the South Loop, a neighborhood where I'm guessing many will be staying, as it offers the most affordable hotels closest to the venue.  This is a vibrant, mixed race area of the city packed with a lot of unique culture.  Your hub here should be the club Reggie's which offers a slew of live music both pre-and-post show on multiple stages, and also a free shuttle to the venue in their head-turning Death Bus.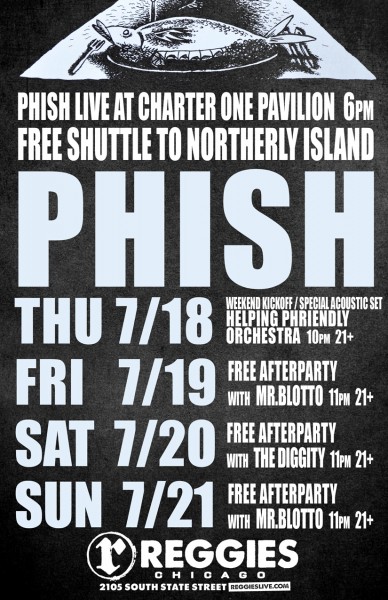 The fun starts at Reggie's on Thursday, with a little "fake Phish" as a weekend appertif: Helping Phriendly Orchestra (the Chicago band who typically covers complete Phish shows... and does it well), will be playing an acoustic set.  The lead guitarist, Mark Hague, will take the stage at Reggie's twice more over the weekend in his primary band Mr. Blotto, who play a nice mix of Southern Rock tinged originals mixed with a ton of great cover choices.  One of Chicago's longest running jambands -- they're pretty much an institution and you can't beat the price (free).
Friday pre-show, Reggie's is offering two band I've never heard of (Going to California and Mano), but they are listed under a jam/rock category. Want to get your drink on Saturday afternoon before the concert? On the roof deck, DFM (aka Deuce funk Monsters) will play a $30 fundraiser for Mockingbird foundation starting at 2pm which features three hours of all-you-can-drink craft beer and well drinks.  Hopefully, you'll still be standing by showtime.  Saturday will also features the funk band Genome (whose awesomeness cannot be overstated) and The Diggity after.
Buddy Guy also has a club in the South Loop (Buddy Guy's Legends), so stop in there for some blues if you're in the neighborhood.
I love sampling local, limited distribution craft beer whenever I'm in other cities and Chicago has got some great ones for out-of-towners.  My favorites are probably the regional breweries: Bell's from Kalamazoo Michigan, and Three Floyds from Munster, Indiana -- you can't go wrong with anything from these breweries.  In Chicago, Revolution & Half Acre should be sought out as well.  Without being too much of a shill, Binny's Beverage Depot is a great place to find these for a to-go pack to bring to the lot.  There are some other great brewpubs worth a visit as well.
If you're not down for fancy eating, you should still experience a little of our Chicago food culture.  Find a great hot dog stand and order a Chicago Dog, Italian Beef sandwich.  I know that out of towners have mixed feelings about our pizza, but if you stay away from some of the more touristy places and approach with an open mind, there's a lot to be enjoyed.
And virtually any place is great for a walk along the lakefront.  You won't regret that choice.
Finally, if you're looking for a soundtrack while you're here, check out our Great Chicago Mixtape to give you a feel for the music inspired by the city we love.  Hope you love it here, too.
Editors note: if you're planning on attending any of the above events and want to cover for The Barn, please reach out and let us know!  Also, if you know of anything else you'd like to see listed, contact us.