A Perfect Grateful Dead Playlist For Someone Who Never "Got" Them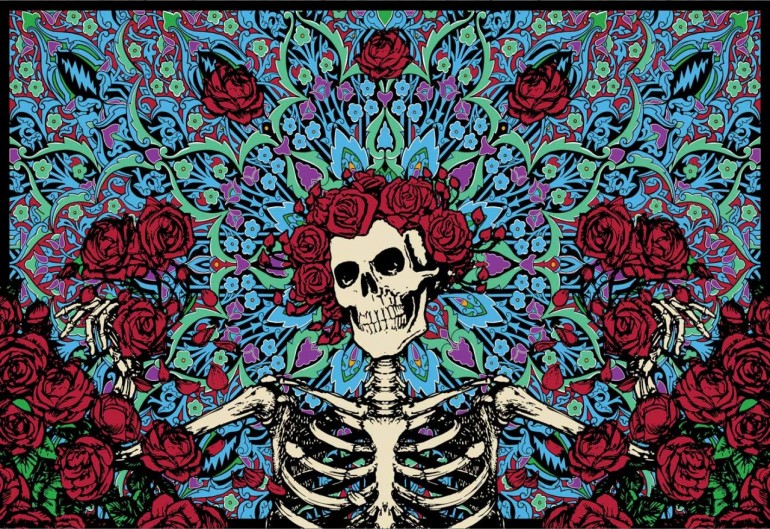 A friend of mine recently issued a challenge.
A longtime musician, prolific stoner, and general musical omnivore, he never really "got" the Grateful Dead.
He's the right age to have caught their late eighties popular breakthrough in his impressionable years, and has the propensity to chew on some meaty sonic dishes -- he lists punk, krautrock, psych, jazz and classic rock among his musical homes -- but just never got pulled down into a Dead wormhole.
Sure, he knows the Dead, even likes them insofar as you can while just scratching the surface. He offered "Ripple" as a particularly agreeable tune.
But it was time to go deeper, and he enlisted myself to help take him there. Rather than turn on the firehose, my goal was to craft a playlist of ten tracks that told the chronology of the dead for somebody like him.  That proved to be impossible so I ended up with fifteen tracks (three of them represent a musical sandwich... so there's that). Here's the playlist and my justification.
Cream Puff War - The Grateful Dead As long as we're starting at the beginning, let's jump in with this slice of proto-punk from their first official release. Like the best punk rock, what it lacks from not really being a great song, "Cream Puff War" makes up in pure raw energy.  Garcia's guitar lines, zigging and zagging over Pigpen's quintessential 60s organ, hints at what the band would become.  Given the amphetamine-fueled circumstances of its recording, I'm not sure the Dead were ever this band, but they were -- and remained -- outsiders and misfits looking to break out of anything that could contain them.
That's It For The Other One - Anthem Of The Sun This could be the most perfect representation of psychedelic music ever put on wax. Every note smacks of lysergic adventure. Trippy music has come in all forms since this was recorded, but rarely has anything been this honest, ambitious and confident about the experience, without dipping at least a little into self-parody.  With lyrics that reference Neal Cassady, it was the sound of acid movement and vibrant counter-culture emerging from San Francisco.
Brokedown Palace - American Beauty A true challenge to pick one great song from what is legitimately the Dead's best album. I tried to go with one of the lesser known songs, that just happens to be one of the prettiest.  Throw out all the other stuff on this playlist if you want, but if you can't get behind this, we can't be friends.
Hard To Handle - Ladies & Gentlemen... The Grateful Dead [Fillmore East April 1971] A notorious band of interpreters, it's time to throw a cover into the mix. Non-heads may only hear about Jerry Jerry Jerry, but listen to this and know why some folks jumped off the ship when Pigpen left the band. Ten minutes of commanding, ambitious soul music that would make Otis Redding proud.
Wharf Rat - The Grateful Dead [Skull & Roses] With due respect to Brokedown Palace, here's the first place on the list where lyricist Robert Hunter -- perhaps as important as any performing member save Garcia -- gets to truly shine.  A fully formed world is contained within "Wharf Rat", with richly detailed characters, settings and narrative.  Garcia brings everything to life with a confident vocal performance.
Morning Dew - Dick's Picks Volume 36 [9/21/72 Philly Spectrum] A two minute Bonnie Dobson folk song turned into an epic, world-shaking force of nature.  If the storytelling in "Wharf Rat" is through language, the band finds a purely musical language in this song's final minutes to suggest hope in the face of despair, beauty amongst chaos.
Weather Report Suite - Dick's Picks, Volume 14 [12/2/73 Boston Music Hall] We enter my favorite period of the Grateful Dead: the '73-'74 era with the single drummer (Kreutzmann) and Keith Godchaux on piano.  There's plenty of fine Garcia in these two selections, but these were chosen to spotlight a few of the other band members.  Bob Weir takes center stage on Weather Report, a fusion of three related compositions, quirky in his personal style, but capable of harnessing the full power of the Grateful Dead.  The lyrics of the "Let It Grow" portion -- this time written by John Barlow -- really capture the essence of the entire experience.  "What shall we say, shall we call it by a name / As well we count the angels, dancing on a pin."
Playing In The Band - Dick's Picks Volume 31 [August '74 at Philadelphia Civic Center] And we come to feature bassist Phil Lesh in the second choice from what I consider the band's peak.  Yes, this is a Weir composed tune (with lyrics by Hunter), but Lesh is driving the band through the 20+ minutes of exploration.  This "Playing" is a fine example of what the band could do in this format: wide open, turning on a time, free jazz inspired psychedelia.
Terrapin Station - Dick's Picks Volume 15 9/3/77 What the hell is "Terrapin Station"?   Cut from same other-worldly cloth as some Zeppelin tunes, it occupies a rarefied space in popular music.  It is Grateful Dead at its most definitive and myth building.  Glorious, sweeping, proud.  Some folks swear by '77.  It certainly has something that the aforementioned early seventies period does not: "Terrapin Station".
Shakedown Street - Complete Road Trips  10/25/79 The Dead does disco. Their late seventies foray into the popular idiom wasn't so much of a departure -- they'd been a dance band since the beginning. But it's how they offer it up to their audience -- playing up the funk, stripping away (most of) the schmaltz and extending it like a masterful DJ who owned the dance floor -- that was revolutionary and so damn crowd-pleasing.  This is the song that probably launched 1000 lame jambands (and five good ones)
Cassidy - Reckoning  All this and acoustic too?  Yup.  The Dead could go unplugged quite beautifully -- this album crafted from a 1980 bi-coastal run, was was one of several acoustic jaunts in their career.  "Cassidy" was typically a packed with an exploratory ending section in the electric format, and you get a hint of that here.  But what you really get is a sense of how much these guys connected in any format.  Hey, they started as a jug band on the folk scene.
Eyes Of The World - Without A Net It was all I could do not to pick a 73 version of this song, but the performance of "Eyes Of The World" from 1990 at the Nassau Coliseum with Branford Marsalsis just speaks to me in a way that few other pieces of music do.  A winding, exhilarating musical conversation.  I recall a Garcia quote from a long lost interview about why shows with Branford sitting in were so ambitious improvisationally. Paraphrased: "Well, we didn't want to bore him."
Dark Star > Playing In The Band (Reprise) > Dark Star - Complete Road Trips [9/20/90] The Dead's most reliable vehicle for pure open seat-of-your-pants improvisation, this list wouldn't be complete without a "Dark Star".  I could have chosen a version from anywhere across the timeline, but chose to go late period to make a point.  Here was a band still going for it way past their would be expiration date.  In a few more years, there'd be more misses than hits, but they were still reliably breaking ground.  If you want to know why they were such a draw 25 years and more into their career, it's performances like these.
There you have it.  An attempt to balance studio works and live performance, capture the essential aspects of their career, and find balance across the thirty year history.  How did I do?