A Double Dose Of Notes From The Jazz Underground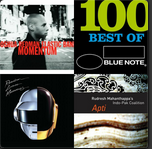 This installment of
Notes From The Jazz Underground
features the playlist from two shows, first August 30th and the September 6th.
Once again, Paul's playlists provided some Spotify puzzles so I had to make a handful of substitions and supplements (with some videos below). Some quick things to look out for
One of the videos features the Chicago Latin Jazz juggernauts in Chevere. I can't believe the blog is almost four years old without a mention of this ensemble who just absolutely smoke (and claim former Flecktone Howard Levy on the impossibly great harp and keys)
Lots of fusion in the 8/30 episode: The Brecker Brothers, Ramsey Lewis (with Earth Wind and Fire backing him up), Al Jarreau, George Duke and in the video section Ohm (Chris Poland's band - or one of 'em anyway)
Jam band types will probably dig Alpha Transit, Greyboy Allstars, John Scofield, Wayne Krantz and Joshua Redman (covering Zeppelin!!). Zony Mash is one of those groups that SHOULD have gotten the same kind of attention, but never did because they didn't know the right people.
Jeff Beck + Stevie Wonder = WHOA!
We are slowly dipping this blog's toe into electronic territory with Bebel Gilberto, Daft Punk, DJ Yoda and The Elkcloner, whose album has an interesting story behind it. Chicago jazz chanteuse Rose Colella sings on a few cuts on the disc. The day it came out, she mentioned something on facebook, and no one seemed to pay it any mind. When Paul first heard it, he "went bonkers", got Filip (the Elkcloner's real name) to send him a copy, and pretty much fell in love with it. Comparing and contrasting with her disc "The Small Hours" and you'll find that it's clearly the same singer, but you'd never guess that the girl next door singing "On the Street Where You Live" is the same girl belting out Sunbird.
Fun fact: Dave Douglas' "Just Another Murder" steals the bass line from Bjork's "Human Behavior"
Finally, the version of Hot Lanta from the 8/30 show is one of the bonus tracks off the newest re-issue of Eat A Peach. The solos are different and the whole rendition is shorter and to my ears, a bit more aggressive, too.
Notes From The Jazz Underground runs Friday nights on WDCB 90.9 FM.
Complete Playlist:
| | | |
| --- | --- | --- |
| Bastille Day | O.H.M. | Ohm |
| Some Skunk Funk | Brecker Brothers | Brecker Bros. |
| Sun Goddess | Ramsey Lewis | Sun Goddess |
| There You Go | Fania All Stars | Latin-Soul-Rock |
| Hey Man Nice Shot (Nickel Bag Remix) | Filter | Hey Man Nice Shot (single) |
| Western Sabbath Stomp | Alex Skolnick | Last Day In Paradise |
| Hot Lanta | Allman Brothers Band | Eat A Peach |
| I Can't Help It | Esperanza Spaulding | Radio Music Society |
| Dangerous Curve | Shawn Maxwell | Maxwell's House |
| Bomb Pop | Greyboy All-Stars | Inland Emperor |
| Thelonius | Jeff Beck | Wired |
| Sem Contencao | Bebel Gilberto | Brasil 2-Mil |
| Transition 2/Brown Sneakers | George Duke | Dreamweaver |
| Hell On Wheels | Alpha Transit | Alpha Transit |
| Let's Get Mashed | Zony Mash | Cold Spell |
| El Cojo | Chevere de Chicago | Secret Dream |
| Sunbird | The Elkcloner | The Elkcloner |
| Jan Jan | Grant Green | Live at Club Mozambique |
| You Don't See Me | Al Jarreau | Look to the Rainbow |
| Just Another Murder | Dave Douglas | Keystone |
Complete Playlist
| | | |
| --- | --- | --- |
| TITLE | ARTIST | ALBUM |
| The Crunge | Joshua Redman Elastic Band | Momentum |
| Do Like Eddie | John Scofield | Hand Jive |
| Lose Yourself to Dance | Daft Punk | Random Access Memories |
| Walking By Your Side | Manu Katche | Manu Katche |
| Apti | Rudresh Mahanthappa | Rudresh Mahanthappa's Indo-Pak Coalition |
| Concerto for Turntables and Orchestra (Cerebral Productions Remix) | DJ Yoda | Concerto for Turntables and Orchestra |
| Heavy Mental (For Wayne Krantz) | Tim Berne | The Shell Game |
| Whipper Snapper | Wayne Krantz | 2 Drink Minimum |
| The Watcher | Dave Holland & Prism | Prism |
| Tutear | Family Groove Company | Models & Metrics |
| The Periphery of Scandal | Mary Halvorson Quintet | Bending Bridges |
| Fever Dream | Vandermark 5 | Target or Flag |
| Tension | Donny McCaslin | Casting For Gravity |
| Carlos | John Scofield | Groove Elation |
| Mother Africa | Santana | Welcome |
| Monday | Orbital | Orbital 2 |
| Gamma Band | Kurt Rosenwinkel | Star of Jupiter |
| Deeper Than Happy | Linda Oh | Initial Here |
Bastille Day - OHM

Thelnoious Beck
v
Chevere