Win A Copy Of Two New Remastered Europe '72 Releases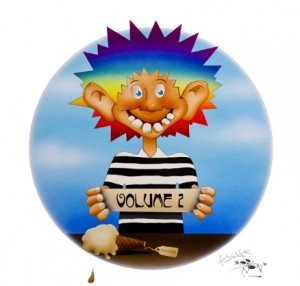 Update: Congrats to commenters Nick and Brian who have been selected at random as winners of this contest.  Check your inbox to claim your prize!  Stay tuned to The Barn for more great contests.
We're happy to announce that we have two copies of the remastered double-CD Europe '72, plus the companion Europe '72 Volume Two set courtesy of Rhino records to give away to two lucky winners.
The remastered set features all the tracks for the original 3 LP release, plus bonus material:  The Pigpen rarity "The Stranger (Two Souls In Communion)", a Europe "Looks Like Rain", and the amazing sequence of "Good Lovin' > Caution (Do Not Stop On Tracks) > Who Do You Love? > Caution (Do Not Stop On Tracks) > Good Lovin'" from the 4/14/72 Copenhagen show.
Volume Two contains another two CD's worth of tunes that didn't appear on the original set.  Luckily there's plenty of highlights to choose from, including a "Dark Star" > "The Other One" from the Bickershaw Festival in England (5/7/72) that clocks in a nearly one hour and the super rare and beautiful "Sing Me Back Home from 5/26. Full track listing below.
The album art was created by Stanley Mouse who, created the original Europe '72 "Ice Cream Kid" and "Rainbow Foot" covers.  As Mouse told dead.net,  "Trouble comes in many flavors.  Ice Cream Kid is in hot water. The jury is out. His only defense is love."  For more information about the extended universe of the Europe '72 imagery, see The Barn's interview with artist Scott McDougall.
To enter, simply leave a comment at the bottom of this post.  Want another chance to win?  "Like" The Barn on Facebook, find the link to this page and "Like" that, too.  Winner will be chosen at random from all who enter on June 13, 2012.
TRACKLIST:
Disc One:
1. Bertha – Tivolis Koncertsal,Copenhagen (4/14/72)
2. Me and My Uncle – Wembley Empire Pool, Wembley (4/7/72)
3. Chinatown Shuffle – Tivolis Koncertsal, Copenhagen (4/14/72)
4. Sugaree – Olympia Theatre, Paris (5/3/72)
5. Beat It On Down the Line – Theatre Hall, Luxembourg (5/16/72)
6. Loser – Tivolis Koncertsal, Copenhagen (4/14/72)
7. Next Time You See Me – Olympia Theatre, Paris (5/4/72)
8. Black-Throated Wind – Tivolis Koncertsal, Copenhagen (4/14/72)
9. Dire Wolf – Jahrhundert Halle, Frankfurt (4/26/72)
10. Greatest Story Ever Told – Olympia Theatre, Paris (5/3/72)
11. Deal – Olympia Theatre, Paris (5/4/72)
12. Good Lovin' – Jahrhundert Halle, Frankfurt (4/26/72)
13. Playing In the Band – StrandLyceum, London (5/24/72)
Disc Two:
1. Dark Star > – Bickershaw Festival, Wigan (5/7/72)
2. Drums > – Bickershaw Festival, Wigan (5/7/72)
3. The Other One > – BickershawFestival, Wigan (5/7/72)
4. Sing Me Back Home – Strand Lyceum, London (5/26/72)
5. Not Fade Away > – Wembley Empire Pool, Wembley (4/7/72)
6. Goin' Down the Road Feeling Bad > – Wembley Empire Pool, Wembley (4/7/72)
7. Not Fade Away – Wembley Empire Pool, Wembley (4/7/72)