The Phish Waves Soundcheck from Bethel: Stream and Download
Now that Superball IX has come and gone... 8 sets packed to the brim with all of your favorite tunes, you may be wondering: what was the best jam of the festival?
In my opinion, the best jam that emerged from the holiday weekend was actually performed five weeks ago -- and showcased as a part of Kevin Shapiro's "From The Archives" radio show on Bunny Radio.  The tour's technical rehearsal (I prefer the term soundcheck) from opening night in Bethel yielded a near 30 minute take on "Waves" that covers multiple sub-jams and musical territories, the likes of which were only hinted at in the Ball performances (even the psychedelic USA Storage Jam).  Have a listen...
[mp3j track="Phish - Waves - Bethel Soundcheck 5/26/11@http://www.thebarnpresents.net/music/phish/fta1/t1.mp3"]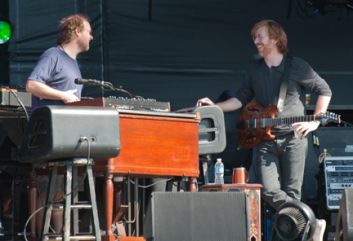 So this answers the question of whether Phish is still capable of playing inspiring, open, thematic improvisation emphatically. The only question remaining is why won't they consistently do it in front of paying audiences.  I'll leave readers to ponder that on their own.