Ten Things To Know If Prince Is Welcomed 2 Your Town: Chicago Recap and Audio
For a concert junkie like me, Prince had been a "bucket list" artist for as long as I can remember. With an unpredictable live performance schedule, seemingly disconnected with the conventional tour routing and promotion infrastructure; there is legitimate concern that a casual fan might miss him on a swing through their city. Luckily I was all over the Welcome 2 Chicago package this time, and as one of the aforementioned casual fans (I love Prince but my knowledge only scratches slightly below the surface of his vast output), I was ready to be entertained.
It is obvious to just about anyone paying attention that this is a man that follows his own vision. This vision seemed to drive the narrative of this multi-night, multi-show, mid-week run through Chicago -- one of conflict, redemption, and mystery. Upon announcement (just a short few weeks prior to the shows), I managed to secure tickets to Tuesday's gig at the United Center, and received dispatches (and audio... see below) from The Barn's correspondents from some of the other shows. With that information, I am straying from a more traditional review and offering ten things you should now if Prince offers a "Welcome 2" Your Town.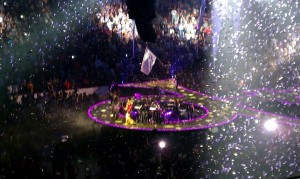 1. His band is large, extremely competent and ready-to-play. The band is brimming with musicians with the chops and desire to recreate legendary, era-defining sounds. They are driven by awesome '80s style synth sounds and punctuated at times by 6 piece horn section and three backup singers. It takes a special unit to follow Prince down his flights of fancy which swing from his signature tunes through unadulterated James Brown funk territory, intense Jimi Hendrix style black-rock guitar shredding, and show-stopping Michael Jackson dance pop, but these guys can do it all.
2. His embrace of wild, psychedelic-inspired funk includes visual spectacle as well. His setup included an in-the-round stage shaped like his ubiquitous symbol (the band set up shop in the loop while Prince and various soloists traipsed the entirety of the figure). The whole thing was draped in multi-colored lights, equipped with a hydraulic lift and several staircases to bring the army of musicians to the stage, and flanked by cocktail tables in the VIP section. The horn section alternated from on-stage to a riser near one end of the arena. Prince offered flamboyant stage wear (multi-colored patterned tunics, yellow bell bottomed slacks and matching yellow high-heeled boots, a sleeping mask) that one person I spoke to described as having the look of a "stylish grandmother". Large video screens projected the stage action to the people "upstairs" who got to feel the show, literally, as purple and gold confetti that filled the arena during "Purple Rain" found its way to their seats.
3. There are no rules. Forget everything you've come to expect about a typical arena concert by major iconic artist. Prince does what he wants, how he wants it. Ride a bike to the stage? Why not? If he doesn't feel like playing the guitar, he won't (Monday's "Purple Rain" included a sax solo in lieu of his typical guitar workout). Each show featured a distinct cadence and uniqueness that flew in the face of the by-the-numbers perfection of many top acts.
4. But that's not always the best choice for the audience. Monday's show was the scene of a debacle where crossed wires, or dissatisfaction with the production, led to an absurdly long encore break. Each night, this type of unpredictability led to a bit of a strange rapport with the audience. Combined with a propensity for putting on house lights at odd times during and after the performance, one never got the feeling that the show was really over. I'm not sure what is to be gained by treating the audience that it is just there to bear witness to the spectacle and be at the whim of the artists. The nadir of this occurred during Monday's scheduled aftershow jam at the House Of Blues, when Prince didn't even perform, appearing only briefly to apologize (attendees were later offered tickets for Wednesday's UC show in exchange).
5 On top of bandleader, musician, singer, dancer; he is also an MC. He will say the name of your city eleventybillion times. He'll invite the crowd to sing along, so come prepared with a working knowledge of the lyrics. The between song patter is actually playful and engrossing. His time playing and singing at the piano shows an entirely different side of him, too. An apology for Monday's problems issued on Tuesday seemed contrite and sincere -- clearing the way for a powerhouse set. Promises to keep the party going on Wednesday, however, was followed by a show that didn't match Tuesday's highs in terms of length or excitement.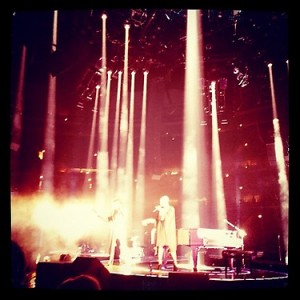 6. He will play the hits, but anything is fair game. I absolutely loved this aspect of the show. While there may have been a few frowns if "Purple Rain" didn't get the call each night, it was nice to see an artist mix it up like he did. When "Let's Go Crazy" opened the show on Tuesday, segueing smoothly into a party-perfect "Delirious" complete with guitar fireworks, neither of which were on Monday's setlist, it was a wonderful moment. Digging deep and off the beaten path for tunes like "Joy In Repetition", "Ryde Devine", "Old Friends 4 Sale", and "Act Of God" (plus many more throughout the run) provided another look beyond the radio classics and some serious meat for the hard cores.
7. He will play a Sampler Set (maybe). Speaking of hits...Monday and Tuesday's show featured what Prince loyalists call a "Sampler Set" -- essentially a run down of about 10 greatest hits in partial form as a part of the encore. I have mixed feelings about this. Would I have rather heard full versions of these songs or some weird fragment? Ultimately, I think I sided on wanting the full version. Then, it was reported that Wednesday's show didn't even include a sampler set, causing those fans to be the only UC crowd not treated to any "When Doves Cry" or "I Would Die 4 U". The mystery continues.
8. Expect special guests. And the guests were top shelf. Jennifer Hudson helped bring down the house on vocally powerful "Nothing Compares 2 U" on Tuesday. Maceo Parker wratched up the JB factor tenfold on Wednesday with funked out saxlines. Prince protege Andy Allo was particularly great in this context, offering "People Pleaser" as a cool change-of-pace on Tuesday deep in the heart of Prince land. Pretty awesome.
9. Prince and the band live and breathe music. Song lists from the aftershows were filled with eclectic cover tunes and even deeper cuts. Yes, the aftershow is where the true funk is thrown down, unencumbered by the expectation to please the vast assembly with the standards. But in any setting, music was packed with jams, teases, quotes and interpolated tunes that filled the rafters with funk history while remaining totally in the present tense.
Stream or Download: Aftershow sets by Prince and Janelle Monae
10. The audience of a Prince show is a great thing to be a part of. This was easily the most diverse group of music lovers I've ever been a part of. Every color of the rainbow was represented, every look, every style (or lack thereof). For a man with so much flair, Prince's fans could either embrace it (there were pimp-suits aplenty) or not (T-shirts and jeans were just as common). Some folks sat through the whole show, some never left their feet. The best part was that it just didn't matter -- never was there any sense of anybody feeling out of place or judged. Only music can provide this kind of escape -- it made me feel that the things that separate people on the surface are not so divisive after all. And if there's a message in Prince's music, or his unique ways of delivering it to a crowd, that has to be it.
Setlist & Show Notes: Monday Show @ United Center

Setlist & Show Notes: Tuesday United Center and House Of Blues Shows