Symphony Sunday: Bob Weir's First Fusion in Marin 5/7/2011 Stream and Download
There is something special when the worlds of rock and classical music collide.  After months of preparation, the end products are only performed a handful of times, creating something truly unique for the lucky attendees.  The Barn will feature a different rock / symphony fusion weekly over the next several weeks in a new feature:  Symphony Sunday.
It will be hard to top this week's installment in terms of timeliness and performance, but what a way to kick off the series!  The Grateful Dead's Bob Weir teamed up with Giancarlo Quilanti, the Marin Symphony and a handful of his Reperatory players (Jeff Chimenti, Jay Lane, Rob Wasserman, Robin Sylvester, Pat Klobas) for a benefit early this month.
The program featured two sets of Grateful Dead music.  The first set flowed like an augmented rock set, with only select members of the orchestra, and an additional vocal choir laying down Dead classics bookended by "Bird Song" and "Cassidy".  The second set featured the entire symphony and included a huge sandwich consisting of layers of "Playin", "Uncle John's Band", and "Dark Star" with a "Jack Straw" filling.
Download entire show (zipped mp3)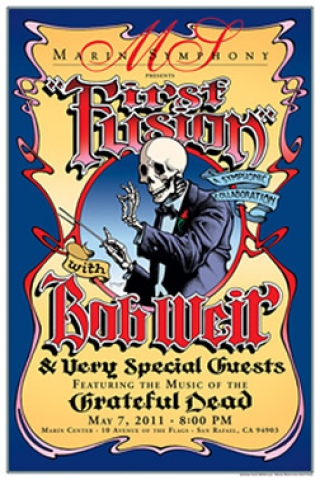 Setlist:
Bob Weir's First Fusion
Marin Veterans' Memorial Auditorium, Marin Center, San Rafael CA
Saturday May 7, 2011
Set One: Cassidy > Bird Song, Row Jimmy, West L.A. Fadeaway, Loose Lucy, Friend of the Devil, Let It Grow > Bird Song > Cassidy
Set Two: Playing In The Band > Uncle John's Band > Dark Star > Jack Straw, Days Between > Dark Star  > Uncle John's Band > Playin' Reprise
Encore: One More Saturday Night, Ripple, Attics of My Life