Setlist / Review | STS9 @ House of Blues 3/5/15
By: Matt Fricks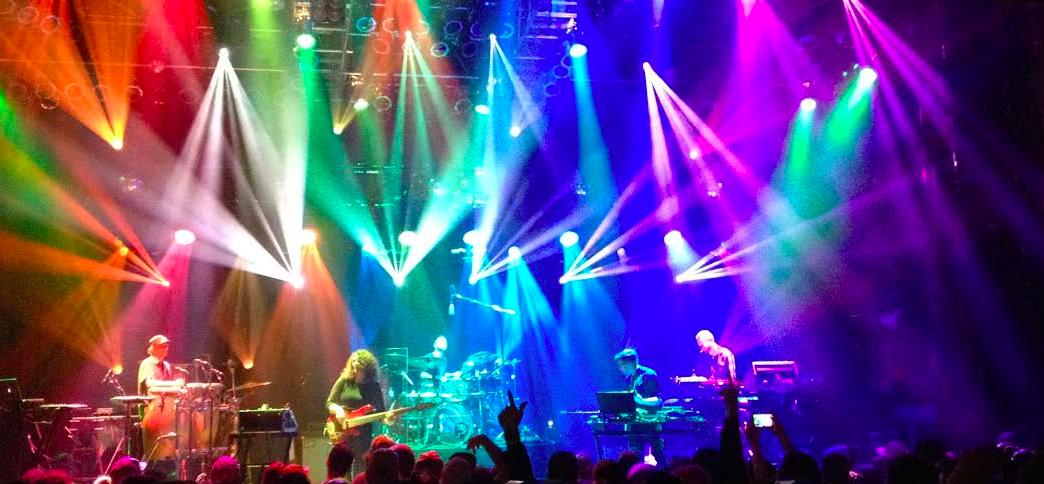 See Matt's reviews of Friday & Saturday.
STS9 (Sound Tribe Sector 9) kicked off their three-night Chicago run at House of Blues last night. Surrounded by the hype of "returning to their roots" with Alana Rocklin taking the bass and in the shadow of the band's ominous social media posts of "Never miss a Thursday show," the House of Blues crowd was treated to one of the most stellar STS9 performances that I had ever seen.
Last night, I hit a milestone as I attended my 20th STS9 show. Throughout the years, I had usually walked out of a show being happy with a few solid songs sprinkled around a mediocre set. I left the venue last night with every reason to be ecstatic, as the crowd was presented with not only a fantastic setlist but also jamming. Yes, folks – STS9 2.0 was jamming last night and it put a big smile on my face.
Opening with the "Musical Story, Yes" sample, I was hoping for an Artifact song to follow... and we got one. Alana came out swinging on the "Vibyl" opener and the band was feeling it. Hunter fiddled with his pedals early in the song to give his guitar the perfect balance of crunch and smooth drive.
As predicted in my preview, "Rent" was a major first-set highlight. It was extensively drawn out and consisted of a multitude of dynamics. This was not a standard "break it down and peak" jam. The band was making constant eye contact with each other (something that I haven't seen in a long time) and they worked through the jam as a cohesive unit. I was stunned. A once overly-standard and boring song, "Rent" had become a monster.
Following the revived version of "Kabuki" (a revival that I could do without), STS9 executed a flawless old-school four-song run that featured a slightly reworked and extra funky "Four Year Puma," a standard but well-played "Squares and Cubes," and the dynamic duo of the blissful "Luma Daylight" which segued into the set-closing "Tokyo." While Zach seems to have a bit more of a four-on-the-floor focus nowadays (totally understandable), when he delved into drum and bass, he did not disappoint.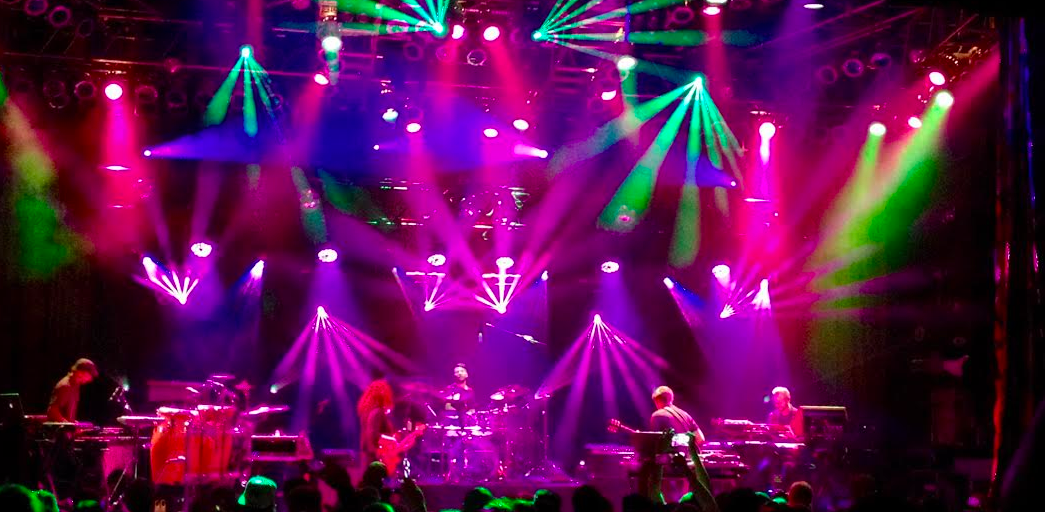 "Breathe In" will always be a favorite of mine and hearing it as a second-set opener made me realize that the band was not going to bail on this special setlist. It was a beautiful version of the classic song and set the perfect tone for the rest of the set. Once again, STS9 found their funky side in the middle of the second set with another highlight, "You Got the Love", that steadily segued into "Gobnugget" – another one of my favorites. What surprised me most was the amount of patience displayed by the band during the jams and segues. Nothing ever felt forced or overly-juxtaposed as we traveled through the set.
"Scheme" is a crowd booster. It received an overwhelming response as soon as it started. Even though I find this song to be somewhat comical, I actually had fun during it. There is no reason to complain about a mid-second set "Scheme" with a top-notch setlist and incredible playing.
While "Summit" was a beautiful set closer, the true highlight of the second set – possibly of the entire night – was "Really Wut?." This was a dark jam with Free (Jeffree) and Phipps taking the control of setting the ominous tone. Each member added subtle inputs as the band traveled through a spacey territory unexplored in any version of the song that I have heard. Again, we saw a very patient STS9 allowing for the true potential of a song unfold in a careful manner. The time that was spent slowly constructing this jam paid off with an emphatic crescendo that left me speechless.
Alana took to her standup bass for the encore which concluded with my favorite STS9 song, "Satori." This is the first time "Satori" has been played in the 2.0 era and it was executed flawlessly. Hunter was on his game the entire night and had a strong finish as he carried the band through the dynamics of this beautiful Sector 9 classic.
I was absolutely blown away by the entire show and I cannot wait to see what STS9 has in store for Chicago over the next two nights. Thank you for an incredible first night, STS9!
03/05/2015 Setlist
SET ONE
Musical Story, Yes - >
Vibyl
Rent
Only Light Remains
Kabuki
Four Year Puma
Squares and Cubes
Luma Daylight - >
Tokyo
SET TWO
Breathe In
The Rabble
You Got the Love - >
Gobnugget
Scheme
Really Wut?
Vapors
Summit
ENCORE
Epirus - >
Satori