Setlist / Review / Photos: Greensky Bluegrass @ Boulevard Festival & Concord 8/22/14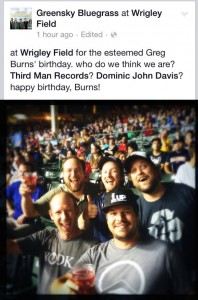 By: @WeirScrewed
Photos: Ashley M. Downing
It's safe to say that Greensky Bluegrass entered Chicago on Friday night on something of a roll.
Over the past few weeks, they have traversed the country, opening for Railroad Earth at Red Rocks, playing an absolute heater of a show the next night in Boulder, and following that up with two guest-filled nights at Hoxeyville in Michigan last weekend.
After taking in a Cubs game on Thursday night, the band came to Logan Square's Boulevard Festival primed to impress. Despite some elements not in their favor -- a crowd sprinkled with people who were there to simply be at a street fest and a feeling among those who were there for the band that this show was a just a warm up to the main event -- Greensky delivered a solid set, leaving newbies impressed and hardcore fans even more eager to get to the Concord.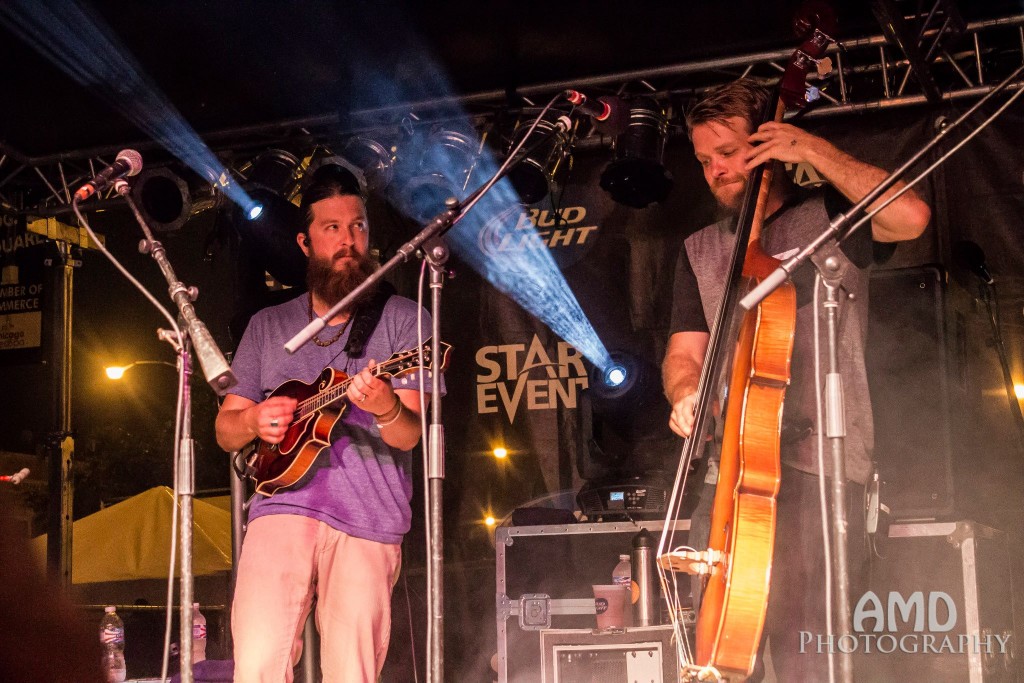 The show started expectedly mellow on this muggy evening with the pairing of "No Idea" and "Steam Powered Aeroplane". The focus turned up considerably after "Lose My Way" and "Eat My Dust" stopped more than a few conversations that were happening among the crowd. Staples "33443" and "Kerosene" kept the jamgrass vibe alive before closer "Don't Lie" brought a huge, impressive jam.
This was their statement: If you were on the fence without a ticket to Concord, the notes which came resonating off their strings provided about 10,000 reasons to get one. I have to think that performance convinced at least a few people to make the journey a mile south down Milwaukee Avenue and join the fray.
In effect, the combination of shows felt a bit like a long two setter with the sets separated by venue and vibe or, if you will, Greensky playing their own "aftershow".
But first... a bit of pickus interuptus via opening band Dangermuffin, who came on shortly after 10:30 and provided an interesting bridge between the two sets. The South Carolina based trio brought a 'good ole boys' vibe with their appearance but their music was anything but. Highlights included an incredibly groovy, reggae-tinged version of Pink Floyd's "Breathe" as well as a slinky take on "Scarlet Begonias." The chops displayed by these two guitar players had a unique, multi-faceted flavor, as rhythm guitarist and principal songwriter Dan Lotti also played bass lines and lead guitar player Mike Sivilli dazzled with his solos and slide work.
So by midnight, we were ready for another set -- but this didn't occur without a few challenges for the crew. Of course, the band's gear was in another location just a few hours before, so setup and soundcheck had to happen after Dangermuffin's set ended. That led to a pretty awesome soundcheck where individual members took the stage in advance of the full set to tune and test. Guitarist Dave Bruzza donned a Cubs jersey, Anders Beck teased "Fluffhead" on his dobro and Paul Hoffman reprised "Back That Ass Up" from the Boulder show a couple weeks ago.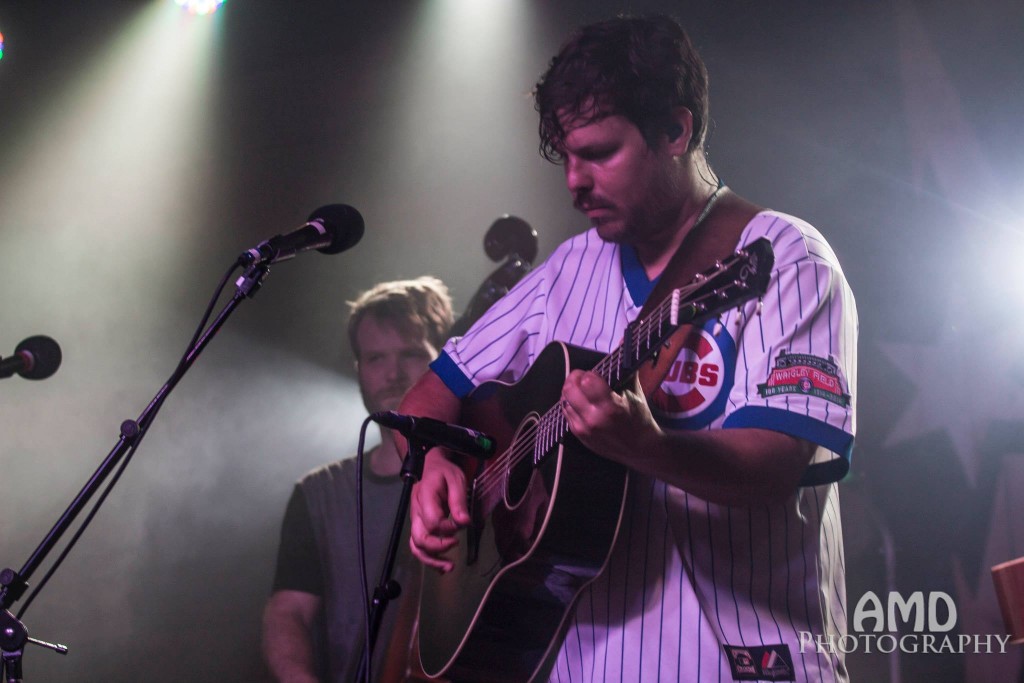 When all was settled and they were ready to begin, Anders announced that it was bass player Mike Devol's birthday and that he had crafted the night's setlist. Giving out presents on your own birthday? Those in attendance owe some thanks to Devol.
From the opening notes of "Jaywalking", it was clear that Greensky was dialed in fresh off the earlier set. "Midnight Rider" came next and let the crowd know that it was time to rock.
"Windshield" and "Working on a Building" kept that energy level up until the "King of the Hill" >"Reuben's Train" >"King of the Hill" sandwich, which featured some of the best band interplay of the evening, including some great work from banjo player Michael Bont.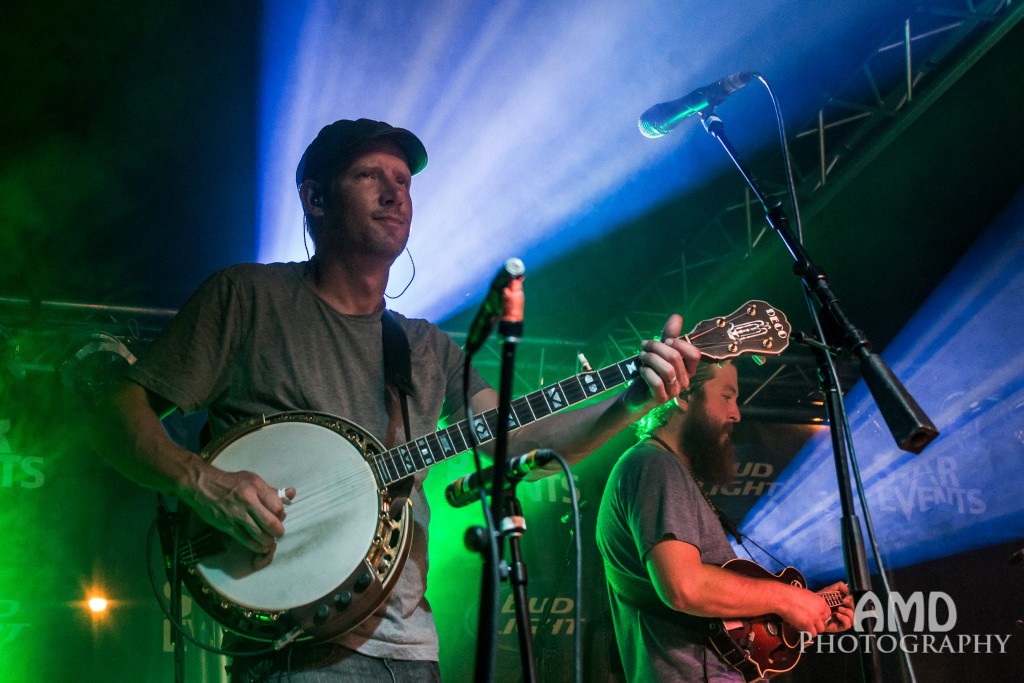 "Out of Control" and "Can't Stop Now" kept the energy at a peak level until it was time for more birthday wishes for Devol that segued into a scorching "Broke Mountain" -- the song that has most consistently slayed crowds over the past couple of months. However, instead of transitioning into "Atlantic City" as it has done so much lately, this standalone version ended calmly before Bruzza launched into "Wings for Wheels" off their soon to be released album If Sorrows Swim.
To close out the evening, another track from that album, "Leap Year", brought the crowd to its knees, begging for one more song. The old classic "Drink Up and Go Home" brought the crowd back to earth and provided a great sing along moment.
The Barn's love of this band is well documented and this show once again gives us reason to say: If you haven't seen them yet, there is no better time. They are young, hungry and obviously still take great joy in playing together and forging new ground.  They have planned an extensive fall tour and will be back for a hometown Kalamazoo show at the State Theater post-Thanksgiving. They are playing as well as if not better than they ever have before and are making new fans with each performance.
They also just dropped the first track from If Sorrows Swim, "Windshield", on Spotify.  Hold on to your hats.  This is going to be a good one.
Check out Ashley's full gallery from both shows below.
Setlists:
Greensky Bluegrass
August 22nd, 2014

Boulevard Festival
No Idea, Steam Powered Aeroplane, Lose My Way, EMD, Dustbowl Overtures, Radio Blues, Handguns, 33443, Kerosene, Catch Me a Jesus, Pig in a Pen, Don't Lie

Concord Music Hall
Soundcheck:
Fluffhead tease (Anders, Dave, and Bont), Back That Ass Up (Hoffman solo)>

Jaywalking, Midnight Rder, Foggy Mountain Special, Just to Lie, White House Blues, Windshield, Working on a Building, King of the Hill > Ruebens Train > King of the Hill, Wild Bill Jones, Letter to Seymour , In Control> Can't Stop Now, Broke Mountain Breakdown, Wings for Wheels, Leap Year

Encore
Drink Up and Go Home