Review / Video / Stream / Download | Greensky Bluegrass Opens 2016 @ The Vic
By: @WeirScrewed | Video: izeoftheworldphotos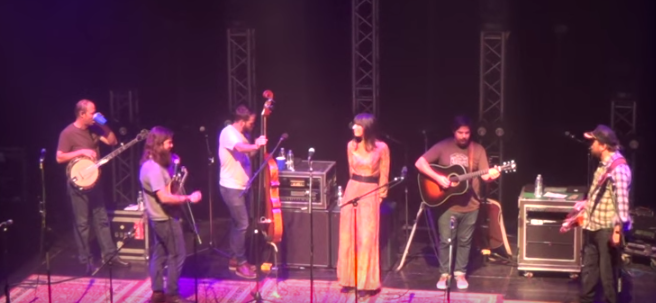 "Who hustles harder: Chicago or Detroit?" was the question asked by Greensky Bluegrass over their four show run,  spanning the extended New Year's weekend with two shows each at Michigan's Royal Oak Theater and Chicago's Vic Theater.
Not sure about the city's hustle, or even those of the fans in each, but the band seemed to sweat it out extra hard in Chicago. At their most high profile Windy City gigs to date (two night stand, headlining, holiday run in a theater), Greensky once again stepped up and delivered a scorcher that was long on highlights throughout both sets.
After stepping on stage and running through a brief rendition of Auld Lang Syne while tuning up, the quintet started things off with the Paul Hoffman original "Fixin' to Ruin" before taking the first deep plunge of the night with "Train Junkie".
Following that psychedelic jamgrass journey, the group settled the crowd back down with a song-based run including "Bring Out Yer Dead" before bringing out guitarist Deren Ney from opener Nicki Bluhm & The Gramblers for the pairing of The Wood Brothers' "Luckiest Man" and the newish Greensky original "Frederico".
To close out the first stanza, Nicki herself came out to provide the vocal accompaniment to "The Chain" which left the Chicago crowd satisfied and looking forward to the final set of the weekend.
After the opening duo of "Radio Blues" and "No Idea", set two really began to take off with the "Tarpology" sandwich that featured a pair of seamless forays into  Pink Floyd's "One Slip".
During "For Sure Uh Huh", Phoff once again addressed the Detroit vs. Chicago debate by officially remaining neutral during it's humorous breakdown -- that is until he returned for the encore in a Green Bay Packers hat (alienating both Bears and Lions fans, whose teams would square off on the gridiron on Sunday, in the process.)
However, no four show Greensky run would be complete without a "Don't Lie" and the band did not disappoint by delivering the goods with a killer version of Black Sabbath's "War Pigs" tucked within.
An encore of "Demons" and "Drink Up & Go Home" reminded the audience to take an attitude of gratitude into 2016 where Greensky will certainly continue to shine.
While Friday's New Year's Day show may have followed closer to the script for a GSBG show these days, it had a few curveballs of it own, including one of the most ingenious setlist choices of all time.
Just a few hours earlier, Railroad Earth had closed their New Year's Eve show on the very same stage with their original "Long Way To Go".  With a tip of the hat to their friends, Greensky opened with the very same song before diving headlong into a full setlist which contained a number of teases of War's funk classic "Low Rider".
So for the record, we're just gonna assume that Chicago hustles harder.  Although I think fans in both cities can agree that a Midwest holiday run split between the two towns is something that everybody can get behind in the future.
1/2 Show - Download (mp3.zip) via archive.org
1/1 Show - Download (mp3.zip) via archive.org