Review | String Cheese Incident @ Aragon Ballroom 1/29/15
Words & Photos: Kelley Lauginiger - @peapodmcgee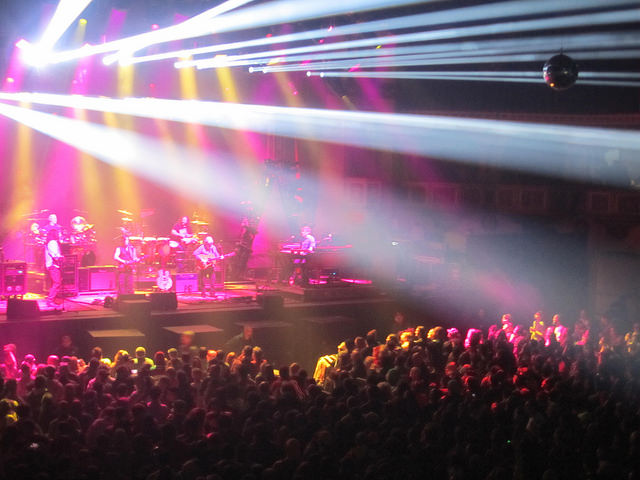 It might have been the start of a blustery, cold weekend in Chicago, but The String Cheese Incident brought the heat as they visited for three nights on their Winter Carnival Tour.
The line wrapping around the building on Thursday night was full of love and hugs, reuniting estranged Midwest and well-traveled Cheese-heads who were there for the party and ready to get on down.
If you haven't been to the historic Aragon, it is quite majestic inside.  The sweeping painted skyscapes of a dark, yet colorful, night sky give an enveloping sensation similar to the microcosmically relative idea of, "As Above, So Below."  I think that if that ceiling could talk it would say, "A lot of people have stared at me over the years, and only some were on drugs."  It's really mesmerizing and really offers artistic and beautiful coverage spanning across from each Spanish-inspired turret to each terra-cotta roof.  It's kind of ominous in the most comforting way, like a three-day hometown run in general, or like.... someone who doesn't like mustard.
The String Cheese Incident has long been a regular unit in the rotation of big summer festivals, and in my opinion, seem to basically time travel.  They definitely stay busy, and have a barrage of tour-friendly groupies ready to time-travel "'Round the Wheel" of life right along with their favorite six gentlemen.  But how does a band stay so fresh after playing since the early-90's?  I guess that is just the fine-line that musicians all balance upon: evolution and innovation vs. tradition and expectation.
Maybe it was the overall, extremely OG setlist, or the almost-20-minute Best Feeling in the first set, but man, they were just on FIRE on Thursday!  First, as they all took their spots on stage, Billy Nershi grabbed his wide-bodied, white electric guitar to open up with the the happy-go-lucky "Outside & Inside", and got the whole place jumping by doing so himself.
Jumping up and down, joking with his bandmates, and calling the crowd to get pumped up, I think it really worked.  If people weren't into it before they started, by the end of the opening track, the Aragon was a-buzz. It was the only night of the three that did not sell out, so I think SCI gave a bit of a nod to those in attendance with super energetic and classic-setlist show.
After Nershi switched guitars, they went into that "Best Feeling".  Maybe it's the millions of fuzzy memories of Keller joining SCI for this song back in the day, but it is probably in the top four SCI songs for me.  When I see it performed live, you could say I am kind of "like a kid on Christmas day"... or something like that.  The band-members all passed the jam around for a long and winding dance party, with a Kyle-Hollingsworth techno robot keys party jam that was really the highlight for me (but Kyle normally is).  He is  just so fun, you know?  He always looks like he's having the time of his life.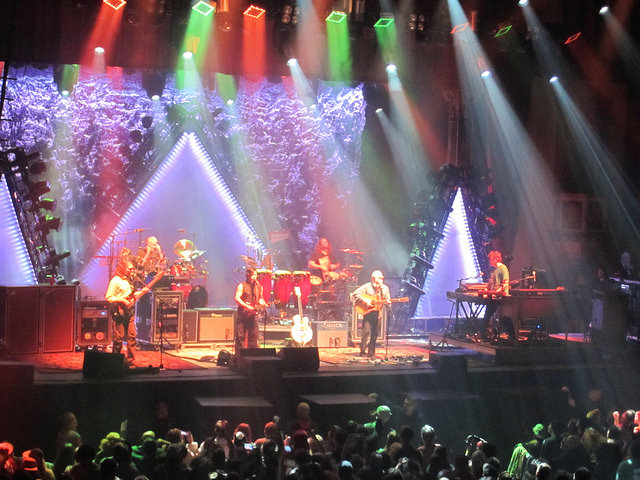 They got everyone into a nice mellow mood with smooth transitions and in the middle of a dream, Michael Kang picked up his violin.  They went into the melodic "Mauna Bowa", which is kind of like the onomatopoeia of taking it easy in a field of sunflowers, really.  It is such a pretty tune, but I think I'm generally partial to instrumentals.  Nershi may or may not have been using a maraca on his guitar for a fleeting moment of this song, but overall, it was a standard take on the crowd-favorite.
It took us right into the Hollingsworth tune, "Way That It Goes" which, for what it lacks in live vocals, it really makes up for in the booming funk-sexuality of the Hammond organ and Rhodes piano jams.   I think it's kind of one of those songs where anyone close to custy is kind of looking around for some knowledge to drop, like, "what song is this?" without having to ask.  Cuz, duh, I knew that anyway.
Then something hilarious happened.  "Joyful Sound" started up, and everyone was feeling it hard.  It truly lived out its nomenclature and people started to really vibe on the dubby sounding digital language that filled the interludes before the lyrics came in.  Well, everyone besides Nershi.  He straight up set his guitar down and left the stage.  As my buddy noted, his actions kinda said, "You kids have your fun. I'll be back."  Heavy bass sound, complete with the heavy reverb that unequivocally sounds like robot farts really started to blastoff during bassist Keith Moseley's crooning of the simple and uplifting lyrics of another one of my favorite jams by SCI.  As the jam crescendo'd into some apex-style happiness, each band member slowly trickled off the stage, leaving just the percussion section to absolutely destroy any negativity that could have been left in the room.  You know when a jam gets really good, and people kind of start running back to the GA area from the bathroom, beer line, or wherever they just were, because it just sounds awesome? This Wake of the Flood really started to occur, and the front of the Ballroom filled in any gaps it previously had.  I think the band picked up on this and really rode it into the end of the set, closing with the ever-popular "Come As You Are."
The notes on my phone would lead you to believe that this song really took off with "a super suck ass bass led ham," but I would beg to differ that it was probably a super sick-ass, bass-led jam.   Moseley kind of came out of his shell between this song and the last, and the whole band really followed suit, passing the lead around like a fireball. I kinda thought "If Cheese had 'Type-II' jams the way Phish fans discuss them, this would be it.  WE HAVE GONE TYPE-II, folks.  As Hollingsworth completed the circle and passed it back to Nershi, he wailed some guitar riffs and the set was over.  People were going mental, screaming for more.  Lucky for us, it was only the end of set one of six over three days, so we had a lot to look forward to.
As the guys took the stage for set two, Kang was doing the usual checks to see if he was plugged in, or if this thing, was in fact, ON.  I noticed immediately that Nershi was rocking his gorgeous electric white guitar again, and its distraction carried me most of the way through the opener, "Colliding". This track definitely had some heavier-hitting sounds, reminiscent of EOTO, and was the first long jam of this type, almost starting a new chapter of the run.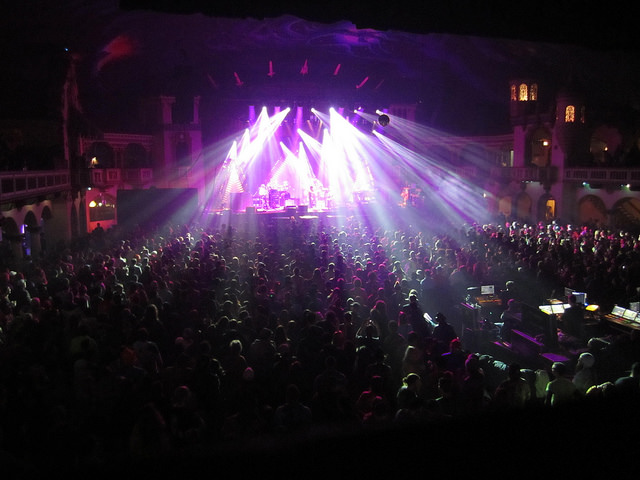 They took the momentum right into the always-fun, and crowd-incorporating "Miss Brown's Teahouse".  As the crowd got louder and gave back their dutiful calls to answer with the inviting lyrics, as the band wove everyone into the calypso-style jam that is "Pygmy Pony".  According to the level of head-bobs, I feel like the guys really like playing this song… maybe they have some more freedom with it since it's instrumental, or maybe they just love to holler at Frank Zappa.  I've always wondered if this track is named after the "Pygmy Pony" from Zappa's Montana.  Also I feel like that emoji with the lady dancing in the red dress—IS this song.  Just saying.  I also thought I caught a Marley tease in there ("Could You Be Loved"), but am not 420% positive.
They definitely took the energy from this segment and busted through a "Black Clouds" full of an incredibly funky breakdown that had everyone shakin' their Cheesy booties, and right into a Star Wars-esque metal jam that together just really showed their flexibility and diversity to let everyone share the lead and control the pace as they made their way through the different verses of the song.  One thing to note is that watching someone as giant and manly as Jason Hahn keep the beat with a tambourine, is probably one of the more comical sights that give life to live music.   To the ear, you'd never know how truly ironic it appears to the eye.  He then took his not-so Little Hands to the congas and led the band with his vocals across the Stevie Wonder cover, "Jammin' (Master Blaster)".  I guess they just started covering this last fall, which is pretty cool.  Does anyone not like Stevie Wonder?  Pretty sure that's the eighth deadly sin.
They slowed it down just a bit next, with a bunch of psychedelic waves and heavy keys throughout a Zeppelin-esque take on "Impressions", and went into the set closer, "Rollover".  It was phenomenal and they Cheese'd us hard with that amped up, end-of-set excitement that has everyone belting it out for just one more song.  After seventeen minutes of play on that track, the guys took a breather until they emerged to "BollyMunster" our little faces for the encore.  This tune sounds like a very sexy Indian snake charmer and an upbeat Irishman made a really chill rave baby.  Maybe that would one day, grow up to have a deep voice and be really good at longboarding, but also give really compassionate advice. It's a great way to close the show, because each member of the band really plays a role in its construction, and the layers of different sounds hailing from across the globe are really tied together with Kang's American fiddle-playing root music.
Overall, my expectations were blown away by this show.  I have seen Cheese a handful of times (Lockn '13, Aragon '11) since their reunion, but this was far and away the best show I've seen them play since the early 2000's.  The combination of the fun-loving, bluegrass-dominant, mostly OG setlist, with the gorgeous gold inlay of the Aragon really made for an incredible way to spend a Thursday.  (And Friday and Saturday too, but who's counting?)
Thanks, String Cheese Incident!
Set One
Outside and Inside, Best Feeling > White Freightliner Blues, Mouna Bowa, Barstool, Way That It Goes, Joyful Sound > Come As You Are
Set Two
Colliding, Miss Brown's Teahouse, The Pygmy Pony > Black Clouds, Master Blaster (Jammin') > Impressions > Rollover
Encore
BollyMunster