Review / Setlist / Video | Tedeschi Trucks Band & Leon Russell @ Chicago Theater, Jan 22 & 23, 2016
Photos: Adam Miszewski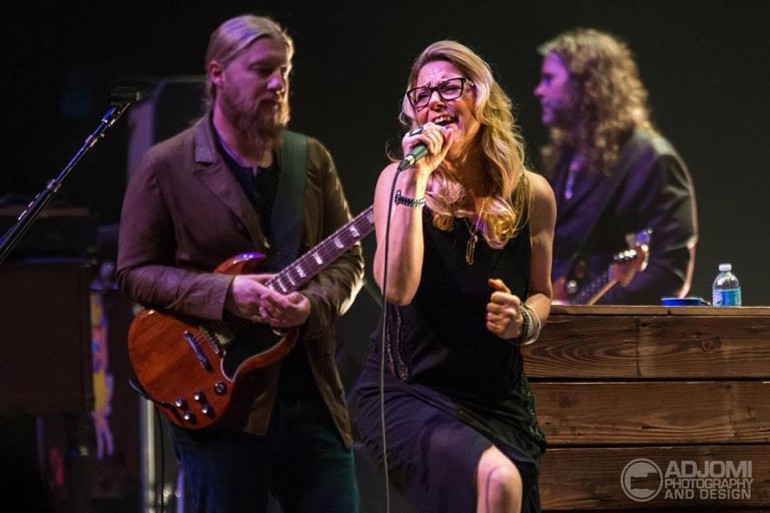 I need to come clean.  When the Allman Brothers Band dissolved in 2014, my first thought was whether Derek Trucks would reform the Derek Trucks Band.
Sure, I was a huge fan of the Tedeschi Trucks Band over the course of their first two albums...but wouldn't it be great for him to fill some of his newfound free time with a smaller, more nimble group to complement the big band soul revue that his now main band represented?
After two nights with TTB in Chicago this winter, I see what a fool I was.
That band that I wished for was hiding in plain sight.  Of course, there were plenty of Otis Redding style rave-ups, but in various configurations and perambulations, the TTB was equally capable of delivering Coltrane-esque free jazz, Miles Davis fusion, New Orleans funk, Allman Brothers Band blues rock and straight up traditional blues (hello "The Sky Is Crying").  Hell, they even laid down a fairly faithful cover of "Within You Without You" and brought down the house (twice) with a David Bowie cover ("It Ain't Easy").
What's clear is that Trucks is a once-in-a-generation talent.  Hand him an out-of-tune guitar smashed in half and I bet he'd still make it sing.
Susan Tedeschi is an ideal partner for a man who basically retreats into his instrument.  Her voice grounds us and keeps us emotionally connected to the endeavor – while Derek takes us off into uncharted waters, she is steering the ship, and rips off an occasional solo on the Fender to boot.
Then there's the band.
Of course, the best of the best want to play with these two.  You get the feeling in any other band each musician may be the star attraction. Hell, each one could probably swap instruments with someone else on stage and still be the center of attention.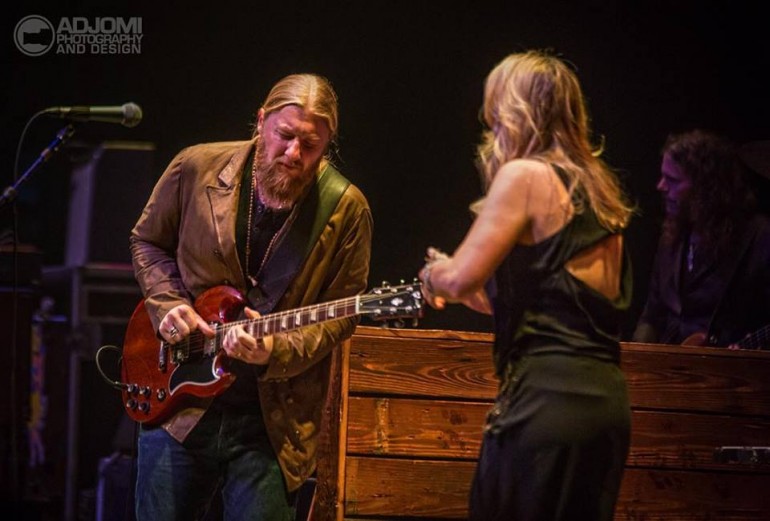 The unique genesis of Tedeschi Trucks Band makes for some interesting thinking on what exactly they are.  They are an old young band (or a young old band?).  Since the principals had established careers before forming, it's not like they grew up together.  They were damn near peak powers when they formed…
But look how they've evolved regardless.  Together now for five years, they can claim some genuine hits ("Midnight In Harlem", "Do I Look Worried", "Made Up Mind")… show stopping numbers that feel like they're a part of our collective consciousness.  They've worked to supplement the repertoire via covers – some of which have become as eagerly anticipated as the originals (Derek & the Dominos' "Keep On Growing" comes to mind, "Angel From Montgomery", too) .  The rotation also got a significant boost through material introduced at last fall's Joe Cocker Mad Dogs & Englishmen Tribute at the Lockn festival.  "The Letter" and "Space Captain" in particular were most welcome.
There's enough strong material that the setlist has genuinely become a guessing game, setting up a two-nighter like this perfectly.  In fact, some of their most endearing material didn't make it into either setlist.
But no matter, they've got even more strength in the pipeline.  Songs from 2016's Let Me Get By got the most repeat action over the course of the run and, oh my, do these songs resonate right away.  "Anyhow" (Friday's version with an a cappella gospel "Anyhow My Lord" intro earns some bonus points), "Don't Know What It Means" and the title track each hit the right buttons with fine vocal and horn arrangements, with plenty of momentum to throw us to the Derek solo.
Pair these moments of full blown, one dozen strong power with the way the band gets broken down into various configurations and there's really no need for Derek, or his fans, to look elsewhere.  They even found themselves in moments of pure improv both nights. This band is everything, and everything is great.
Leon Russell opened Friday's show with a cover heavy set, punctuated by his hits ("Tightrope", "One More Love Song", a solo piano romp through "A Song For You").  His three piece backing band was adept moving though medleys that touched on traditional bluegrass ("Rolling In My Sweet Baby's Arms"), and plenty of classic rock ("Jumping Jack Flash", "Wild Horses", "I've Just Seen A Face") .
But I got the feeling he was invited to the party primarily to contribute a little to the main event, which he did on two songs: "Darlin' Be Home Soon" and "Sticks and Stones".  As expected, the band was reverent, but incorporated his distinctive sound fully, only serving to elevate Russell even higher.
I could definitely see a multi-night run like this being a staple for the TTB for years to come.  Depending on how hard the go after, that may be a possibility (they already have established a fall residency at the Beacon in New York).  Like many bands in my wheelhouse there's plenty to offer whether they're selling something or not.
Pound for pound, this could be the best band in America.  Can't wait to see what's next.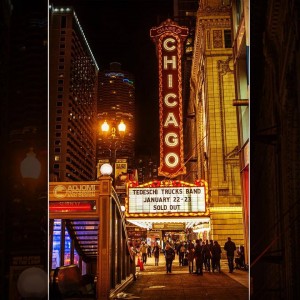 FRIDAY, JAN 22nd
Laugh About It, Don't Know What It Means, The Letter , Made Up Mind, Darlin' Be Home Soon*, Sticks and Stones*, Idle Wind, Anyhow, I Want More, Within You Without You, Just As Strange, I Pity the Fool, Bound for Glory, Improvisation, The Storm
Encore: It Ain't Easy, I Cannot Make It
*with Leon Russell
SATURDAY, JAN 23rd
1:Don't Know What It Means, Keep On Growing, Midnight in Harlem, Do I Look Worried, Don't Miss Me, Bird on the Wire, The Sky Is Crying, Anyhow My Lord, Anyhow
2: Within You Without You, Just As Strange, I Want More, Right on Time, Let Me Get By, Angel From Montgomery, There's a Break in the Road, That Did It, Improvisation, The Storm
Encore: It Ain't Easy, Space Captain
The band also played a short set on a small stage at Reggie's for 93XRT. Here's a capture of the webcast. Keep your eye out for the "sleeping together" joke.
Setlist: Don't Know What It Means, The Letter, I Want More, Let Me Get By, Anyhow My Lord, Anyhow
Photo by: Wyatt Brake