Review: Robbie Fulks Covers Michael Jackson @ Lincoln Hall 3/18/11
Robbie Fulks is just about the perfect person to artistically convey how the rational, but passionate music fan can put the career of Michael Jackson into perspective.  Emotionally expressive, brutally honest, occasionally caustic, it is perfectly in character for Fulks to recognize and reinterpret the brilliance that underlies Jackson canon, while acknowledging that it is partially a product of a tragically sacrificed childhood, alienation that borders on detachment from reality, and maddeningly poor life choices.
The stage show that Fulks put together on Friday, March 18th at Chicago's Lincoln Hall to showcase tunes from his 2010 tribute to the work of Jackson, Happy, gave the audience a chance to celebrate the music with the unapologetic understanding that Michael Jackson was one weird dude.  Stripping away much of the pop sheen, we marvel at how great songs can bend and transform under Fulks' interpreter's touch.  But these songs are not without their baggage and in Robbie's world, blanket covered babies dangling from hotel balconies and freak-show plastic surgeries are also part of the narrative, and were all fair game for some of the non-musical entertainments of the evening (more on this later).
The intersection between a child star turned moon-walking cultural touchstone and a sarcastic country singer who writes glorious profanity laden kiss-off notes to Nashville is not immediately obvious, but a few songs into the show it dawned on me.  Both Jackson and Fulks have an uncanny way of turning a musical phrase.  At the heart of what makes Michael's music resonate is an ease with which he can add color and nuance to a song with just a simple vocal flourish, and Robbie has this ability in spades.
So, of course, he opened the show with an instrumental.
When the lights dimmed, a respectful hush befell the Lincoln Hall crowd and Fulks took center stage with just an acoustic guitar, diving headlong into a solo "Smooth Criminal", complete with fierce, finger picked bluegrass breaks.  Out of the shadows, four children (the offspring of Fulks and his band) found their way on state… allowing Fulks to introduce the "plot" of this production.  Framed as a bedtime story, he began tell the tale of the hardscrabble life and trials of a character that he refers to as The Smooth Criminal.  Fulks and the children engage in banter that at times was shocking yet hilarious: when one of the children ponders whether The Smooth Criminal "drugged and molested" the kids he befriended, Fulks responds that "he was never convicted of anything!"  What follows is his musical history, punctuated with hammy acting, props, puppets, and wacko homemade Jackson 5 costumes -- a perfect balance of the musical and farcical which permeated virtually all aspects of the performance.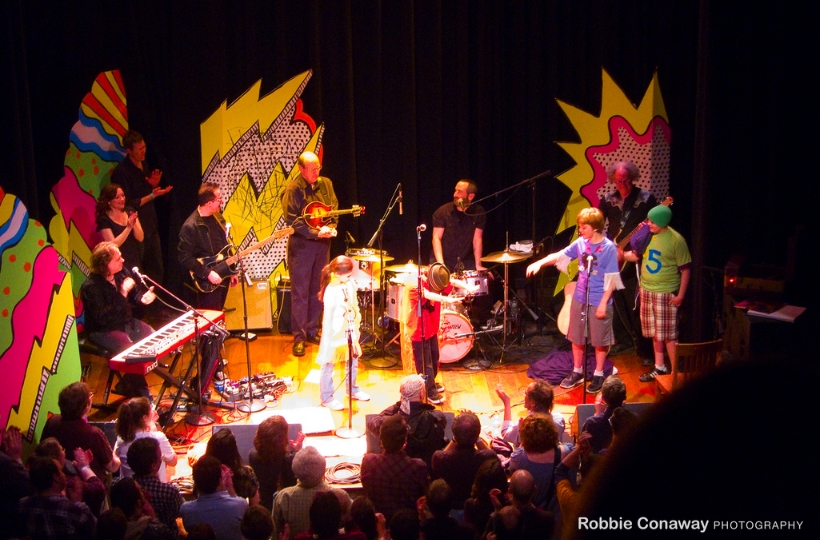 Despite the do-it-yourself aesthetic, the five-piece band was on point, polished and rehearsed, kicking off with a faithful rendition of "Mama's Pearl", a joyful Jackson 5 Deep Track.  But what put this show over the top musically, were contributions from the special guests:  vocalist Norah O'Connor and mandolinist Don Stiernberg, both part of the "reparatory cast" of musicians and collaborators who perform in different formations with Fulks during his Monday night perma-residency at Chicago's The Hideout.
O'Connor took the lead vocal on "Ben", under the watchful bug-eyes of rat hand-puppet, and playfully sparred with Robbie in a gender-bending version of "The Girl Is Mine" (O'Connor during the middle section:  "this is not just a college girl experimental phase").  Meanwhile, Stiernberg's bluegrass chops were on display, first in a countrified "Going Back To Indiana", then in a jamgrass version of "Don't Stop Till You Get Enough", the complex arrangement of which is thoroughly detailed in Fulks' blog.
Other highlights included:
a stripped down, plaintive "Billie Jean", perhaps placed a more appropriate musical setting for the baby mama drama that plays out in the lyrics
a stunning show centerpiece of "Privacy" (I hadn't heard of it either, a tune from Jackson's 2001 Invincible) rearranged to incorporate a Zeppelin-esque blues intro, some Grateful Dead style space jamming, and dose of freakish noise rock.  The song's spoken lyrics eventually meandering into a jam which yielded "The Way You Make Me Feel"
the show-stopping "Man In The Mirror", with lead vocal duty handled by Fulks' thirteen-year-old son Preston
After a little over an hour of Jackson tribute, "Back To Indiana" was reprised to close the set.  Fulks humbly addressed the crowd and indicated that the venue has suggested the band play a few of their songs "for the extra beer money".  This made for an extended encore of sorts, with Fulks trotting out some of his most beloved original songs, including the anthemic "Let's Kill Saturday Night".  He also managed to work in a couple of duets, one with Stiernberg ("Rolling On", a bluegrass number) and the show closer "Goodbye Virginia", where O'Connor had to literally be pulled out of the crowd to resume the performance.
An interview in the Chicago Reader indicated that this may be the last time Fulks performs Michael Jackson songs.  That's too bad -- the inspiration, cleverness and dedication with which this show was conceived could entertain many more than those that made it out to Lincoln Hall.  But that's just how Robbie rolls -- he's the last artist I'd expect to seek commercial success in a way that doesn't suit his own muse.  He had a story to tell, and it has been told.  We come away knowing a little more about Michael, a little more about Robbie, and better prepared for the next adventure.