Preview & Ticket Giveaway | Front Left A-fare Featuring Stu Allen & Mars Hotel + Guests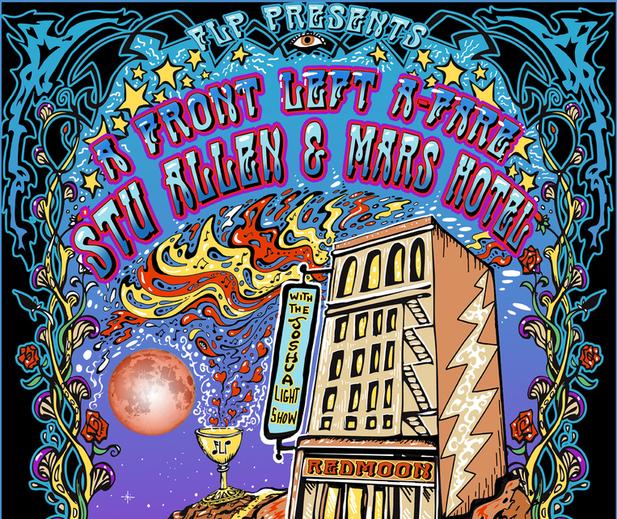 This just might be your kind of zoo.
The folks at Front Left productions are not fooling around when it comes to providing entertainment.  Their event lasts from 1:00pm to 2:00 am for three days, July 3-5th.
It's close to Soldier Field for a quick visit before or after the show, or if you couldn't find your ticket, they'll be streaming all three nights on the big screen as well.
Entertainment is being provided by Stu Allen & Mars Hotel, but announced guests include Rob Borraco, Col Bruce Hampton, DJ Logic and Will Scarlett.  But the main attraction just might be the venue.  The Redmoon Theater specializes in the sort of immersive psychedelic inspired art and light experiences that are the perfect accompaniment to this sort of music.
They'll be aided by Stefan G, who has become known for his video, lights, and animations for Jerry Garcia Band, Furthur and more.
For an event of this magnitude, tickets are among the most reasonably priced of your many options over the weekend.  Find out more HERE.
So… want to see what this is all about? We're giving away a pair for Sunday, July 5th and entering to win is simple, but if you want to increase your odds… follow the directions carefully.
1. Send us an email with the subject "Mars Hotel" to info @ tomorrowsverse.com — in the body tell us your full name and your favorite song from the Grateful Dead's 1974 release From The Mars Hotel.
That's it. You're entered. We'll notify the winner on July 2nd. But if you want a few extra entries, let's get social…
2. Find the link to this page (or our main contest page) in our Facebook timeline. LIKE it, and tag the friend you'd like to bring in the comments — that'll give you a boost. Be sure to LIKE The Barn on Facebook for it to count!
3. Find our tweet about this page in our Twitter timeline. RETWEET it or REPLY with your favorite song from Mars Hotel and that will give you one more boost. Be sure to FOLLOW @thebarnpresents on Twitter.
Can't decide what to see, or just want to cover your bases? Check out some of our other Dead50 Weekend Giveaways.
And yes, Stu's sporting a Phish shirt in this video.