Fact & Fiction: A FirstMerit Pavilion at Northerly Island FAQ (Tailgaiting, Parking, Concessions, Venue Map & More)
No story that TBP has covered this year has felt more "newsy" than the expansion of the venue on Northerly Island.  One of Chicago's under-appreciated destination venues since its inception in the mid-2000's, the thought of a such a radical transformation raised numerous concerns for Chicagoans and visitors alike, especially with three nights of Phish anchoring the stage's summer season.  Could the venue maintain its unique charm? Would the location (its best selling point) be compromised with the influx of so many additional concert goers?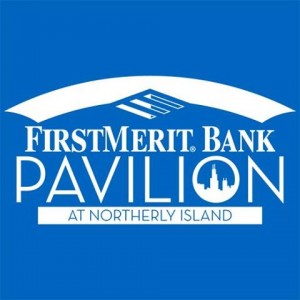 And the story got more intriguing with a handful of twists and turns: first the cancellation of what would have been it's inaugural show on June 1st (Dispatch & Guster), and then a very vocal outcry of fans who spent the ankle deep in a swampy muck on the lawn during the Jimmy Buffet show on June 29th.
For the Phish fans who read this blog, there is certainly reason for concern, but probably not reason to panic. In fact, we should at least celebrate the fact that we can learn from the first round of mistakes, and acknowledge there appears to be a concerted effort to correct the misteps in the first going.  I thought I'd throw this post together to separate fact from fiction and dispassionately get everybody a bit more prepared for what to expect. We have also posted a guide to the city for the time you spend outside the venue.
What the hell is FirstMerit Pavilion?  I thought these shows were at Charter One Pavilion.
It appears that naming rights were sold to the highest bidder, even after the show was advertised and tickets sold under the previous name.  Rest assured, your tickets will be honored and you'll be headed to the right place if you get to that tiny man made island behind Solider Field.  At least Chicago is not alone in this type of corporate chicanery.
Were Jimmy Buffet fans justified in their outrage?
Let's face it, things didn't exactly go as planned for opening night on the lawn.  But the outstanding question is: was the experience worthy of the orchestrated fire bombing of the venue's yelp page and doom-and-gloom news reports in major outlets?
Go and read a couple of those yelp reviews.  I'm not going to argue with facts and many of the complaints are justified (terrible field conditions, unacceptable sound, a debacle around vending and concessions) and will be addressed below. But I also like to thing that Jimmy Buffet fans, though very passionate about the music in their own way, fall into a slightly different segment than Phish fans.  For many, this may be the only concert they see this year (or for several years).  They make no secret of their love for the leisure lifestyle -- relaxing beaches and boats imagery dominate their discourse.  They don't exactly come off as people that can roll with change, adversity or struggle. With big 70's era radio hits, the demographic skews a bit more pampered / suburban and slightly older / entitled than Phish.
Phish fans famously walked 12 miles from a highway to stand (and camp) in similar conditions for Coventry, a show which sucked -- and yet they still didn't exhibit a fraction of the indignation of these guys.  In fact, many wore it as a badge of honor.  Hell, I had a similar mud-experience this year at the New Orleans Jazz Festival -- ONE OF THE NATION'S LONGEST RUNNING AND BEST RUN FESTIVALS.  Shit happens.  Chicago experienced unprecedented rain this spring, on newly laid sod for a construction project that was running behind schedule. Let's take this all in stride and hope to learn from the experience.
Were they offered a refund?  If so, it must have been bad
I guess this is a fact.  The refund, however, consists of lawn seats to a show at this or another LiveNation venue.  Whoop-de-doo.  More concession money for the promoters for what probably would have been unsold tickets anyway.
Has the lawn been destroyed?
Rain + sod + thousands of footsteps = mud.  Chicago "enjoyed" 30 inches of rain in the first half of the year, more than 2012 entire year rainfall.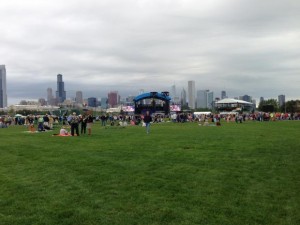 Before
Yes, this looks ugly and it is probably one of the most depressing things to note for those that are holding lawn tickets to upcoming shows.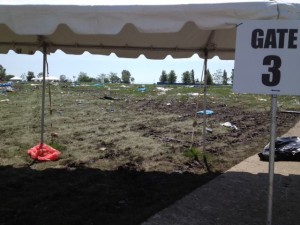 After
Here's what Live Nation says about the current situation:   "Lawn: Our landscaping team has done extensive work over the past couple of weeks, and we are pleased to report that the lawn has completely dried out.There will be sanded areas in some portions of the lawn and it will be a great place to view the show, along with the magnificent vistas of the Chicago skyline."
Thursday, July 11th via @mikephlood
What about the sight lines?  Will I be able to see from the lawn?
Well, the lawn has rarely been a place to be if you want a great view of the band; you knew this when you bought your ticket.  To be fair, this one tends to lean more towards the relax-and-picnic type (think Ravinia, Pritzker Pavilion) of lawn than most people would like.
That said, the stage is high and viewable from a wide angle.  It is also flanked with some pretty large video screens.  You will also be blessed with the enduring legacy of the "old" Northerly Island, the immaculate view of one of the city's best assets: it's skyline.  It's not much worse that flat lawn experiences that you may have had any of Phish's major festivals or other fests like Bonnaroo, ACL, Lolla.  Here's what it looks like during the show.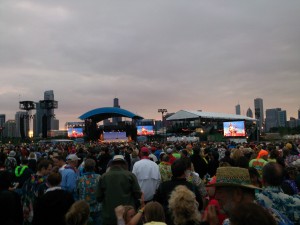 Can I see from the lawn? Pretty Much
The lawn is also pretty far from the stage especially the back of the lawn (duh).  With Saturday night already a sellout, if you're concerned, get there early.
Will I be able to hear?  How bad is the sound?
According to reports from Buffett, it was pretty bad.  Loud enough to be heard, but not the type of dominate-your-world immersive experience that we expect for rock shows.  However, this is probably the one of the easiest and relatively least expensive things to remedy.  According to LiveNation:  While other artists have opted to use a single delay system, Phish is bringing in multiple delay towers to ensure optimal sound coverage across the entire lawn. 
The "other artists" thing kind of throws Jimmy under the bus, huh?
What about beer and other concessions?
Another situation that we have to chalk up to opening night unpreparedness.  Yes, lines were long and supplies were low.  I was told several stands ran out of beer.  However, there is money to be made -- and Phish likes to keep their fans happy, so the situation appears to have improved dramatically.
We've added several areas to buy concessions — the beverages will be ice cold and we will have plenty of them.In addition, we've expanded the variety of menu items. There will be select $4 12 oz. beers for sale throughout the venue and, in addition to our typical selection, there will be a microbrew tent on the lawn. We have also increased the number of restrooms throughout the site.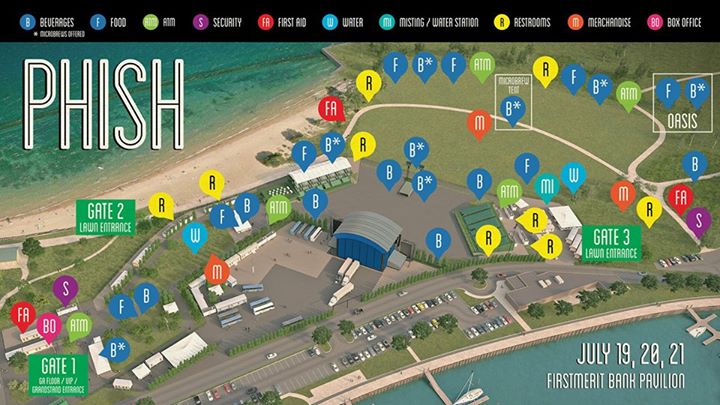 They describe two "new" sections of facilities:
The Oasis

Located at the far end of the lawn, The Oasis is a large air conditioned tent with full cash bar (including microbrews and imports), Connies Pizza available, band merchandise, lounge furniture to relax, and a banner to sign personal messages to the band on. This will be open to all attendees from 6pm-11pm.

Microbrew Tent

Located in the center of the lawn behind the middle walkway, this tent offers the fullest selection of microbrews and imports, in addition to the standard domestics within the entire facility.
Can friends in the front sections (GA, Stands, VIP)  mingle with those on the lawn?
For Buffett, there was a separate entrance for the main pavilion and the lawn and a barricade that seperated the sections -- people weren't allowed to move to the back for awhile and take it the concert from afar or hang with friends.   Apparently this has also changed for Phish.
There will still be separate entrances, but guests with tickets to the General Admission Floor, Grandstand Seating, and VIP, WILL have access to the lawn area via access points between the lawn and pavilion floor.
The details on the entry is as follows:
Entry

Guests will enter via 3 gates as they approach the venue.  The following language is printed on each ticket to assist with the proper entry location "Enter Gate X", X being gates 1, 2, or 3.

Gate 1 – designated for guests that have tickets within the reserved sections and VIP seating of the facility.  These are the normal ticket gates used for all shows at the venue.

Gate 2 – East of Gate 1, next to the 18th Street Beach House. This is for guests that have a general admission lawn ticket that shows "Enter Gate 2" on it.

Gate 3 – Located at the south side of the facility off of Linn White Dr. This is for guests that have a general admission lawn ticket which shows "Enter Gate 3" on it.
How do I get there?  Where do I park?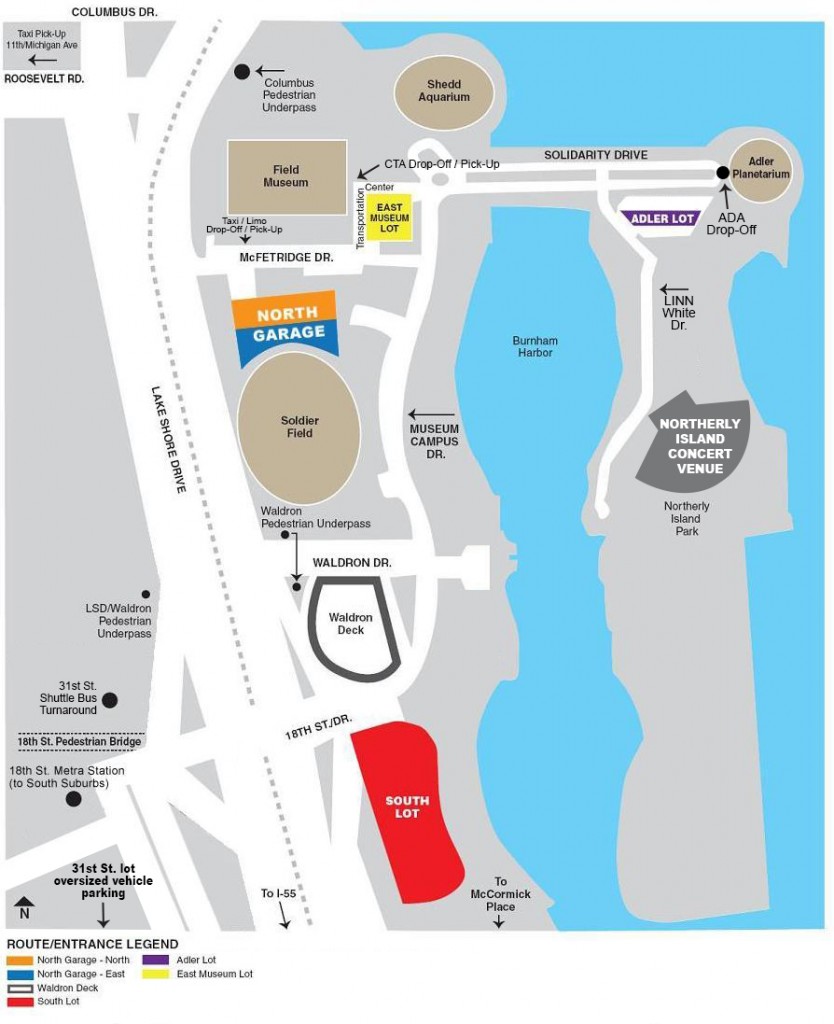 You have several options depending on when you plan on arriving, where you're coming from and what you plan on doing once you get there.
If you're coming from the Loop or South Loop.  Walk or take a cab.
Anywhere else in the city... take the L to the Roosevelt stop and walk.
From out of town / the suburbs... go ahead and drive but be prepared for traffic (especially on Friday)
The advantage of driving... this should be a hell of a tailgaiting scene.  All the Soldier Field lots are open at around 2:30 and the party is generally "live and let live" at these events -- so bring food and beverage and prepare to settle in.  Leave the shades / canopies at home though, fans putting these up at Buffett were asked to take them down.  Be warned, it is a bit of a walk from most of the parking lots, especially the "South Lot" to the venue.  Not backbreaking or anything, just a little exercise.  If you do opt for the pricier "VIP" parking (the so-called Adler lot) close to the venue, be forewarned that foot traffic may impede your leaving.  Since there is only one way on and off the island, traffic won't exactly flow freely for these big events.
Also, they are being very clear on a zero-tolerance vending rule.  We'll see.
Jeez, that parking map looks complicated, what's the deal with all those lots?  How much does it cost?
Parking/Public Transportation:

Parking is available in the following lots that for the Phish concerts:

Adler Lot*
Closest lot to the venue, with a limited amount of available parking for standard sized vehicles only. Venue VIP's traveling in an oversized vehicle will be directed South Lot.

East Museum Lot*
Second closest lot to the venue with a limited amount of available parking for standard sized vehicles only.

Soldier Field North Garage
Enclosed parking garage for standard sized vehicles only.  Tailgating of any kind is not permitted within this parking facility.

Waldron Deck**
Located immediately south of Soldier Field, the upper level serves as a tailgating lot while the lower level is strictly parking, no tailgating. This lot is for standard sized vehicles only.

South Lot*
Located just south of the Waldron Deck and Soldier Field, this is a designated tailgating lot and is available for oversized and standard sized vehicles.

*Surface lots are designated as tailgate friendly lots
**Only the upper level of Waldron Deck may be used for tailgating, lower level is standard parking

Parking between 3pm-5pm:
Adler (VIP) Lot: $40
East Museum Lot: $40
South Lot Oversize: $120
South Lot Car: $30
Waldron Deck Car: $30

Parking after 5pm:
Adler: $40 (if spaces still available)
East Museum Lot: $40
North Garage: Included in ticket price
South Lot Oversize: $120
South Lot Car: Included in Ticket Price
Waldron Deck: Included in Ticket Price
What is allowed and dis-allowed in the venue?
According to LiveNation:
Allowed in the venue

- Binoculars
- Blankets
- Glow Bracelets and Necklaces
- Glow Sticks (except mass quantities)
- Backpack or small purse (searched upon entry)
- Extra Clothes
- Factory Sealed or Empty Water Bottles (no limit on numbers coming in, camelbaks & Nalgene-type bottles are ok, water refill stations available inside)
- Food in up to a one gallon ziplock bag
- 6-pack size collapsible cooler
- Non-aerosol bug spray and sunscreen
- Small point and shoot cameras
- Audio recording equipment
- Poster tubes

Items Not Allowed

- Lawn Chairs
- Alcohol or beverages of any kind (other than factory sealed water)
- Weapons of any kind
- Drugs or drug paraphernalia
- Strollers
- Umbrellas
- Signage over 12"x12"
- Laser lights, pens or pointers
- Aerosol cans of any kind
- Any item deemed to be unsafe by venue management
- Video recording devices (other than cell phones)
- Professional cameras (anything with a detachable lens)
- Hula hoops
So how did this get so fucked up anyway?
Surprise!  It's a big of ugly politics in the City of Chicago.  Apparently LiveNation was offered the contract for the renovation that was awarded without any sort of competitive bids and the preparedness that comes with that.  Did you know that the mayor's brother sits on the board for LiveNation?  But visitors, please don't let this bit of corruption... you'll find its actually part of the city's charm.  With fingers crossed, most of the kinks will be worked out and we'll have an outdoor urban concert experience like no other.