Chicago Area Theaters For Grateful Dead Meet Up At The Movies 2014 [Europe 72!]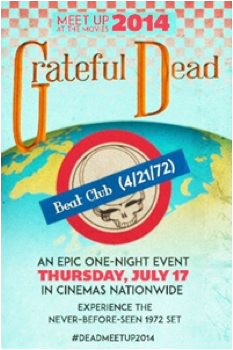 Fasten your seatbelts, NCM Fathom and Rhino Entertainment are back for another round of Grateful Dead at the movies, and this time it's another doozy.
Rewinding the clock a few months prior to last year's high quality Sunshine Daydream (8/27/72) premiere, this year's offering is a complete in-studio performance from one of the most storied tours of their career, the 1972 tour of Europe.
Here's what they have to say about this event:
Never officially released and never before seen in its entirety, the Berlin Beat Club studio performance features the classic 1972 lineup, and captures the Dead in their prime, playing at the height of the powers and tearing through a condensed version of a typical Europe '72 concert, with stand-out versions of set staples like "Bertha," "Sugaree," and "Playing In The Band" (two versions!) and a classic "Truckin'>Drums>Other One.". This performance features one of the last known video captures of Ron "Pigpen" McKernan, a founding member of the Grateful Dead who died shortly thereafter.
As with prior years, there will also be additional special clips to supplement the feature, including behind the scenes interview with Bobby, and other "Dead World luminaries".
Thirteen Chicago area theaters will show the film on Thursday, July 17th at 7:30 pm.  Advance tickets are available via Fathom Events.
Showplace 16 - 5000 Northwest Highway - Crystal Lake
Lincolnshire 21 - 300 Parkway Drive
Century 16 Deer Park - 21600 Field Parkway
South Barrington 30 - 175 Studio Drive
Niles 12 - 301 Golf Mill Center
Evanston 18 - 1715 Maple Ave
City North 14 - 2600 N. Western
River East 21 - 322 E Illinois St
Yorktown 17 - 80 Yorktown Shopping Center, Lombard
Cantera 17 28250 Diehl Rd, Warrenville
Cinemark Woodridge 17 - 6500 Route 53
Naperville 16 - 2815 Show Place Drive
Schererville 16 - 875 Deer Creek Drive
Get pumped! To warm you up... here's a clip from the Berlin Club show, followed by another full Europe 72 set (4/17/72 Copenhagen) for your enjoyment. Watch carefully to see the band don clown masks during "Mama Tried".